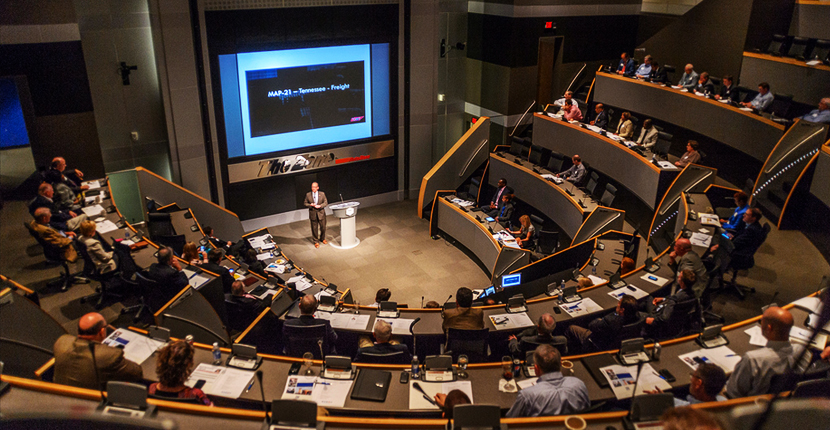 It's the time of year when we pause to remember people and groups that we tend to take for granted.
The University of Memphis is at the top of our list this year.
Apparently, it's a message that we were not supposed to miss. First, we were reminded of the expertise at the university in a recent meeting with some academic department heads.  Second, we received the President's Report for Winter, 2016, and just to make sure we got the message, we were given a Benjamin L. Hooks Institute for Social Change's report, Race, Class, and Social Justice in Memphis: A Call to Bridge the Great Divide.
The University of Memphis is an asset to our community that is often underappreciated and undervalued.  It is such a fundamental part of the city that we generally don't even remember it's there, not to mention that our lack of self-worth assumes that if something is located here, it can't be very good.
It's an opinion we should reject once and for all.
Bragging Rights
Considering that the largest percentage of college graduates in the city are from University of Memphis, that most of the teachers in our classrooms are from its College of Education, that so many of our grassroots and nonprofit leaders were taught there, and that it is difficult to throw a rock in any place in Memphis and not hit a UM graduate, whether it's businesspeople, planners, nurses, lawyers, engineers, architects, journalists, architects, and more.
Because so many U of M students are intermittently attending school because of financial concerns or because they are working jobs that stretch out their class schedule, only 18 percent graduate in four years.  It speaks to the importance of education and individual dedication that so many do graduate, but the university is right to concentrate on getting its overall graduation rate up.
The university rarely does justice with its bragging rights, but the passage rate by law school graduates taking the bar exam has been the highest in the state for 15 years; almost 50 percent of its classes have fewer than 20 students; the university is in the top 10 for student internships; there were 5,625 first-generation undergraduates enrolled in the fall semester, and the university is leading a team of researchers from UCLA, University of California-San Francisco, and University of Pennsylvania in a $4 million National Science Fund grant to develop a new cyberinfrastructure.
Meanwhile, U of M is in the top 50 universities in audiology (#17), graduate program in speech-language pathology (#24), master of health administration, rehabilitation counseling, business doctoral program, and political science.  Other highly regarded programs include clinical psychology, math, education, fine arts, nursing, and biological sciences.
A Critical Asset
At a time when 58 percent of a cities' economic success, as measured by per capita income, is determined by percentage of college-educated population, it's hard to overstate University of Memphis' impact or importance to this region.
As for us, we've always been partial to the School of Urban Affairs and Public Policy (SUAPP), which includes City and Regional Planning, Criminology and Criminal Justice, Public and Nonprofit Administration, and Social Work.  All of these departments have gifted chairs and professors who are involved in impressive work and research, and when we add in the Department of Political Science from the College of Arts and Sciences, they comprise an invaluable resource for local government.
The much-respected David Cox is now serving as interim Chair for SUAPP, and he is the principal investigator for U of M and five other research universities in a four-year grant from the U.S. Department of Education to engage underrepresented students and build deeper University-community partnerships with diverse communities in the project, "Moving the Dial on Inequality Challenges: Broadening Student Access and Success and Transforming Institutions through Campus-Community Engagement."
Dr. Cox and many of his colleagues were involved in the Blueprint for Prosperity and contributed research and recommendations on key issues that could reduce poverty in Memphis.
Memphis As Epicenter
We were reminded again of that excellent work when Dr. Elena Delavega gave us a copy of Race, Class, and Social Justice in Memphis: A Call to Bridge the Great Divide, a report by the Hooks Institute for Social Change.    
What we like most about these reports is that they balance academic and pragmatism, setting out research and staking out specific, provocative suggestions for addressing important issues for our community.
As the executive summary by Dr. Delavega and Hooks Institute Executive Director Daphene R. McFerren wrote: "As goes Memphis, so goes the nation.  Memphis is a crucial epicenter in the struggle for civil rights and social justice.  If we can create flourishing and inclusive communities in Memphis for those who now find themselves struggling at the margins of society, Memphis can then lead the nation in creating best practices to ameliorate race, class, and other social justice disparities that now weaver themselves throughout American life."
Transit
Dr. Charles A. Santo, chair of city and regional planning, underscores the role in the great divide that comes from an inadequate transportation system that contributes to less economic segregation.  In "Transportation, Urban Form, and Social Justice in Memphis," he wrote: "MATA buses and trolleys serve an area of 311 square miles located almost entirely in the City of Memphis with almost no access to suburban jobs and amenities…The (Brookings) study found that for the typical Memphis commuter, only 26 percent of jobs are reachable in less than 90 minutes, and only five percent are reachable in less than 45 minutes.  But these findings are not simply a reflection of a poorly designed transit system – they are also a function of the area's urban form and industrial makeup."
He added: "A decentralization of population mirrored by a decentralization of wealth has contributed to increasing fiscal burdens and inefficiency and has driven a growing inequality between parts of the region.  Recent data show that the Memphis metropolitan area has the second highest level of income segregation among large metro areas…Memphis is an auto-centric metropolitan area with a high degree of job sprawl." He points out that logistics jobs, which tend to be low-wage and difficult to reach, exacerbate the problems.
His suggestions: 1) make transportation central to economic development planning and policy; 2) pursue regional transit funding; 3) review and pilot select transportation demand management approaches, and 4) look beyond the bus and fixed-route transit for solutions.
Public Safety
In the article, "The Long Way to a Safer Memphis: Local Policies for Crime Prevention Need Structural Change," Dr. Simone Tulumello, post-doctoral fellow, wrote: "Improved provision of social services is the best means to improve public safety structurally.  However, Memphis has reduced investments in these areas.  Second, there is evidence that aggressive policing tactics such as zero tolerance, massive police presence, or stop and frisk barely prevent crime and worsen police-community relationships. Black Lives Matter protests ongoing across the country…provide a stark picture of this distrust of law enforcement.
"However, the Memphis Police Department adopts a zero tolerance approach and invests massively in technology rather than in community policing.  Moreover, the work of MPD is burdened by the political and public expectation to cope with many problems stemming from the absence of other public policies.  As such, police officers on patrol, having to cope with problems that should not be theirs to solve, face increased difficulties and community pushbacks to their work."
In response, she suggests solutions in the areas of public safety, social policy, and planning policy.
In a timely article, "Ideology and Division: How We Got Here, How Do We Get Back? The Search for Unity," Dr. Eric Groenendyk pointed out that "contrary to popular belief, the problem with politics is not politicians themselves, but rather the institutions that shape their behavior and the frames through which we view political conflicts."
He writes that through most of the 20th century, American political parties were about big tent coalitions and few voters understood what terms like liberal and conservative even meant.  "In fact, rather than viewing ideological reasoning as an indicator of sophistication, Americans tended to associate ideology with dogmatism and political extremity.  They took pride in American pragmatism in contrast to closed-mind adherence to doctrine displayed within fascist, Nazi, and community ideological movements abroad.  Thus American politics in this era was not about grand philosophical debates, but rather coalition building."
Valuing Our Own
While pursuing noble goals of increasing democratic involvement changes like primaries only magnified ideology and it is "important to now stop glorifying ideology and refocus attention on what is actually in our interest."  In addition, we should "stop trying to cure the problems of government with more democracy" and we should "depoliticize the congressional redistricting process."
In a community hungry for increased intellectual capital to solve its problems and needing to adopt the William Eggleston admonition to be at war with the obvious, the Memphis region should be taking greater advantage of the expertise at University of Memphis.
As we wrote a few months ago, we seem to prefer to bring in speakers from other cities and other institutions when we have the answers and experts in our own community.  Many of these people can be found at University of Memphis, so maybe it's time to set up speeches and high profile presentations by our own experts and professors.
After all, as we wrote in one of our first blog posts almost 12 years ago, the best answers for Memphis aren't transplanted from other cities, but are found on our own Main Street.  We amend that comment today to say we find them on Main Street and also at Central and Patterson.
**
Join us at the Smart City Memphis Facebook page for daily articles, reports, and commentaries relevant to Memphis.