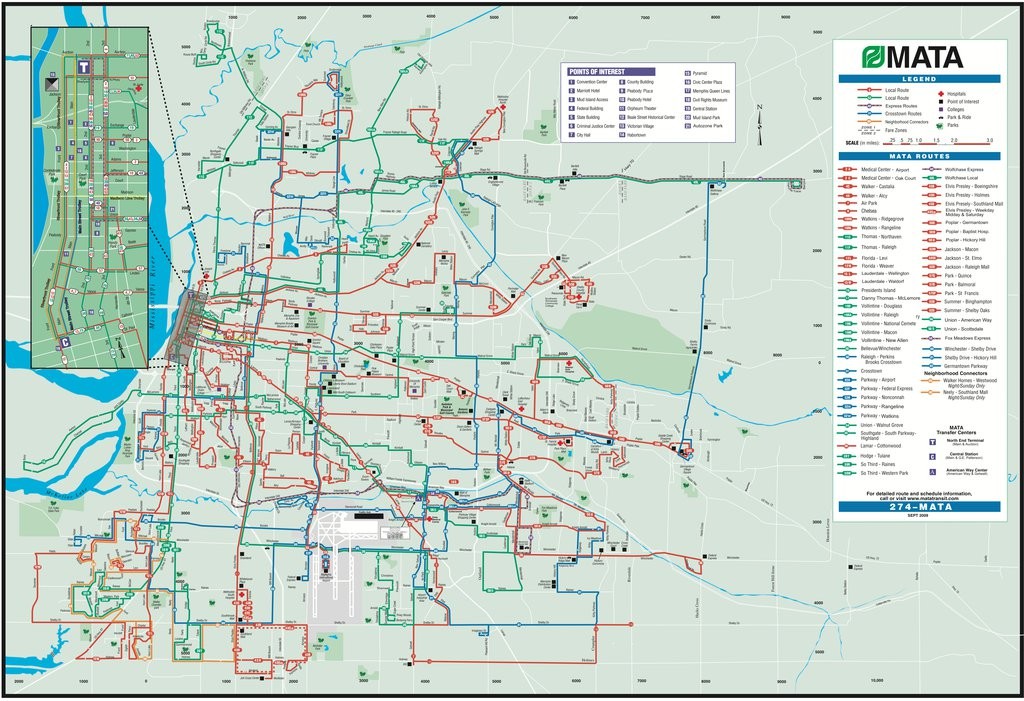 In a region where incomes are too low, it's self-destructive for the lack of effective regional public transit to contribute to the Memphis region spending $6.9 billion every year on  personal transportation.
In fact, the Memphis region ranks #1 among the 51 largest MSAs for the percentage of the median household income spent for transportation – 27.3%.
That more than $3.2 billion is spent by Memphians makes it a substantial drag on the city's economy.  Between 2000-2010, while median income was growing 12.7%, transportation grew three times faster at 40%
Put another way, the amount spent on transportation amounts to 10 percent of the region's GDP.
Tale of the Tape
These data are the clearest indictment of our regional inability to come to grips with the importance and impact of a high-performing transit system.  But here's another count on the indictment: only 26 percent of jobs in the region can be reached by public transit within 90 minutes.
With that in mind, it's unsurprising that in the ranking of transit ridership for the 51 largest regions, the Memphis MSA is #46 and ranks #5 for the median wait time for morning rush hour transit service – 16 minutes.
Those are the effects.  The cause: Memphis ranks #46 in annual operating expenses per capita.
Like many of our challenges, public transit is seen as Memphis' problem although the negative ramifications caused by its absence on a regional scale ripple throughout the MSA.
This is one of the unrecognized aberrations of the Memphis region.  In most major regions, incomes and educational levels increase as you move away from the city at its heart, but here, that does not happen, and as a result, many of the structural problems facing Memphis are similarly faced in the rest of the MSA.
It's the Region, Stupid
In this regard, it's shortsighted that public transit is considered Memphis' responsibility rather than a regional opportunity.  It results in companies receiving tax incentives even though their jobs lie out of reach of public transit, forcing Memphians with limited means to buy cars and spend more than one out of every four dollars they earn for fuel and upkeep.
It's widely accepted that Memphis alone is at least $20 million away from a public transit system whose performance could fall into the middle of its peer systems.  Then again, driving this amount is a good dose of "it's good enough for Memphis" attitude that leads us often to define success by how little we can spend rather than by quality.
With the hollowing out of the middle class in Memphis 20-25 years ago, the city lost a demographic that often drives improvement and reform.  With fewer riders from middle income neighborhoods, public transit came to be accepted as a poor service for poor people, which made the creation of the Memphis Bus Riders Union even more important.
While the Crosstown 31 route has become a flash point in a growing advocacy for better transit, the good news is that MATA's new CEO Ron Garrison and a more vigilant and seriously upgraded board of commissioners have cast aside the transit agency's traditional "go along to get along" attitude to consider how the beleaguered and much criticized agency can improve its services.
Building Momentum
Consideration of these improvements have been encouraged by a group that now includes the business community, Innovate Memphis' transportation and mobility initiative, Greater Memphis Chamber, philanthropies, and grassroots groups.  Hopefully, the newly created 11-person MATA Transit Advisory Committee will become a sounding board for community opinions and take on a role more about advocacy than merely communications.
Every idea for an improvement is nothing but an idea until it is accompanied by an idea for funding to pay for it.  And there's the rub.  Before solutions can be found, there must be options for a level of funding that can move MATA up on the list of city systems.
As for us, we think it should be at the least a county system.  With two out of every three residents of our MSA living inside Shelby County, if county government would step forward to move MATA from a city service to a county service, it could be tantamount to making it a regional service.
It seems poetic justice and only fair.  After all, it was Shelby County Government that fueled the sprawl that pushed so many job centers beyond the reach of public transit, and all the while, Memphis taxpayers paid the bulk of the bills.
The Fair Answer
While the mandate for a countywide system is obvious, more to the point, it is equitable for the costs of public transit to be placed on the largest tax base – Shelby County Government's.  And it's not like the purpose is to shift a bloated service because when compared to its peers, MATA finishes high for cost efficiency (cost per revenue hour) and cost effectiveness (cost per passenger trip).
At the same time, our community needs to put pressure on state government for a larger share of funding, and we should join with the other major urban cities in our state to lobby for at least as much attention in the Capitol as roadbuilders.  Today, Tennessee is in the bottom third of states in its financial support for transit at about $5.50 per capita.   The median for all 50 states is $12.40.
According to the Center for Neighborhood Technology (CNT), which was a partner in developing the Blueprint for Prosperity to reduce poverty in Memphis by 10 points in 10 years, the city's AllTransit Performance Score ranks MATA at #55 out of 72 systems.
As part of that anti-poverty plan, CNT's Scott Bernstein said Memphis could better compete for more transit funding by lowering barriers to investment in mixed-use infill near transit, expanding the level of transit service, building a more diverse economic base, lowering barriers to capture the economic benefits of an expanded economy, leaving no transit node or worker behind, making business location near freight terminals easier, and marrying better transit to walkability and jobs.
Ideas
CNT's goal was to reduce the cost of living for families living in poverty, freeing up money to pay for the basics, and with the highest percentage of income being spent for transportation, it is imperative for Memphis to reduce car dependency.
That's why no strategy was more important in CNT's 2012 Blueprint for Prosperity recommendations than to expand/improve transit from worker-rich neighborhoods to job-rich locations.
Other ideas were to share information and built demand for change; to link transit improvements to other high-priority commitments; to retool MPO to focus more on transit and its funding needs; to support innovative tools like prepaid transit passes, transit district-based financing, location efficient mortgages, massive financial literacy/counseling, and to pursue transit management organizations.
It's About Moving People, Not Packages
Also, as part of the Blueprint for Prosperity, 15 University of Memphis professors focused on key issues in a comprehensive research-based report and a compendium of recommendations issued in 2015.
Dr. Charles Santo, chair of city and regional planning, wrote the report on transportation, and one of the strategies was "to make transportation planning central to the city and region's economic development planning.  Current planning is driven by moving goods and packages, not people.  That means roads are designed to get goods into and out of the city.  But little attention in planning or funding is given to moving people and particularly in moving people from their homes to jobs.  Future planning should focus on connecting households to jobs by reducing travel times between the urban core and area job centers."
The second recommendation by Dr. Santo was to "develop a regional transit planning and funding.  Jobs are outside the city.  Poverty is concentrated in the city.  Wealth creation and the reduction of poverty can only meaningfully occur when transportation links connect city residents with those opportunities.  A regional public transportation system would help to do so."
Among tactics he suggested were employee shuttles, transportation management associations, employer-subsidized transit passes, EDGE incentives for corporate-subsidized transportation, and paid incentives to not drive.
Enlightenment
For low-income people, Dr. Santo recommended expanded access to Uber and Lyft drivers, combining rental housing vouchers with subsidies for automobile purchases, excluding the value of a vehicle in determining eligibility for safety net programs, and waiving some court debts leading to a suspended driver's license.
As he pointed out, the "story of the transportation-poverty relationship is the story of urban form, geographic stratification, and spatial inefficiency, and it is conditioned by the geographic size of the city, historical patterns of population and wealth decentralizations, and the industrial structure of the local economy."
In other words, we have no shortage of smart, informed suggestions for how to proceed, but all of them require us to take off the blinders and consider how we can take actions that aren't aimed at "fixing" MATA but ultimately are aimed at creating a regional transit system that becomes a competitive advantage for expanding our economy, moving more people into the middle class, and keeping more talented workers.
In this way, it is in the enlightened self-interest of everyone in the Memphis region to improve MATA and to find a dedicated source of funding so that public transit can move strongly into the future.
**
Join us at the Smart City Memphis Facebook page for daily articles, reports, and commentaries relevant to Memphis.