It was June 2010 and attorney Paul Morris was the new president of the Center City Commission, soon to become the Downtown Memphis Commission.
He was a young, forceful advocate and change agent for downtown.  He was as comfortable emailing the mayor to demand attention for downtown as he was in convening meetings to address problems and develop plans to improve it. 
Some called him brash in his assertiveness.  Most called him a breath of fresh air. 
He rolled out an ambitious agenda for downtown that included attacking illegal parking and improving Main Street's infrastructure. 
But it was not enough to just fix things.  He made sure that after improvements were made, an agreement was put in place to make sure maintenance would not again be neglected and  illegal parking would be enforced.    
January 23, 2023: Main Street's Walkability Under Siege blog post (with photographs)
Paul Morris was the son of Jack Morris, businessman and civic champion who was instrumental in the transition of local government from the Crump political culture to bringing in a new generation into city and county government.  It was surely the case that the son learned important lessons watching his father, and most of all, he inherited the passion to make Memphis the best that it could be. 
And that started downtown.  Confronting Paul Morris in his new job was a serious challenge: Mid-America Mall, AKA Main Street.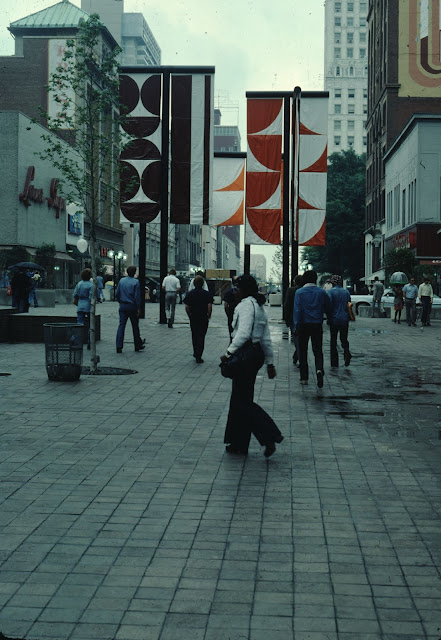 Built as the world's longest pedestrian mall, according to the New York Times, it opened with fanfare in 1976 as President Gerald Ford threw the switch to turn on the fountain in front of Commerce Square.  Except for 103 words of the 1,308 word speech that mentioned the reason he was there, Mr. Ford gave a derivate speech about his two years in office.  
Despite that, it was a day of celebration but the fountain was an omen of the future.  It was not long before it didn't work and it was removed and bricked over.
A year after the celebration, in 1977, Memphis and Shelby County governments created the Center City Commission. 
Overdue for Maintenance
By the time Mr. Morris arrived in the pivotal Downtown Commission position, the celebrated pedestrian mall was no longer a showplace.  It showed serious signs of dereliction, notably damaged pavers that were hazardous to walkers, streetscape and landscaping that were tired and mistreated, and other issues that made it embarrassing to walk the street with visitors to downtown. 
And yet, Mr. Morris knew how important downtown was and that Main Street had to be fixed.  He said to the Memphis Business Journal: "First and foremost, we need to make downtown a more attractive environment to be.  If we can get the infrastructure in better repair, if we can keep the streets vibrant with activity, if we can attract restaurants and other amenities for office tenants, then office tenants will want to move downtown.  Being downtown provides a community atmosphere that the suburbs can never provide."
He soon got his chance.  Two years later in 2012, the U.S. Department of Transportation awarded a $15 million TIGER grant and one of its priorities was to improve "Main Street Mall" as well as a "bike and pedestrian trail" crossing the Mississippi River on historic Harahan Bridge.  Commercial Appeal's Wayne Risher, looking back in 2016, wrote: "Main to Main also has given a long-overdue facelift to sidewalks, curbs and the pedestrian Main Street Mall, helping a financially-strapped city make up for years of deferred maintenance on basic urban infrastructure."
In that way, the federal grant was providential, and Mr. Morris was in the thick of it, making sure Main Street got the money it needed to be rehabilitated.  In 2013, he even became project manager for the entire project. 
At the time, Daily News' Bill Dries wrote: "Morris had been vocal even before the federal grant process that the Main Street Mall section of Main in particular is overdue for maintenance on items like paving and trolley tracks as well as mall drainage issues."
A Breakthrough Agreement
Minutes from a special task force's meetings chaired by Deputy Chief Administrative Officer Maura Sullivan, now Chief Operating Officer for Metro Nashville Schools, show the attention the renewed Main Street was getting. Divisions of city government were active partners.  Task force meetings featured updates on infrastructure improvements and changes to make Main Street more appealing: retail displays, Court Square series, blue suede shoes for brigade members, landscaping contract with Servicemaster, bike patrols, and collaboration with Memphis Police Department.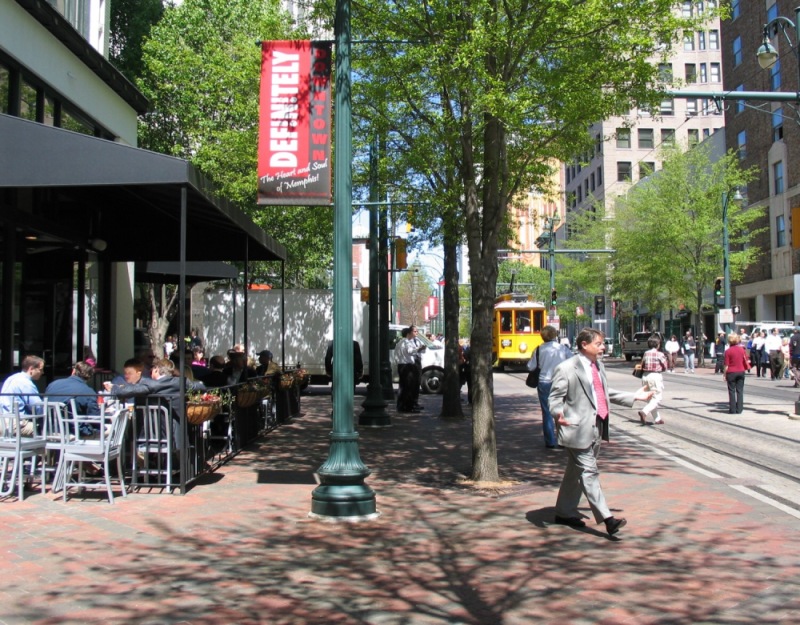 It was a process characterized by its intentionality.  In the end, improvements to Main Street's infrastructure were striking but even more impressive was the Memorandum of Understanding that grew out of the process.   It was signed by Memphis Mayor A C Wharton Jr., Mr. Morris, and the president of Memphis Area Transit Authority Will Hudson.  It was effective January 1, 2013, and it set out responsibilities for effective maintenance of Main Street. 
The agreement said that its purpose was based on the "parties' common intent to have a Main Street Mall that is well-maintained and enhances Memphis as a City of Choice."
The agreement had no end date, and it appears it is still in effect today.  After all, the MOU says: "This MOU whall remain in effect until terminated in writing by any party, upon ninety (90) days prior written notice to all parties, provided that it shall otherwise remain in effect until perpetuity." 
That's not to say that there is any evidence that today's City Hall remembers it, leading to current concerns about Main Street's illegal parking, cleanliness, and maintenance. That said, all of the city divisions followed the terms of the agreement while Mr. Morris was DMC president, and it's certainly worth DMC challenging city government to renew its commitment the collaborative partnership that Main Street needs for its current decline not to continue.
Accountability for Main Street
Chief motivation for the collaboration was that Main Street had never looked better.  The Main to Main project spent millions on Main street and fixed every broken paver, planted new trees, addressed all broken grates, and replace the drainage system while adding an ADA path and more. 
Memphis Division of General Services was responsible for all trees, maintenance of all tree grates and broken/missing tree grades; maintenance of benches, light poles outside the trolley line, maintenance of all the pavers, including missing or damaged ones, located outside the MATA trolley line right-of-way, and maintenance of all water fountains, ballards, an publicly owned light bulbs.  The director of General Services at the time, Martha Lott, was aggressive about maintaining Main Street.
Downtown Memphis Commission was responsible of all planters and plants in them, including hanging baskets; exterior of electrical kiosk boxes, maintenance of wayfinding signage; regulating and permitting activity, including events, temporary parking, vendors, banners, private signage, and outdoor patios; providing enhanced landscaping services beyond City of Memphis' basic lawn services; supplementing police patrols with private security; and supplementing police enforcement of ordinance prohibiting parking or driving on the Main Street Mall without a permit by issuing citations on illegal parkers.
Memphis Public Works Division is responsible for maintenance of the public trash cans; regularly emptying the public trash cans so they do not overflow; general cleaning; and maintenance of all drainage grates and lawns.
Memphis Area Transit Authority is responsible for maintenance of all pavers and tracks within trolley right-of-way; maintenance of all catenary poles and overhead wires; maintenance of all signage at trolley station; and maintenance of the public trash cans located at trolley stations.
Memphis Division of Engineering is responsible through UrbanArt for maintenance of all scrulptures and public art and maintenance of all regularly signage.
Memphis Police Department is responsible for public safety and will employ bike patrols to enhance security and will enforce the ordinance prohibiting parking or driving on Main Street without a permit. 
Accountability and Enforcement on Illegal Parking
Put simply, this agreement was a major step forward for Main Street (or for any similar public project, for that matter) because it set in place the structure to protect Main Street's improvements and it promised the accountability that would keep the street safe, clean, and free of illegal parking. 
One innovation to attack illegal parking was when City Hall was convinced to allow Downtown Memphis Commission to have a parking citation book.  Mr. Morris recalls that it took a few weeks and a lot of tickets to solve illegal parking.  Unfortunately, after he left Downtown Memphis Commission, it was highly effective, but after a few weeks and lot of tickets, someone filed a lawsuit and City of Memphis, rather than find a legal way to continue the program, took the citation book away.  The results can be seen today in the cars illegally parked on almost every block of Main Street.
The current conditions and attention to Main Street seem light years away from the heightened attention and broad commitment to it.  And yet, it was only 10 years ago that the agreement was signed, and now, only a decade later, it appears that the collaborative pledge to maintain the street to its much-improved condition following Main to Main Street projects' investment of millions of dollars in its walkability and sense of place is forgotten or ignored. 
Mr. Morris' words in 2010 when he was named head of Center City Commission remain just as relevant today.  "Data from other cities has shown that if you have a vibrant Downtown, you can help turn the whole city around. I think the most efficient and effective way to turn the economy around in Memphis is to focus a lot of our efforts on Downtown because to become a city of choice and to attract and retain talent, best practices from other cities say you have to have a vibrant Downtown to accomplish either one of those goals."
That call to action remains just as true today as it was then.  What's missing now are the actions and the advocacy to turn the rhetoric about downtown into a shared program to reinvigorate the commitment to an appealing and walkable Main Street. 
***
Join us at the Smart City Memphis Facebook page for daily articles, reports, and commentaries relevant to Memphis.