A celebration of the culture arts and a salute to diversity will be on display at 7:30 p.m., Thursday, February 9 at Crosstown Theater, 1350 Concourse Avenue
Iris Collective – continuing the legacy of the Iris Orchestra directed by Michael Stern – will present Avery Fisher Career Grant winner Randall Goosby and New York Times "Best of 2021" pianist Zhu Wang. Goosby and Wang will perform with Iris musicians celebrating music's capacity to connect us to our past and our families by sharing the repertoire of Black and living Chinese composers, as well as music co-curated with local students through a series of workshops.
Tickets are $30 in advance and $35 day of the event, and can be purchased here.
Goosby, who is African American and Korean and the only African American violinist who has had two solos with the New York Philharmonic, grew up in Bartlett, Tenn., and graduated from Arlington High School in 2014. He is an alumnus of Memphis' PRIZM Ensemble and was a soloist for the Memphis Symphony Orchestra at the age of 19.
In the week leading up to the performance, Goosby and Wang will be working with Iris Collective and Memphis Music Initiative to conduct workshops in Memphis-Shelby County Schools music programs, including Middle College High School, Kingsbury High School and Central High School, engaging students in cultural dialogue. Students will be asked to interview family members to create a music history for their family. In the second workshop these histories will be turned into a narrative that will be performed by the students, with music that is co-curated with the students, Goosby, Wang, and other Iris musicians. When possible, new musical material will be written by, with, and for those families.
Goosby and Wang met while students at The Juilliard School, and last year released Roots, an exploration of the music written by Black composers and inspired by Black American culture, together on Decca Classics.
Intersections is supported by a Challenge America award of $10,000 from the National Endowment for the Arts (NEA.) "Projects such as this one with Iris Collective strengthen arts and cultural ecosystems, provide equitable opportunities for arts participation and practice, and contribute to the health of our communities and our economy," said NEA Chair Maria Rosario Jackson, PhD.
About Randall Goosby: Randall Goosby has performed with orchestras across the United States including the New York Philharmonic, Cleveland Orchestra, Nashville Symphony and New World Symphony. Recital appearances have included the Kennedy Center, Kravis Center and Wigmore Hall. Goosby was First Prize Winner in the 2018 Young Concert Artists International Auditions. In 2019, he was named the inaugural Robey Artist by Young Classical Artists Trust in partnership with Music Masters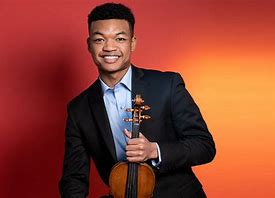 in London; and in 2020 he became an Ambassador for Music Masters, a role that sees him mentoring and inspiring students in schools around the United Kingdom.
Goosby made his debut with the Jacksonville Symphony at age nine. At age 13, he performed with the New York Philharmonic on a Young People's Concert at Lincoln Center's Avery Fisher Hall and became the youngest recipient ever to win the Sphinx Concerto Competition. He is a recipient of Sphinx's Isaac Stern Award and of a career advancement grant from the Bagby Foundation. A graduate of the Juilliard School, he continues his studies there, pursuing an Artist Diploma under Itzhak Perlman and Catherine Cho.
About Zhu Wang: Pianist Zhu Wang was awarded First Prize in the 2020 Young Concert Artists International Auditions. He is also the first prize winner of the 2nd Zhuhai International Mozart Competition for Young Musicians, 4th Manhattan International Music Competition, Hilton Head Young Artist Piano Competition, and the Juilliard Gina Bachauer International Scholarship Piano Competition, and was a recipient of the Juilliard Mieczyslaw Munz Scholarship. In 2019, Zhu was one of three finalists in the Clara Haskil International Piano Competition, and he has been a featured soloist on WQXR's Young Artist Showcase and WFMT's Dame Myra Hess Memorial Concerts. His New York debut made the New York Time's "Best of Classical Music 2021" list.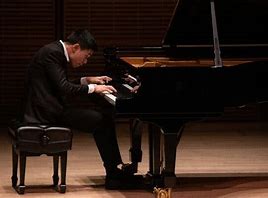 Zhu has performed in China, Italy, Poland, Japan and across the US at prestigious venues including the Kennedy Center for the Performing Arts, Weill Recital Hall at Carnegie Hall, Kammermusiksaal of Berliner Philharmonic, Warsaw Philharmonic Concert Hall, Shanghai Concert Hall, Chicago Cultural Center, and The Morgan Library. A native of Hunan, China, Zhu started piano at the age of five. He is a graduate of the Music Middle School Affiliated to the Shanghai Conservatory of Music, where he studied with Zhe Tang and Fou Ts'ong. He received a Bachelor of Music degree from The Juilliard School and is currently pursuing his post-baccalaureate diploma at Curtis Institute of Music, under the tutelage of Robert McDonald.
About Iris Collective (iriscollective.org) Iris Collective launched in 2022 with the desire to be eye-opening and more expansive in the world of orchestral and chamber music experiences. Founded originally as Iris Orchestra in 2000, Iris Orchestra, under the direction of conductor Michael Stern, created an innovative model for American orchestras focusing on flexibility, non- hierarchy, and unrelenting passion for the highest standards of performance. Building on that legacy of radical innovation, this new iteration maintains Iris' original mission to serve the community with the gift of exceptional music but shifts into an artist collective model to deepen shared artistic experiences with various constituents in the community. Iris Collective will fully explore the possibilities created when shared artistic experience combines with community interest.