The resignation of EDGE president and CEO Reid Dulberger should be an opportunity to do more than just mount a job search for his successor.  Rather, his resignation opens up a new chapter for the agency and it should be used as the opportunity to do the kind of self-examination that conforms with overall business norms.
Most of all, it's an opportunity for the city-county agency to get real about its reform and turn down the marketing by acknowledging the hyperbole in its talking points. 
For example, there's no one in Memphis and Shelby County governments who believes EDGE has generated $1.7 billion in new tax revenue for local government over 10 years, a claim belied by the negligible year-to-year growth in Memphis and Shelby County governments budgets.  If that number were real, it would mean that about $750 million would be new revenue for city government and yet, in those 10 years, the city budget grew by only $35 million and local tax revenues by about $110 million. 
The claim is tantamount to the problem with its economic impact studies generally.  They are known for testing the credulity and credibility of the agency's assumptions and their conclusions. 
Time For Evaluation
It's also the appropriate time to evaluate honestly whether the reality of EDGE has lived up to the promise of EDGE.  After all, in the decade since it was created, our community's economic indicators have gone south despite EDGE's approximately $250 million in tax holidays for real estate developers and large companies.  There are no signs that the languishing trend lines are changing, especially when it comes to the jobs growth and wage growth indicators which lag significantly behind our peer regions.
The beginning of a new chapter in EDGE's history requires it to take stock of the public agency, and in addition to the agency's wall-to-wall stock-take process, there also needs to be a piece-by-piece evaluation, including its board and the City Council and County Board of Commission who have delegated their tax break authority to the agency.
There are fundamental questions to consider: does it really make sense for EDGE to contain the Memphis and Shelby County Port Commission, the Depot Redevelopment Corporation, and the Greater Memphis Alliance for a Competitive Workforce.  It's hard to make a strong case that the performance of these agencies has been improved by their inclusion into EDGE.
Finally, in keeping with sound business practices, it's the perfect time to conduct an audit of EDGE operations, especially considering the criticisms of the Depot Redevelopment Corporation, return on investments on tax breaks, particularly the so-called retention PILOT program, which inflates the economic upside while ignoring the realities of business that would reduce the largesse from the agency in the form of the public's money.
A Good Soldier
None of this is intended as criticism of Mr. Dulberger.  His hiring 10 years ago is analogous to the "it was on fire when I entered the building" axiom.  While he had a voice in the process at the time, the political winds were essentially clear and EDGE was being treated as the latest magic answer for Memphis and Shelby County to pursue to jump start its progress.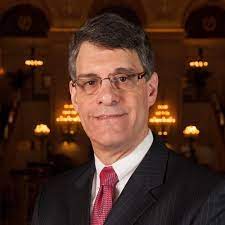 As for Mr. Dulberger, he is an earnest, no-nonsense administrator who sometimes seemed to be trapped in an untenable situation.  Expecting him to end our community's decades-long obsession with tax breaks – which more often appear to be corporate welfare or wealth distribution from one of the poorest cities in the country to some of the country's biggest companies – was Pollyannish when the politically connected and leading business leaders  who benefit so directly from the tax breaks had lined up to tell politicians what a great program it is.
Over the years, Mr. Dulberger has faced withering criticism from some quarters about city and county governments' decision to waive about $800 million in taxes over the past 10 years for real estate developers and large corporations.  EDGE has been the lightning rod although eight other public agencies also dole out tax breaks and EDGE's portion of the $800 million is roughly 50%.  
Time after time, Mr. Dulberger has been a good soldier, defending the policies with a calm, resolute defense when his experience, as a professional, had to tell him this was not a sustainable strategy for economic growth.   Despite criticism, Mr. Dulberger rarely took anything personally.  He would talk to reporters and answer emails to researchers who he knew were going to use his data against him.  He even was praised for EDGE's transparency by Good Jobs First, a national organization generally critical of tax break programs. 
Asking The Right Questions
Moving ahead, EDGE's board needs to pursue greater rationality in its policies and its execution.  It needs to abandon the political talking points like its "transforming the Shelby County economy" in favor of deep analysis and an honest discussion of our economic challenges and the state of play.  It also needs to treat the public's cash register as something to protect rather than to crack it open widely for almost anyone who promises jobs with a salary threshold of an abysmal $13 an hour. 
That's why it's also a good time to take a hard look at the matrix used by EDGE to set the lengths of each companies' tax holidays.  For decades, economic development here has been more real estate development than economic development and the matrix should be configured to focus more on people rather than construction.  
It also should take the time to consider if there is a way that incentives could stimulate housing in the neighborhoods that need it most rather than just providing money to real estate developers building apartments in midtown and East Memphis.
EDGE is scheduled to conduct its regular review of the program next year, but with this change in leadership, it makes sense to advance it a year so applicants for the president's job know the process they will be managing.
Here's the thing: Mr. Dulberger has been the target for a lot of incoming in recent years, and it's worth remembering that it's Memphis and Shelby County Governments who delegated its power to approve tax breaks to EDGE; it's city and county elected officials that have largely neglected the oversight of the agency; and it's city and county elected officials who have engaged in the charade of tax break reform without any substantive progress in making them  balance more between the public good and private benefit.
The attitude by most elected officials is rooted in our community's tradition of acting like we should be grateful for anything we can get from companies and real estate developers.  It's part and parcel of the "good enough for Memphis" viewpoint that as for too long limited our ambitions and preventing an alignment between incentives and aspirations.
It is nothing short of dumbfounding that EDGE is waiving local taxes in a volume unseen in other cities and its board members do not have expectations and priorities from the government bodies that created their agency.  These same elected officials also do not provide EDGE with the economic indicators which they will use to measure whether it is succeeding or failing.
Hopefully, during this transition, elected officials will reconsider their lack of accountability for tax break-granting agencies, and most of all, here's hoping that the board of EDGE will conduct its own self-assessment of its own performance and how their actions could better represent the priorities and desires of their fellow citizens.
***
Join us at the Smart City Memphis Facebook page for daily articles, reports, and commentaries relevant to Memphis and Shelby County.