Walking away from the Shelby County Clerk's Office, my first thought was "well, that's three hours and 15 minutes that I'll never get back."
Those 195 minutes were how long I waited in line to get my car license plate at what has to be the most poorly run public office I have ever encountered – the Shelby County Clerk's office on Mullins Station Road. 
The office is so inefficient and such a time suck that it doesn't deserve to be called a system at all.  It is a shattered process that does nothing to take advantage of technology that could make it more coherent and businesslike – not to mention, customer-friendly. 
Multiply my three hours by the more than 150 people who waited that same amount of time and it becomes a waste of time that is callous in its scope and obdurate in its treatment of taxpayers who pay for the clerk's office.
Perhaps, I would have been more patient if this was the only chapter in the sorry story to get a public office to do its job.  But it was only the latest part of a saga that began almost two months earlier.
The Saga Begins
It all began on September 20 when I paid for a new car tag online.  The next day, I received an email informing me I would receive it in 21 days. 
It didn't come.
The email said that if I didn't receive it 21 days, I should call the clerk's office at 901-222-2300.
I waited 35 days, and then I called.  Within 10 seconds, I heard twice that Wanda Halbert is my Shelby County Clerk.
The message said that rather than waiting on line, I had the option to email.  It gave me two email addresses. 
I emailed the one for motor vehicles. 
I never heard back.
A few days later, I emailed motor vehicles again. 
I never heard back.
At that point, I decided to email the other email address which was to the clerk's office. 
I never heard back.
I waited a few days and decided I should try to reach somebody at the phone number in the email.  It was 42 days since I paid for my car tags online.   
When I called the telephone number, the message was that the hold time was longer than normal.  I called four times over three days. 
No one ever answered although the message frequently told me how important I was to the office. Twice I was disconnected.
I held for 25 minutes, one hour 10 minutes, 50 minutes, and one hour 20 minutes. 
Finally, 44 days after receiving the email notifying me that I would receive my new car tags in 21 days and after getting no emails and phone calls answered, I decided my only option was to go to a Court Clerk's office.
When I got there, about 40 people were in line outside the building and waiting to get inside to talk to a motor vehicles clerk. 
About every 30 minutes, 15 people were allowed in the building.  The line grew to 50 people.
When called to enter, there was a moment of hope.  It was immediately dashed.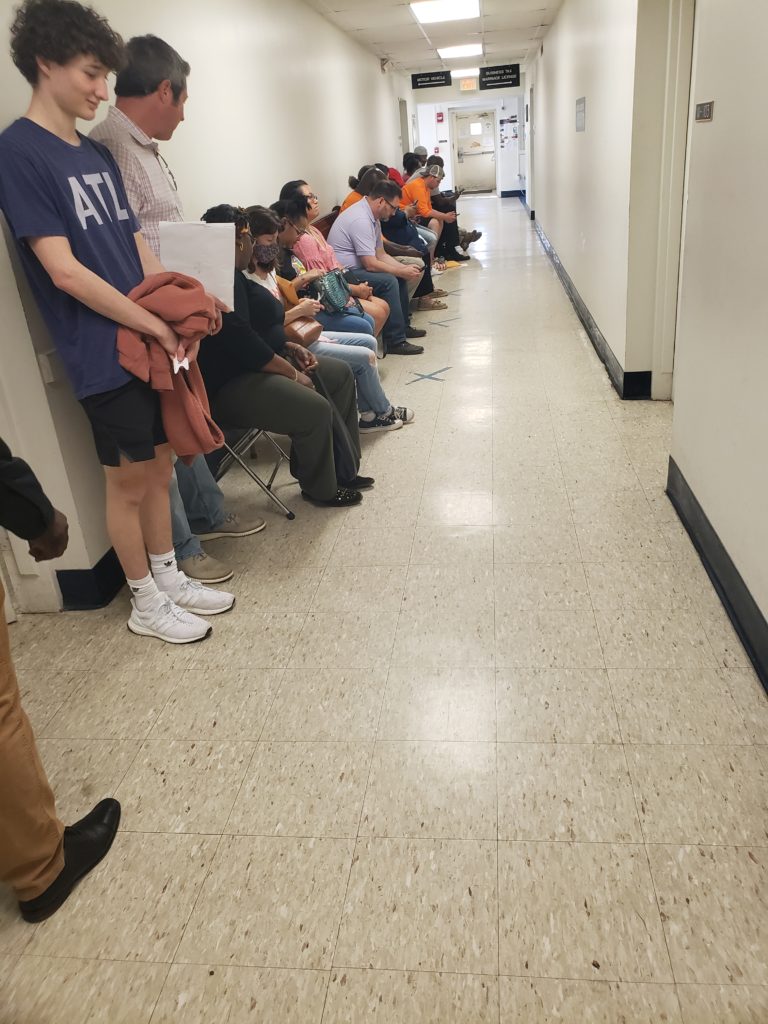 Once inside, we were not in the office at all.  Rather, we were lined up in the hall. There were about 35 of us.  Some of us leaned against the wall.  Others sat on what looked like courtroom benches.
When we looked into the office where clerks were handling customers, there were two rows of chairs occupied by about 30 more people.  
Always One More Hurdle
In other words, we were twice as far away from clerks than we thought we would be when we entered in the building.  I was still 60 people away from receiving help with my car tag.
There had been grumbling up and down the outside line but by now people inside were getting punchy and gallows humor had set in.  Every joke or insult about the process was met with a howl of laughter.
Slowly, the line inched forward until I was finally inside the room with the clerks.  Unfortunately, there were only two of them.  At that point, they had about 90 people waiting outside and inside for help.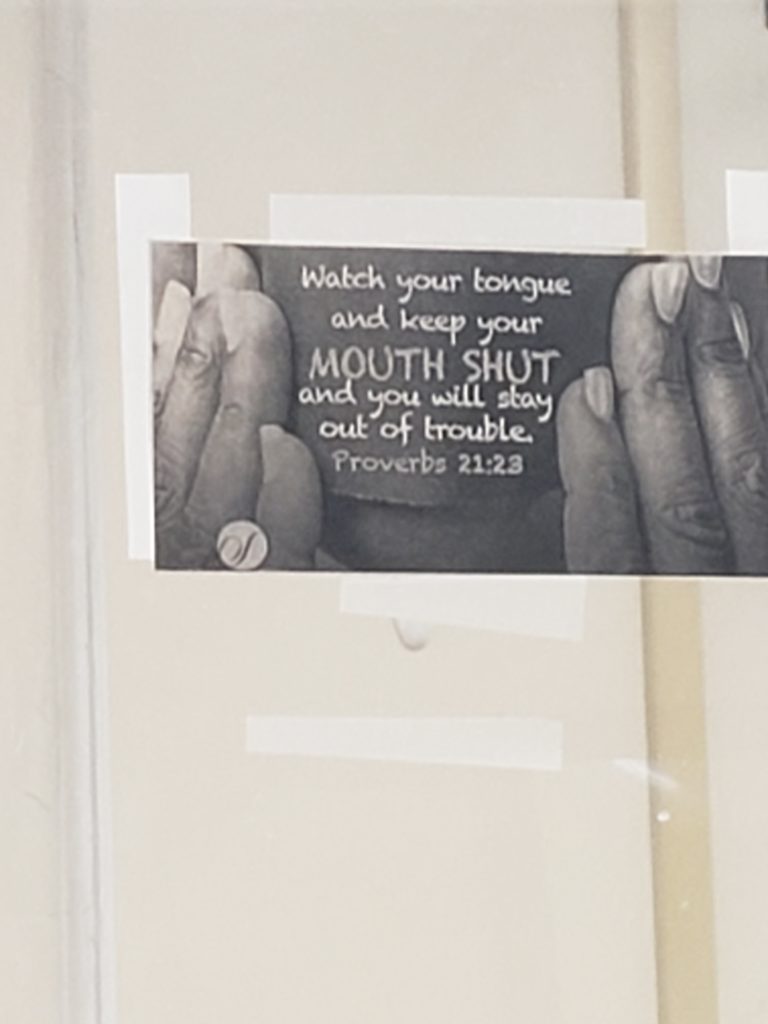 I finally moved into the clerks' office, and finally after 30 numbers were called, I was up.  A warning about complaining greeted me. I explained my problem and the clerk efficiently entered into her computer program that I did not receive my car tag as promised and cancelled the one assigned to me.
She then handed me a new car tag and finally after more than three hours, I had a new car tag. It had taken 44 days.  
I assumed the saga was over.  However, four days later, another license plate arrived in the mail.  It was the one promised so long ago.
The Need For Answers
I have known County Clerk Wanda Halbert for many years but friendship can't obscure the fact that her office sends the message to the public that its time has little value and that it doesn't deserve an efficient operation. In addition, the ineffectiveness of the process does a disservice to the clerks laboring to help the public under situations that raise the emotional and frustrated outbursts they must endure.   
Even closing the office two weeks so it could get its house in order does not appear to have improved the public's experience with a basic and simple function of county government. The fact that Ms. Halbert used one of those weeks for vacation while her staff worked resulted in vitriolic complaints by local and state officials.
I know this is not her intent but it is the reality nonetheless, and in its wake, there are questions about how the office got into this state and what can be done to improve it.  The Shelby County Board of Commissioners has insisted on customer improvements, and to her credit, after initially defaulting to political pushback, she appears receptive to reporting progress to the commissioners.
Hopefully, it begins with an independent assessment of how technology could be used to reduce the long lines and customer outrage.  There are other simpler answers such giving people numbers and allowing them to wait in their cars until called or adapting other private sector processes to speed up the lines.   
That said, answers will likely require more money from the board of commissioners.  Hopefully, they are prepared to step up to help.  Meanwhile, the bad news from Ms. Halbert is that the long lines may continue through the holidays and into January.
* *
 Join us at the Smart City Memphis Facebook page for additional postings.