Thumbnail: Memphis Medical District Collaborative has hired a Chief Operating Officer with a national footprint gained from her 13 years at the Congress for the New Urbanism, where she worked as deputy director prior to her Memphis hiring.  She'll be deeply involved as MMDC develops its new strategic plan and continues its work to create a real district.
**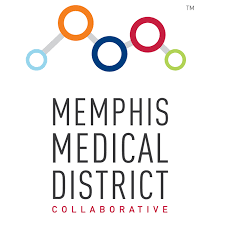 Abigail (Abby) Sheridan was deputy director of the prestigious Congress for the New Urbanism when essentially sight unseen, she accepted a job in Memphis as chief operating officer for Memphis Medical District Collaborative – best known for reviving a declining part of Memphis into the transformed Edge neighborhood.
Since being hired December 14, she has virtually spent her time learning more about the Memphis Medical District Collaboration (MMDC) – virtually in the sense that it's come to mean during the pandemic.  In online meetings with the MMDC staff from her home in Chicago, she has been impressed by the scope of their work and the results.
"There's still so much to getting up to speed," she said, "but I am so impressed with the staff and their incredible work for the past five years."     
Ms. Sheridan was previously deputy director of the Congress for the New Urbanism, a leader in new thinking about urbanism in its 27 years and about what makes cities and neighborhoods livable and successful.  After 13 years at CNU, she saw the job in Memphis as an opportunity to be involved in on-the-ground changes anchored in the principles of New Urbanism.
Hiring someone of her stature speaks volumes about MMDC's ambitions and also about how its track record is attracting national attention.
Magnetic Memphis
When she began to work for CNU, she had little knowledge about its work, but "I had an a-ha moment when I read the Charter (of New Urbanism)," she said. "In those 13 years at CNU, I met incredible people and had tremendous experiences." The lure to Memphis was about working "for an organization that is implementing the best practices that CNU espouses. It's about being where the action is and in a city invested in improving the built environment. I love my work on the finance side which helps the organization do good out in the community."
In addition, she was intrigued with Memphis' plug and play culture.  "So much of Chicago and is set and planned," she said.  "I got a sense in my visit (in November) to Memphis that it is a lot easier to get involved, whether in the neighborhood, or schools, or city projects."
CNU principles have been engrained in the work of the Medical District Collaborative.  Its founding president, Tommy Pacello, was active in CNU and an advocate for its principles.   He died in November from cancer at the age of 43, and his death sparked hundreds of testimonials and tributes, including one on this blog.
If there was once place emblematic of all that Mr. Pacello believed, it was the Edge neighborhood.  "He has left a legacy that we all have a lot of pride in," she said.  Examples of  CNU concepts in Edge include traffic calming, preservation, connectivity, walkability, and sense of place.
Connections
At CNU, in her role as deputy director, Ms. Sheridan was responsible for implementing strategy and managing the operations of the nationally prominent nonprofit organization with a budget of about $2 million.
At MMDC, she will lead finance and operations as it develops a new strategic plan and will be involved in special projects, grant applications, board relationships, and program execution.  MMDC describes itself as a community development organization working with partners to strengthen the communities between and around the major anchor institutions in the Memphis Medical District so they are more livable, vibrant, and safe. 
At this point in its evolution, Edge seems to be MMDC's marquee project and feels largely disconnected from the medical school and hospitals to its east.  Ms. Sheridan said MMDC's emphasis on connectivity means that the aspiration for a real, functioning district is not out of reach.  She said: "Connectivity is a frame of mind, and just today, we were reviewing pre-development grants through the frame of projects that can lead to better connectivity of neighborhoods.  The goal of the district is definitely achievable."
MMDC'd broad menu of programs excite her, particularly in their ability to grow wealth for residents of the Medical District. 
Living Urban
Prior to being hired, Ms. Sheridan and her husband had never been to Memphis.  Their only visit was in November.  Today, they are engaged in distance house-hunting.  Their instructions to their real estate agent – "we are a one-car family and we intend to stay a one-car family."  A yard for their two small children – three years and five months old – would be "exciting. 
The eight major anchor institutions in the MMDC employ 16,000 people; educate 8,000 students; manage $2.7 billion operating budgets; have $1.2 billion in purchasing power; and control more than 250 acres of land.  Of the 24,000 employees and students in the district, 97% of them drive cars to work and school and $370 million a year is spent on parking.
No one is saying that Baptist College of Health Sciences, Memphis Bioworks Foundation, Methodist/LeBonheur, Regional One Health, Southern College of Optometry, Southwest Tennessee Community College, St. Jude Children's Research Hospital/ALSAC, and the University of Tennessee Health Science Center were not on friendly terms, but each was so consumed with their core business that they needed an entity to act as the glue to bring them together.
That's the role that the Memphis Medical District Collaborative has played and in creating a structured way for the institutions to come together to talk and discuss challenges, it has sparked the creation of an agenda with the intention of turning a district known primarily for acres of parking lots and unconnected islands of activity into a well-connected, highly livable, quality place where people don't just come to work, but also come to live and play.
**
Join us at the Smart City Memphis Facebook page for articles, reports, and commentaries relevant to Memphis and the Memphis region.