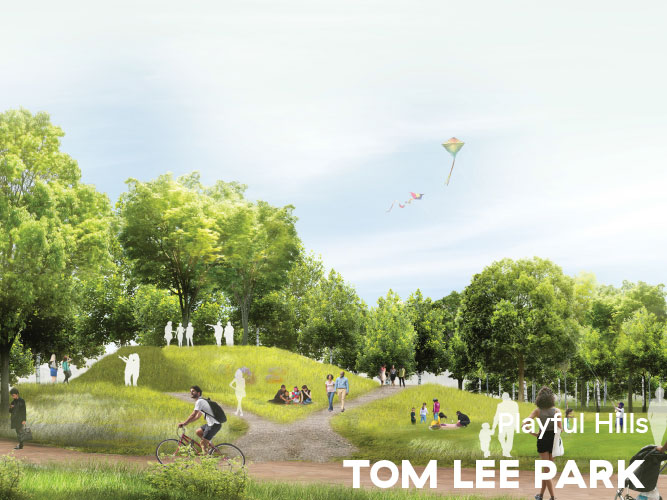 After decades of politicians and development officials engaging in hyperbole in their claims that downtown was in the midst of renaissance, it is on the verge of deserving that description.
That's because if all goes well, in the next four years, we will barely recognize the CBD.
Downtown is the most commanding brand that we have to present to the world, reflecting our community's economic vitality and our ambitions.  The message that it's been sending for the past 20 years or so is not the one Memphis deserved as the downtown boom across the U.S. that accompanied the Clinton years largely skipped over us.
That doesn't mean that we weren't good at pretending that downtown was on an upswing, as evidenced by the many times Memphis Mayor Willie W. Herenton said that it was in the "midst of a renaissance" when he could start walking and it was a dead zone from City Hall to Union Avenue.
New Drumbeat
Meanwhile, the Center City Commission – forerunner to the Downtown Memphis Commission – released yearly reports that purported that downtown was the scene of several billions in investment, but it often seemed to track projects all the way to Boss Crump's days to get to that number.
At the same time, there were big projects like FedExForum, Autozone Park, and Beale Street Landing that were promised to turn downtown around, but because of the lack of focus on connectivity and sense of place, they largely became islands unto themselves.
The reason for excitement today is not just the dramatic size of the projects on the books but the way that they are in proximity to one another and promise to create a real fabric for downtown.
But it will not just happen without some intentionality behind it, and that is what is most discouraging of all.
From the Strickland Administration to Jennifer Oswalt and her staff at Downtown Memphis Commission to Carol Coletta and her team at Memphis River Parks Partnership to the Memphis Cook Convention Center board of directors to the foundations, notably the Hyde Foundation, that have funded so many of the projects, there is a constant drumbeat about the importance of connecting projects in a way that animates and activates all of downtown and not just its north and south terminuses.
Aiming High
That's the best news of all, because for these projects to have their maximum impact, it's not just about bringing more money to downtown but to bring a new attitude of placemaking which is more about the emotional response and attachment to these new projects than merely their physical presence.
There are several ways to know that we're on the right track, particularly when someone says "it can't be done" and "we can't afford it."  That's the time to remember the lessons of the past when we took the approach that "its good enough for Memphis" and asked, "can't we do it cheaper."
If there's a main lesson for us, it comes from Shelby Farms Park, where its early board chair and donor Barbara Hyde set ambitions high.  As a result, the Conservancy set the audacious goal of "creating America's great 21st century park" when it could easily just settled for producing a fine park at half the cost and a less ambitious vision.
$1.8 Billion
Memphis is definitely aiming high with the projects that could become a reality within four years and shedding our regular low expectations to make sure they are done right could be key to their success.
Just plot the locations on your mental map: South City just east of the Central Business District from Peabody Place to E.H. Crump Boulevard, an entire key downtown block, the convention center district, a prominent site atop the riverbluffs, South Main, a reimagined Mud Island, and an exciting riverfront.
Just these projects will result in $1.9 billion in investments in downtown Memphis and that's not counting the $1.2 billion expansion at St. Jude Children's Research Hospital.
Each of them is exciting in their own right, but for us, nothing is more important than the riverfront.  For us, it is the frame for everything else that happens, and no place is more reflective of Memphis' confidence in itself and the courage of its leaders.
Getting The Riverfront Right
The first phase of the riverfront concept has a price tag of $75 million and essentially covers the area north of Big River Crossing to Jefferson Street plus the completion of v1 of the River Line Trail, which is a contiguous walking and biking trail that connects Wolf River Greenway on the north to Big River Crossing on the south.  In addition, a $1.6 million project is already under way at Mississippi River Park and includes restoration of natural conditions, a tree house play area, a pavilion, a meadow, new landscaping, and other features; then it will cross the cobblestones (which already has $6.8 million funding for its restoration); to a dramatic 20-acre Tom Lee Park, which will be transformed in a $55 million plan from a pasture into an appealing landscape that accommodates Memphis in May International Festival and attracts Memphians the other 50 weeks of the year when the festival is not under way.
Meanwhile, Mud Island is being reimagined and one idea is for a $125 million fresh water aquarium on Mud Island.
In truth, Memphis is playing catch-up when compared to many cities on the Mississippi River and its tributaries.  For those who say an activated, fun riverfront is not worth $75 million, it's worth remembering that the Smale Riverfront Park in Cincinnati cost $88 million; the 21st Century Waterfront in Chattanooga cost $120 million, and Three Rivers Park in Pittsburgh has cost $130 million and is credited with $4 billion in new investments and increased property values.
Louisville made a $95 million investment more than 15 years ago to create an 85-acre riverfront park and has approved a $35 million expansion. Phase 1 of Nashville's Riverfront Redevelopment plan to "reinvent" its riverfront has been completed with a 20-acre park costing $52 million.
Power To Create Momentum
While it's the riverfront plan that most emotionally connects with us, that's not to say that the other projects aren't exciting and imaginative as well.  The $250 million South City project in the zip code with the city's highest poverty rate is converting Foote Homes, Memphis' last public housing project with 420 units, into a mixed income department with apartments, rental homes, retail, and recreation.  An exciting part of this project is Memphis Heritage Trail, akin to Boston's Black Heritage Trail, which will feature a walking trail past some of the city's most historic African American sites.
South City will connect to South Memphis, where the $40+ million Tennessee Brewery and $55 million Central Station project are adding about 400 apartments, a hotel, and a movie theater. In addition, there are many small-scale investments being made all over the South Main Historic District and lead toward Union and Front, where Memphis Brooks Art Museum will relocate the state's largest art collection into a new $110 million facility on one of downtown's most prominent bluff sites.
A half mile away, an entire city block bounded by Main, Adams, Second, and Jefferson has plans for a $1 billion overhaul with a 550-room Lowes Hotel with 200 apartments and an adjacent 34-story office building.  After decades of struggling with convention center hotels without a prestigious flag, this hotel has the power to propel the Memphis convention business to another level.
Reactivating this key block has the power to create momentum moving southward down Main Street, but now, the hotel chain is interested in a site nearer the convention center on city-owned property at Poplar and Main.  Hopefully, the final site will return to the block where the shabby and deteriorating 100 North Main Building towers over a block of closed businesses.  It's unclear if the city's tallest building will be renovated or demolished, but  City of Memphis' contract with the developer calls for the hotel to be built by 2022.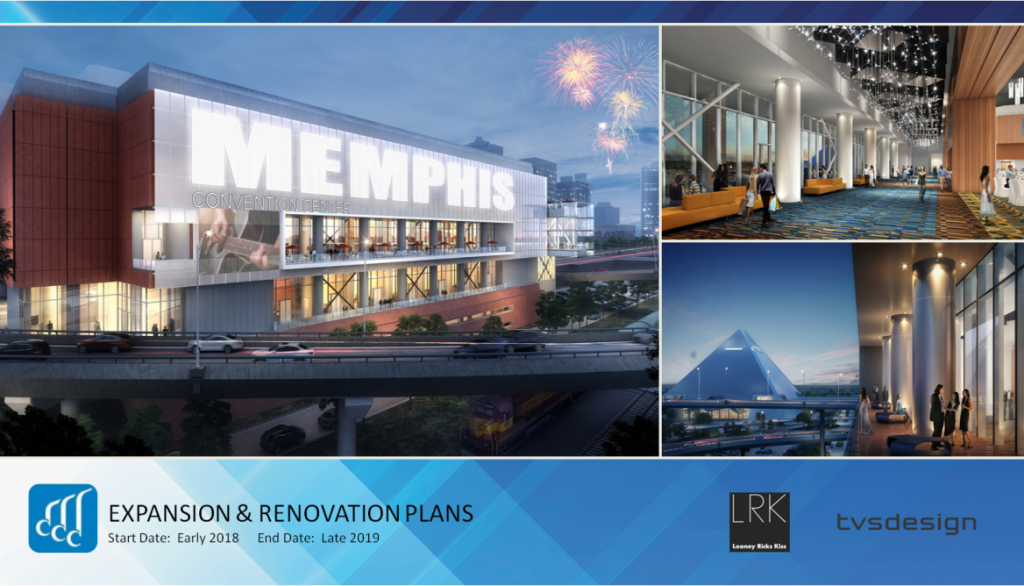 Pushing A Sense of Urgency
The hotel investment is inspired by the $175 million modernization and expansion of the Memphis Cook Convention Center that opens it to more sunlight and dramatic river views from outdoor terraces.  Most of all, the bunker façade of the old convention center ushers the tired facility into this century with arguably the most impressive facelift in an adaptive reuse project downtown.  This project could be completed by 2020.
All of these don't even take into account plans for redeveloping Pinch Historic District and the work already under way in the Edge District, the former manufacturing and industrial area near the Memphis Medical District that is blossoming into studios, restaurants, breweries, and shipping container retail.
As we said, all of these projects could become reality within the next four years, and the odds at this point are good that they will.  It's worth remembering that the most encouraging aspect of them all is their quality, and because of it, this is a historic opportunity to create both the fabric and the anchors for a renewed downtown.
Meanwhile, the contribution by the rest of us is to provide a sense of urgency and our persistent support for taking advantage of this special moment in time.
**
Join us at the Smart City Memphis Facebook page for daily articles, reports, and commentaries relevant to Memphis.