Thumbnail: Tom Lee Park's is on its journey in becoming a special place in this community as a result of the best-in-class designers who imagined a spectacular riverfront park.  
**
It was an exciting time 10 days ago, one I've waited for more than a decade to see, but that was nothing compared to City of Memphis. 
It's been waiting almost a century.
Finally, the spectacular riverfront envisioned in dozens of studies and reports dating to 1924  began demolition a couple of days after final approvals from the city's coordinating committee and the U.S. Army Corps of Engineers.
It's been 11 years since I first blogged about the need to turn the 30 acres of Tom Lee Park from a forlorn pasture – or a moonscape, in the words of a leading Memphis architect – into the special riverfront park that Memphis deserves.  
What is now coming out of the ground at the riverfront surpasses even my wildest expectations.  There is no question that it will be one of America's premier riverfront parks and be a key part of rebranding Memphis nationally.
Best-in-class Designers
There's little question of how a great park design came to be.  It came from a commitment by  Memphis River Parks Partnership to associate with best-in-class professionals: architect, Studio Gang, landscape architect SCAPE, and now a nationally renowned lighting designer, Randy Burkett Lighting Design.
Studio Gang has won more than dozens of design awards.  It has won the Architezer A+ Firm of the Year Award and the National Design Award from Cooper Hewitt, Smithsonian Design Museum.  One award was for Aqua, an 82-story building in Chicago that is the tallest building in the U.S. designed by a woman.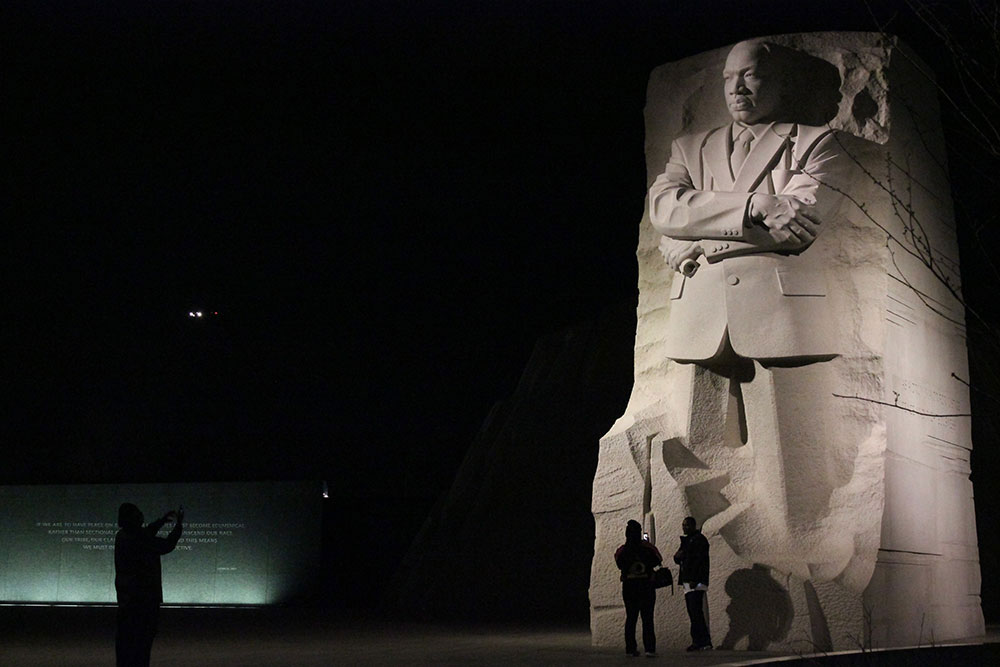 SCAPE has also won numerous awards, including the Buckminster Fuller Challenge Winner, two national American Society of Landscape Architects awards, and several NY American Society of Landscape Architects Awards.  
To top it off, both of the founders – Jeanne Gang of Studio Gang and Kate Orff of SCAPE – were recipients of the prestigious MacArthur Foundation Fellows award, commonly known as "MacArthur Genius Grants."
Another Winner Added To The Team
In keeping with getting the best talent to design Tom Lee Park, the Memphis River Parks Partnership has commissioned Mr. Burkett to develop a lighting plan for the Cutbank Bluff.  His plan is on the Downtown Memphis Commission's Design Review Board's agenda for Wednesday, and hopefully, the opportunity to associate someone of his talent with Memphis will lead to quick approval.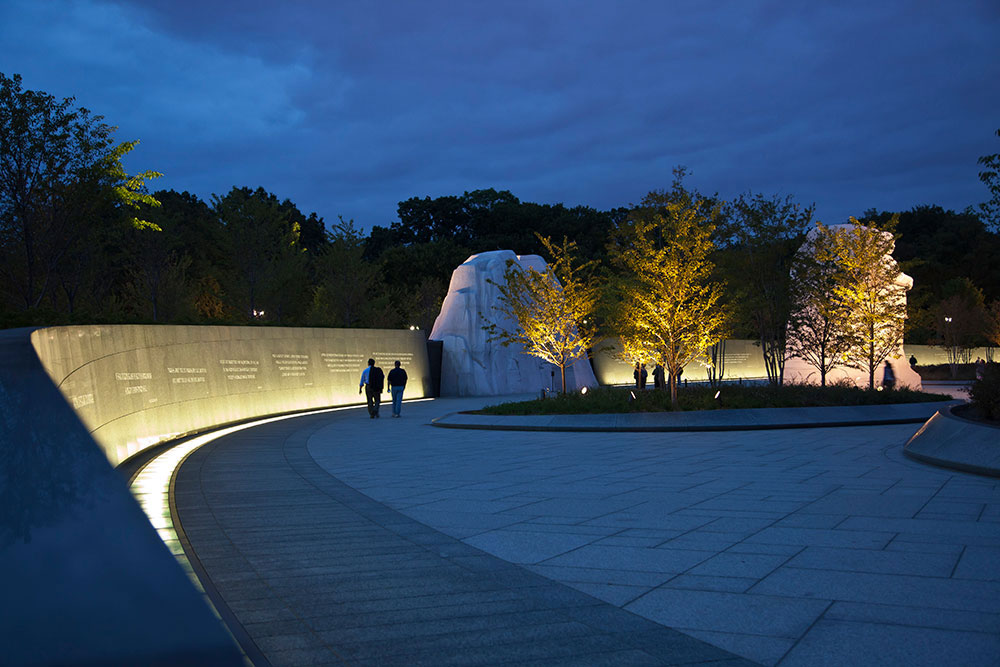 Mr. Burkett's national portfolio includes the Martin Luther King, Jr., Memorial in Washington, D.C.; St. Louis Arch; Lenox Square in Atlanta; Pulitzer Foundation for the Arts, St. Louis; Lambert-St. Louis Airport; Citygarden, St. Louis; Utah State Capitol, Beaden Park, Charlotte; and Old Post Office and Customer House, St. Louis.
The firm has won multiple awards from the Illuminating Engineering Society.
The national bona fides of the Tom Lee Park design team has attracted national attention, which will intensify as the park moves toward its opening.  Mr. Burkett's involvement only adds to this luster, which has the power to rebrand Memphis, particularly with the $400 million hotels and apartment complex on the bluff overlooking the park.
Cooper Carry's Keith Simmel is the firm's principal in charge of designing the Grand Hyatt that is part of the Carlisle LLC development. He said his design for the hotel, the most important hotel built in Memphis in modern history, was inspired by the opportunity to create a building connecting to Memphis, to the river, and to the new park.
A Bit Of History
It's been a long, strange trip.
It began in 1924 when, in Memphis' first comprehensive plan, legendary urban planner Harland Bartholomew wrote something that could be applied to Tom Lee Park until the Riverfront Concept was created by Mayor Jim Strickland's special riverfront committee appointed in 2017.
Mr. Bartholomew wrote: "Today, the riverfront is not merely unattractive, but represents an unprofitable use of the property…With proper architectural design, attractive lighting, and the exercise of care in both pubic and private construction, this riverfront could be transformed into a picture of combined commercial and recreational activities truly representative of the city's character and unsurpassed in attractiveness in any other city."
There is the romantic mythology that the riverfront has always been a revered place.  And yet, in its heyday of steamboats and cotton, it was a place for heavy, noisy, and gritty commercial activities powered by enslaved laborers later trapped in the world of Jim Crow laws.  The noisy hustle and bustle and the sights and smells of the riverfront were ignored by most of Memphis.
It contributed to downtown turning its back to it and facing eastward.  At the time of Mr. Bartholomew's admonition, Riverside Drive was still six years from being built and a nascent idea of using the riverfront for more than a public dump was emerging. Since 1879, the only productive use seen for the riverfront from Beale Street to the Frisco Bridge downstream was a landfill, where there was a mountain of cans, household waste, and rusting junk from the public and dump boats.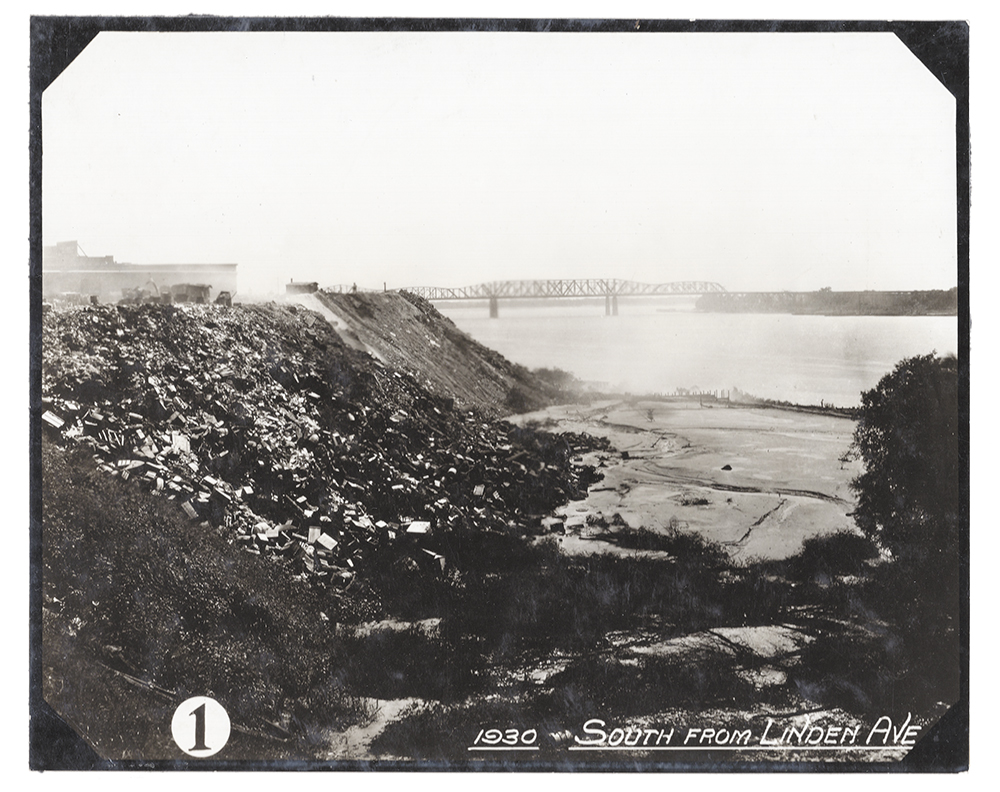 Because of the tons of trash building up below the bluffs, steamboat captains on the Mississippi River joked that they could smell Memphis before they could see it.  That continued until a billion pounds of dirt and trash were removed for the building of Riverside Drive in the early 1930s. 
It Took A Long Time
It took 97 years, but finally, Mr. Bartholomew's vision is coming into focus.  Bumps along the way came in the form of more than two dozen studies since the 1970s whose recommendations for a better riverfront never touched the greenspace in any substantive way. 
In making something finally happen, Mayor Strickland deserves a great deal of credit although he seems to forget Tom Lee Park in his crime-obsessed weekly messages.  He deserves a bow at the ribbon-cutting when the park is finished, a major legacy project for Memphis.
Polling shows that the reimagined Tom Lee Park has strong support among all Memphians, but particularly with residents of the high-poverty neighborhoods abutting downtown who seek a higher quality of life and young adults who, according to research, makes decisions on where to live based on one-of-a-kind green assets.
The first blog post I wrote advocating for the 30 acres to be transformed to a spectacular riverfront park was 11 years ago.  It was long before there was any public discussion about what Tom Lee Park could be and six years before Mayor Strickland's special committee.  That, however, has not prevented "kill the new park" crowd from accusing me of being on the take and being paid for blog posts.
Both are lies disproven by the timing of my blog posts, but it hardly discourages the trolling by people undeterred by the facts.
359 Days Is Better Than 7
My logic was always simple: It seemed to me that seven days for events each year for people who could afford festival tickets at Memphis' most valuable, most visible real estate was an unproductive use when the space could be activated with a free use for the other 359 days for anyone who wanted to visit. 
That's what makes the controversy so strange to me.  With a mediation agreement defining the park's design with its three large lawns whose specifications were negotiated by Memphis in May for what it needs for a successful festival and the opportunity for a great park, it is the definition of a win-win.
All in all, the controversy, with all its emotional attacks and misinformation, feels familiar.  I was involved in assembling a plan to open The Pyramid after the Sidney Shlenker-John Tigrett partnership collapsed, I was involved in negotiating with state officials to build the National Civil Rights Museum, and I was involved in negotiating with the Grizzlies to build FedExForum.
All three were marked by emotional conflict with opponents with polling showed that the public was almost evenly divided between people supporting and opposing each of the projects.  And yet, within a couple of years of each of them opening it was difficult to find anyone who said they were against them.
The most relevant comparable is FedExForum.  Our community had been told that it could have a first-class arena and entertainment center in The Pyramid for only $39 million, and it was only when FedExForum opened at $230 million did we learn what a real, first-class arena looked like.
A New Self-Worth
Today, it hard to fathom the outrage in some quarters about a new arena, including a lawsuit. And yet, today, FedExForum is a point of pride for almost every Memphian and Shelby Countian.
I predict the same for the new, improved Tom Lee Park.  Once it is opened, our community will learn what a real standard-setting park looks like.  It will be like when Shelby Farms Park and Greenline opened, and so many people said, "I can't believe I'm in Memphis."
They'll say the same upon their first visit to Tom Lee Park.  There's nothing to rival it in Memphis, and few waterfront parks in the whole country will equal it.
Best of all, it becomes a new symbol for a new Memphis that has shaken off its low sense of self-worth.
Our civic lack of self-worth has led us to accept mediocrity for decades, but there are signs that things are changing.  Tom Lee Park will be the FedExForum of waterfront parks.  We need only to decide that we do in fact deserve the best and that our public realm can be competitive with any found in competing cities.
There are structural reasons that Memphis' economy is lagging, but it has also lagged behind because unlike a city like Nashville, we believe that we are undeserving and should accept whatever is offered to us, the cheaper the better, high quality or not: it's good enough for Memphis.
What makes Nashville different is that it never assumes that it doesn't deserve the best, and because of it, it goes out and gets it.
It's time for our community to do the same with public space, and Tom Lee Park is a good place to start.
***
Join us at the Smart City Memphis Facebook page for daily articles, reports, and commentaries relevant to Memphis and the conversations that begin here.