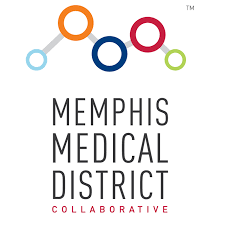 There has not been a project in recent history that has produced more momentum in a shorter period of time than the Memphis Medical District Collaborative.
For us, it is the fruition of everything that Tommy Pacello, its president, has been moving toward in the past decade since the time he was assistant city attorney and planning adviser in the Memphis and Shelby County Division of Planning and Development.
Back then, 2010 to be precise, Cardell Orrin and I were hired by Shelby County Mayor A C Wharton Jr. to develop the first sustainability plan in this region.  It would become Sustainable Shelby and beget the Memphis and Shelby County Office of Sustainability and the Mid-South Regional Blueprint.
Mr. Pacello was a key leader of the coordinating team that drove the Sustainable Shelby process and that fleshed out the inventory of recommendations.  It was clear then that he was destined to be an impact player in this community and the Memphis Medical District Collaborative has essentially given him a blank slate to apply all that he has advocated and learned in the intervening years – from DPD to Code Studio in Austin, Texas, back to Memphis for the Mayor's Innovation Delivery Team, and now to his present role.
Placemaking
The idea of leveraging the considerable resources of "Eds and Meds" as community development drivers is at least 20 years old, and despite lots of talk about it, the Memphis Medical District Collaborative is the first time we've seen what it looks like in our own community.
The key has been pulling all the moving parts into a collaboration working together to develop a shared vision for their district, and even more importantly, staying together to turn the vision into reality.
After all, the eight major anchor institutions in the Memphis Medical District employ 16,000 people; educate 8,000 students; possess $2.7 operating budgets; have $1.2 billion in purchasing power; and control more than 250 acres of land.  We're not saying that Baptist College of Health Sciences, Memphis Bioworks Foundation, Methodist/LeBonheur, Regional One Health, Southern College of Optometry, Southwest Tennessee Community College, St. Jude Children's Research Hospital/ALSAC, and the University of Tennessee Health Science Center were on anything but friendly terms, but each was so consumed with their core business that they needed an entity to act as the glue bringing them together.
That's the role that the Memphis Medical District Collaborative has played and in creating a structured way for the institutions to come together to talk and discuss challenges, it has sparked the creation of an agenda that is turning a district known primarily for acres of parking lots and unconnected islands of activity into a well-connected, highly livable, quality place where people don't just come to work, but to live and play.
An Emerging Lifestyle
Leaders tell stories using data, and the Collaborative has done exactly that.  It caught our attention with this: 97% of employees and students in the district drive there; less than 3% of employees and 6% of students live within the Medical District, only $50 million of procurement spend was captured in Memphis, and about 270 acres of parking, the equivalent of Harbor Town, consumes valuable land.
That's not to even mention that there is almost $3 billion in planned capital investment and 5,000 new jobs to be added in the next five years.
Armed – and motivated – by this data, the Collaborative set out for the institutions to increase their economic impact, attract more residents, increase local spending, and better use the land to create a dense, vibrant, walkable neighborhood.  Along the way, Mr. Pacello moved from a special project manager of nationally known U3 Advisors – experts in economic solutions for institutions like universities and hospitals – to become president of Memphis Medical District Collaborative.
While much of the progress is taking place inside the institutions, the changes in the Edge District, long overlooked, is now the connective tissue coming alive to connect the traditional medical district with downtown.   As Mr. Pacello puts it, there's "an entire lifestyle emerging," and finally, those music pilgrims standing on the sidewalk outside Sun Studios will have reasons to walk westward toward more activity.
Live, Buy, Hire
What's most encouraging about progress in the Edge and the larger district is that it's not just the product of good will and conversation, but intentional strategies that are being executed with exciting results.  There's new development, shops, restaurants, events, and even pop-up retail in shipping containers.
All of it is part of the Collaborative's Live Local, Buy Local, Hire Local program which is about attracting more employees and students to live in the district, for more purchasing to be done in the district with minority and women-owned businesses, and connecting local residents to available jobs in the district.
But underlying all of this is the nagging issue of hundreds of acres of parking lots and the need for higher and better use of high-valued real estate.  "If we are to have a thriving medical district," said Mr. Pacello, "we have to do more than use so much land to store cars.  If we're not working on that, it makes a mixed use, mixed income district more difficult.  We want to create a place desirable for people.  More vibrant real estate infill becomes more feasible if we don't have to deal with so much land storing automobiles."
Mr. Pacello draws inspiration from successful Eds and Meds districts like West Philadelphia and Detroit's Midtown neighborhood, and the Memphis Medical District Collaborative aims to join them as national best practices.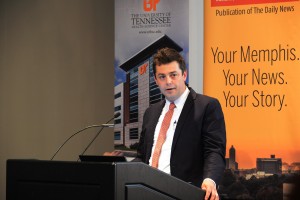 Buckshot Philosophy
The key is that the institutions – "stakeholders" in the parlance of community development – are willing partners at the table and "nothing would happen without them."
After just over two years of work, the Collaborative sees signs of progress in more than the physical space.  It's also showing up in the attitude of employees and students.  Mr. Pacello describes it as "coming into our own," and points to the annual survey that indicates an uptick in "perceptions of livability" between 2016 and 2017.
"In the first, people said someone should do something," he said.  "That shifted to a cohesiveness and connection to the district with the second.  It's not just a transactional place, but more of a place where people can develop connections."
He said he thought to himself: "Wow, this is beginning to happen.  It's not attributable to one effort.  This work has to be comprehensive."
More accurately, it is "silver buckshot," a term coined by Princeton University professors Rob Socolow and Steve Pacala to mean that instead of one single strategy – a silver bullet – a more diversified approach is needed.  While the term was coined to describe wedge strategies to combat climate change, the theory nonetheless is relevant for the kind of community development being undertaken by the Collaborative.
Mobility Options
Among the buckshot for the Medical District are Mr. Pacello's talented 11-person staff working with existing businesses in the district while recruiting new businesses to join them; an ambitious greening program; an emerging developers program; micro-investments; and more.  It is the totality of all the small-scale initiatives that tell Mr. Pacello and his staff that "something is happening."
As a sign of the Collaborative's maturity and in response to the heavy car-dependency of the district, it is turning its attention to transit and mobility.  He said many of the people in the district are "transit-trained," coming from cities with effective transit systems.
Because of it, he is "daylighting mobility options," and in support of it, the Collaborative has added Glenn Gadbois of Austin, Texas, to its staff as transit project manager.
Mr. Gadbois' charge is to "reclaim choice in how people travel to and from the district," concentrating on the reimagination of how to move people, not cars.  Ambitions include the launch of a Transportation Management Association (TMA) and other mobility breakthroughs for Memphis.  He pointed out that people prefer to have and use options other than driving their own cars, but they lack choices.
In our next post, we'll talk more with Mr. Gadbois about his new role with the Memphis Medical District Collaborative. 
***
Join us at the Smart City Memphis Facebook page for daily articles, reports, and commentaries that are relevant to Memphis.