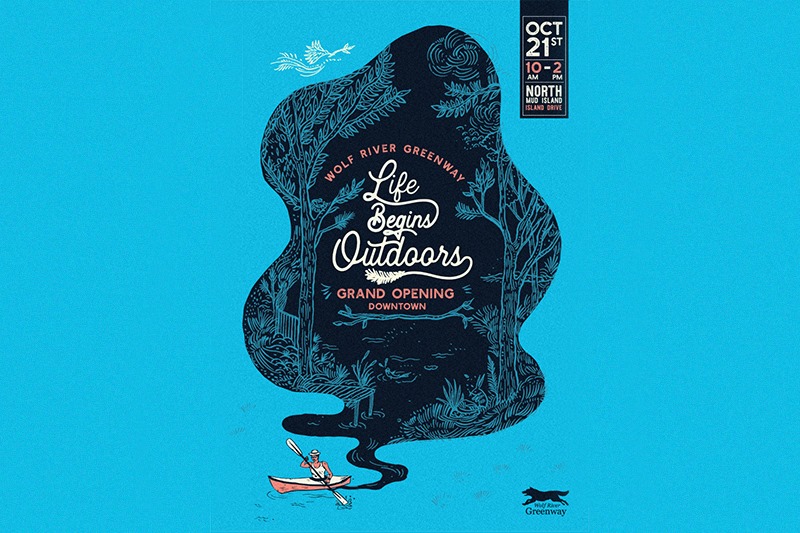 Memphis takes a strong step Saturday away from its grit and grind image and toward its growing green and grand reputation.
That's when the grand opening will take place for the 1.2 mile looping downtown section of the Wolf River Greenway at the northern end of Mud Island.  The celebration from 10 a.m. until 2 p.m. will feature an opening ceremony, yoga, music, food trucks, vendors, and the inimitable Jimmy Ogle offering his take on the history of the area.  (Grand opening schedule follows this post).
The Greenway segment is the latest evidence of the green ethos that has been was nurtured over the past 10 years and has burst into the open with the Wolf River Greenway master plan, Shelby Farms Park and Greenline, and now, the Studio Gang Riverfront Concept.
The 115 acres of the trailhead at Island Drive and Mud Island Drive have been transformed.  Before its facelift, the desolate, foreboding place was a dumping ground for trash and tires, but  it has now been reborn with landscaping, paving textures, benches, and plans for a boardwalk and future plantings.
More Than A Trail
The Greenway connects to a trail running alongside the Mississippi River in Greenbelt Park on Mud Island, and ultimately, it will be a gateway eastward along Wolf River through numerous Memphis neighborhoods and connecting with the trail systems of Germantown and Collierville – and perhaps, even Piperton.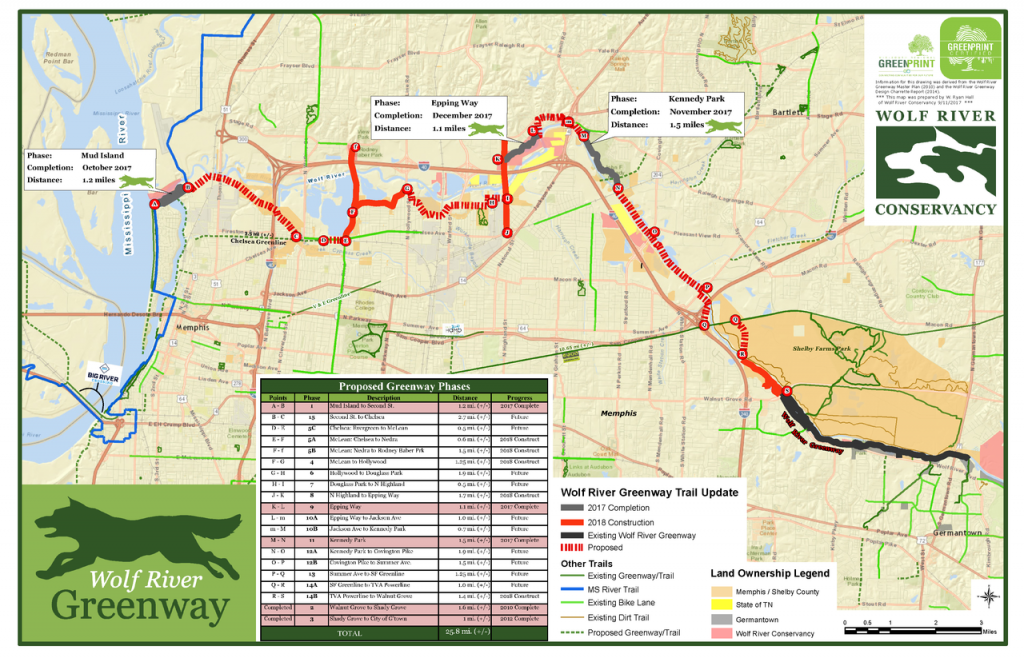 The timeline calls for the Greenway to be completed in 2020 at a cost of $50 million, said Wolf River Conservancy Executive Director Keith Cole, adding that 51% of the total cost will come from private sources.  So far, $46 million has been raised for the project.  Maintenance of the trail will be provided by City of Memphis Division of Parks and Neighborhoods.
Founded in 1985, the Conservancy was a modest organization seen by many as a "canoers club," but from the beginning, its leaders had a vision of a trail system hugging Wolf River from one end of Shelby County to the other.  Ten years ago, the idea took flight at the mythic Greening Greater Memphis meeting where an overflow crowd of more than 1,000 people at Memphis Botanic Garden came together to sign a manifesto and endorse the concept of  Shelby Farms Park becoming a major urban park and a network of trails and for Wolf River Conservancy to build a Greenway of which few cities could boast.
When the Greenway is completed, it will achieve – and surpass – the ambitions of that night.
It is more than a trail.  It is an experience.
Nonprofit Entrepreneurship
The Greenway will offer options and activities along its snaking journey across Shelby County that give people opportunities to individualize and shape their own unique outdoor experiences.
To this end, Mr. Cole said that the Conservancy is listening to residents along the route and responding to their suggestions.  For example, there was a response from an assisted living facility that wanted to offer its residents a place to walk beyond their own parking lot and there is someone who uses horses as therapy who wants to explore the potential of having a facility adjacent to the Greenway.    "We are getting out and talking to people about how they want to use the trail," he said.  "For example, there could be an outfitter, a coffee shop, but the community will tell us."
The original plan for the Greenway was to begin east and go west, but thanks to the generosity of the Boyle Investment Company and Henry and Snow Morgan, the Conservancy in 2010 opened the Greenway between Wolf River and Humphreys Boulevard/Wolf River Boulevard in East Memphis. It also took advantage of a unique opportunity in Raleigh to build a trail section that is nine-tenths of a mile on 66 acres with a 25-acre lake off Epping Way on an estate formerly owned by well-to-do cotton merchant and big game hunter Berry Brooks.
With a significant amount of its financial goal in the bank, the next 12 months promises to be a time of active construction, beginning with the downtown trail.  The 2011 hiring of Mr. Cole, an entrepreneur looking for a new challenge and finding it in the dreams of a nonprofit, signaled a stepped-up commitment to get the Greenway funded and built. "It was an exciting entrepreneurial opportunity," he said.
"And there was a group of people on the board and in the community like the Hyde Foundation that were driving the idea ahead.  We asked an advisory group to help complete the business plan and there wasn't any question it was an exciting opportunity.  Also, Bob Wenner (Chief Financial Officer and Director of Lands) agreed to join us to lead the project.  We have had a lot of good friends who helped move this along and an awful lot of good will."
It's More Than The Tangible
Mr. Cole said there are few investments that will have more impact than the trail, and he cites quality of life, health, recreation, and economic benefits that can result from the corridor.  As Mr. Cole says, this is a "big deal for an urban area," and it's hard to think of a city that has done more, faster than Memphis when it comes to outdoor recreation.
While our culture is given to economic impact studies to measure the value of everything from the arts to parks and trails, it's worth remembering that while tangible benefits matter, it's the intangibles that produce a great city.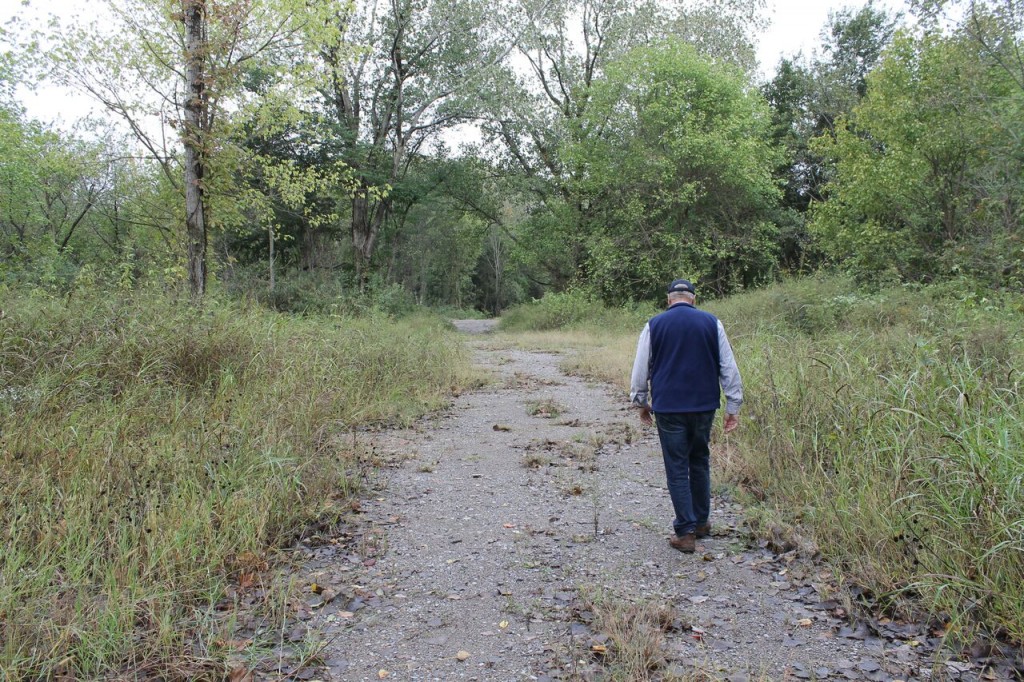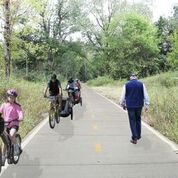 After all, there is no way to put a price on the vistas of the Wolf River and beyond, the soothing natural setting of the trail, the stress-releasing walk or bike ride looping up to the levee, the opportunity to connect with the Greenbelt Park trail and the riverfront in a direct way, and the chance to simply enjoy the western view of the green fields across the river.  (Interestingly, at least to us, is that when you look west from the trailhead or any place along Greenbelt Park, you are still looking at Shelby County whose boundaries follow the old Mississippi River channel.)
When Shelby Farms Park opened, it was said that early in the life of its Conservancy, it was impossible to imagine what it meant to create America's great 21st century park.  And yet, today, Shelby Farms Park sets the standard for large urban parks and it is the envy of cities across the U.S.
We think of that as we look at the Conservancy's ambition, because it is equally difficult now to imagine the full impact of a Greenway this special and distinctive, how it will attract national attention, and how it will define Memphis as the city moves toward its third century.
Higher Ambitions
In the wake of the opening of Shelby Farms Park, a frequent comment was "I can't believe I am in Memphis."  With the Greenway, we will hear the same comment, but in time, it will give way to a simple declarative sentence, "This is how we do it in Memphis."
It is not possible to measure the impact of these higher ambitions and aspirations as we move from project-building to placemaking, and make no mistake, the Greenway is a thread tying together Memphis' neighborhoods and their people to strengthen place.
There is even the potential for the trail to not only be an outdoor recreation corridor, but to be an economic corridor that produces new residential and retail growth as the Wolf River crosses the city and traverses many North Memphis neighborhoods who deserve the boost.  Dozens of studies over a decade conclude that parks and trails increase property values 80% of the time and inspire residential growth.
An equally exciting opportunity is for the trail to help improve health outcomes in Memphis.  After all, the Memphis metro ranks #45 for fitness among the 50 largest MSAs, according to the American College of Sports Medicine.  Some of the neighborhoods along the trail's route have some of the most challenging health outcomes in Memphis, particularly among children whose outdoor activities have been decreasing since the 1990s.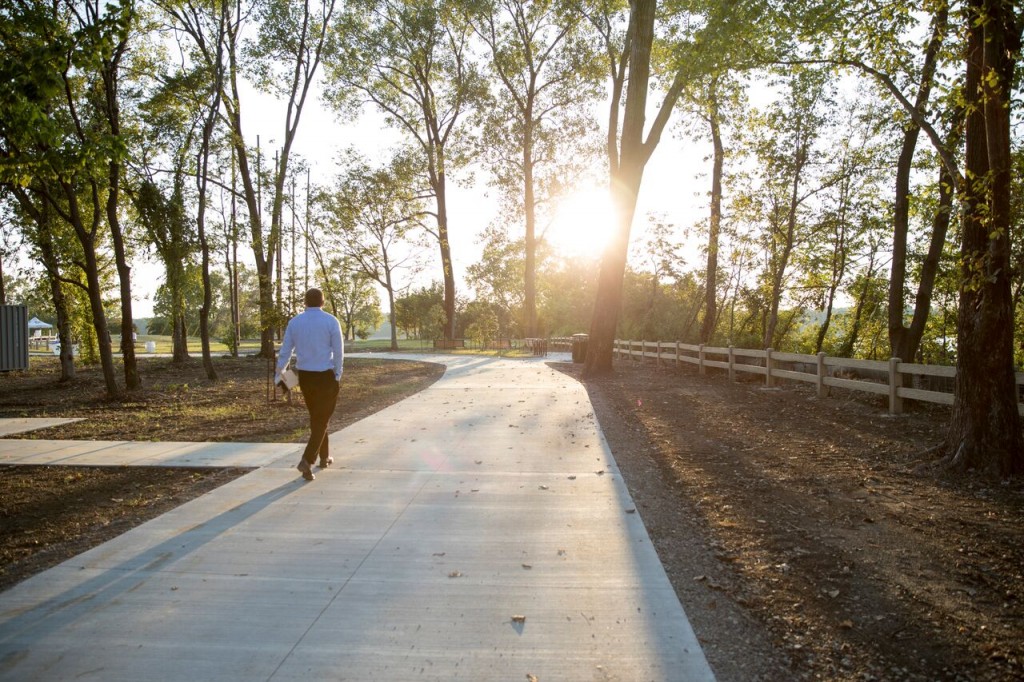 Shaking Off Old Attitudes
As Mr. Cole points out, 200,000 people will live within a 20-minute walk of the trail once it is completed, and with the trail, they will come to appreciate a river that has not been seen in urban Memphis by most of its citizens.
Altogether, the River, fed by artesian springs, flows about 90 miles from the red clay hills of Benton County, Mississippi to the Memphis riverfront. That includes the eight miles of the Ghost River between LaGrange and Bateman Bridge near Moscow on a section well-known for the frequency in which canoers lost their way.
Early maps by Europeans showed it as Blackbird River (by the French), Chichica (Chickasaw) River, and Nashoba (Chickasaw for Wolf) River.  There is also a legend that the river was named by French explorers after a Chickasaw guide named "Loup," which was "wolf" in French, but this original story is often disputed.  That said, as more European settlers came into the area, the official name became Wolf River.   Since its founding 32 years ago, the Wolf River Conservancy has protected nearly half of the 42,000 acres within the 100-year floodplain for the river.
For us, all of this back story and the new excitement about what the riverfront can become make the opening of the downtown Wolf River trail a time to celebrate how our community is proving that it can shake off the "good enough for Memphis" attitude that often defines the city and aim for the design and the amenities that set standards and give Memphis a distinctive competitive advantages for the future.
+++++++++++++++
Few people pay attention to the obligatory signs that are posted at the site of city-funded projects, and the Downtown Trail is no different.  That said, we should all give special attention to the generosity that makes these kinds of project possible.  Funders for the Downtown Trail are Assisi Foundation, AutoZone, Thomas W. Briggs Foundation, Canale Foundation, FedEx, HUD/Shelby County Resiliency Grant, Hyde Family Foundation, International Paper, Plough Foundation, Bill and Amy Rhodes, and Kemmons Wilson Family Foundation.  There was also a major anonymous donor and of course City of Memphis.  The landscape architect was ETI Corporation and the Contraction was ViktorHall Construction LLC.
Saturday's grand opening from 10 a.m. until 2 p.m. will feature:
* Free Yoga with Laura Allen Hedges of Evergreen Yoga (10:00 a.m.)
* Remarks from officials and project leaders and Grand Opening Ceremony (11 a.m.)
* Jimmy Ogle Walking Tours (10:30 a.m., 11:30 a.m., 12:30 a.m.)
* Free Fit4Moms Memphis Stroller Strides Class with Celinda Smith (11:45 a.m.)
* Free Hip Hop Yoga with Kandace Stewart of Your Inner Yogi (1 p.m.)
Other features include DJ Capital A, Sache T-Shirt Machine, Amurica Photo Booth, Food Trucks, Beer, Face Painting, Chalk Art, Community Partner Booths, and more.
***
Join us at the Smart City Memphis Facebook page for daily articles, reports, and commentaries that are relevant to Memphis.