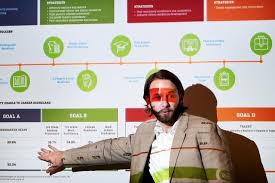 It may not have made headlines, but it was big news nonetheless: Seeding Success and PeopleFirst Partnership merged.
This new organization – now just called Seeding Success – is an exciting development because so much of the new thinking about education has come from the bright minds connected to these programs.
Mark Sturgis, formerly executive director for Seeding Success, now takes the same title for the new and improved organization of the same name.   His experience as a community organizer in the Mississippi Delta and as head of Stand for Children makes for a unique brand of passion and intellect that illuminates issues in new and provocative ways.  The underlying foundation for his philosophy is an unshakeable commitment to fighting inequality and that education is the key driver for change.
To underscore the point, he said that while it is a frequent complaint that Memphis does not have a vision, he can't think of a better one than Seeding Success's goal: Every child graduates high school prepared for college, career, and success in life, no matter what it takes."
Ending The Distress
This cradle to career approach has long characterized Seeding Success, and it speaks to our blog post about school funding as a cure to Memphis' crisis level "distress score" by Economic Innovation Group. 
If that wasn't a wake-up call that should shatter any lingering complacency here, it was followed by national headlines heralding the fact that the national poverty rate for children has hit an all-time low in 2016.  In Memphis, the child poverty rate actually went up.
In other words, the stakes couldn't be higher for Memphis to disrupt business as usual and do whatever it takes to provide students with the interventions that lead to better academic outcomes.  The consequences are amplified by the fact that when compared to similar sized cities, Memphis has a larger percentage of youth.  For example, while Memphis and Nashville have similar populations, Memphis has 26,500 more children under 18.
We say this to make the point that there's never been a better time for the resources and new thinking that can result from the fusion of Seeding Success and PeopleFirst Partnership.  As we wrote in our post two weeks ago, Shelby County Schools should see itself as being in the talent development business, and that's always seemed to be the frame through which Seeding Success sees its purpose.
Setting The Right Agenda
Recently, I had the opportunity to talk with Mr. Sturgis and a Seeding Sucess board member, J. Austin Baker, president and chairman of HRO Partners, who had made many valued contributions to Memphis in the development of talent.  He started his first company while in college, he's received a number of awards for entrepreneurship, and he is co-founder of the Memphis Institute for Leadership Education (MILE) at University of Memphis' Fogelman College of Business and Economics.
To kick off the conversation, Mr. Austin emphasized that Seeding Success is a "real" people strategy that sets goals and measurements from early childhood to talent retention.  "It's about elevating the level of advocacy from leaders and aligning it and moving the needle," he said, adding that it's about identifying the right tools and best programs to give every child their best opportunity to succeed in the classroom and in life.
Mr. Sturgis added: "A child-focused agenda is really a people-focused agenda.  Although it is often said as hyperbole that our children are our single greatest investment.  If you take a moment to consider this, the value of a healthy, thriving, and successful generation cannot be ignored.  The future trajectory of a person, family, or place hinges on the majority of us broadening and deepening our economic power, and ultimately, equitably designed systems that secure opportunity and resources across every subgroup.
"Our current systems produce the exact outcomes they were designed to achieve.  We can redesign them to solve the real underlying root causes of our challenges: racial segregation, insufficient funding, failed transportation, household poverty, parental education.  It comes down to a will to change.  Our partners have the will to improve and change what we do to get better outcomes.  That is true for most. For others, the path will be more challenging, and we will have to face those roadblocks to change through our political voices."
But Sometimes There Are No Bootstraps
This should propel Memphis "to seek deep insights to innovate from the classroom to policy to higher education to community organizations," he said, adding that Memphis has suffered from lack of follow through and implementation which can be seen in the lack of improvement in the poverty rate and the economy."
In a world where bromides like "they should pull themselves up by their bootstraps" gain currency, Mr. Sturgis rejected it outright.  "We fail every time we let people fall out of the system," and that we should not place the blame on the students but on the system that failed them.  "We get an indication of kids that are going to drop out, but our response is for the system to just delete them," he said.  "We have to build the safety net and manage it."
That system, Mr. Austin said, has not always acted as a continuum and that "it's incumbent on us as a community to make sure we have a system and that all parts of it are collaborating." To do this, Memphis should shift from "hunter gatherer to farming" because it can create culture change.  For example, the more than 200,000 partial college completers are prime targets for increasing the college attainment rate in the shortest period of time.
Regardless of the point on the continuum – from early childhood to third grade to high school to college – Seeding Success has set specific goals (such as 90% of all third graders being proficient in reading by 2025).  Mr. Sturgis said: "We can change little things and get big results.  We can develop even bigger changes in the educational core system to find the highest opportunities to work with students and families and to bring other organizations into the system."
Reason To Believe
He pointed to "bright spots across programs and schools" and said "our community is already producing great results (with some programs), but they are not at scale.  For example, the 130 graduates from Memphis' first adult charter school, Goodwill Excel Center, who saw an average $10,000 increase in income and who suggest an approach to the 130,000 adults in Shelby County who do not have high school degrees.
At the other end of the educational spectrum, there are now 7,500 four-year-olds enrolled in pre-K.  "That means we are only 1,000 seats – 50 classrooms – shy of the estimated goal for Shelby County," he said. "It proves we can put the systems in place to build success.  We can create dashboards and data sharing agreements based on 'if you do more of this, you get more of that.'  We can use data as a flashlight rather than a hammer."
But, here's the kicker: "The kids in our pre-K outperform the national average."
It's hard to think of anything more encouraging for action than that.
***
Join us at the Smart City Memphis Facebook page for daily articles, reports, and commentaries that are relevant to Memphis.