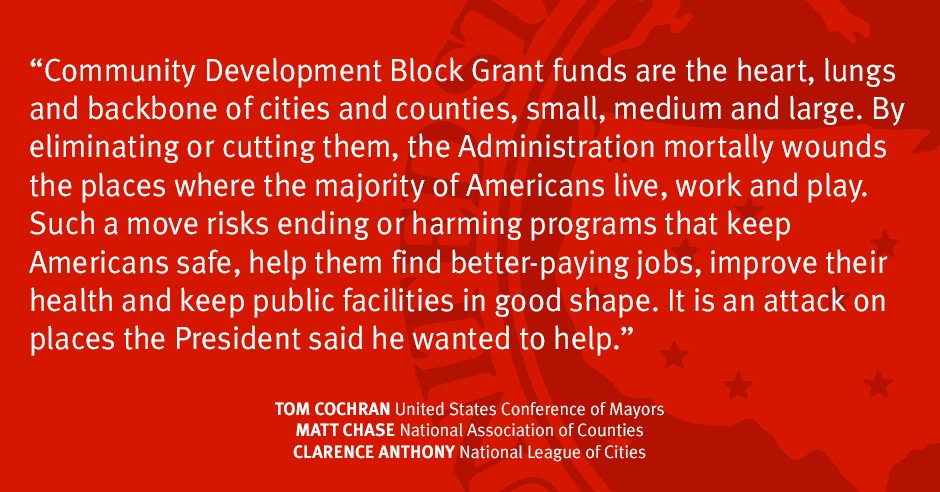 It's hard for the timing to be worse for Memphis when it comes to the proposed Trump budget.
With signs of an economic revival that would finally take us to Pre-Great Recession levels, the budget would be a serious drag on Memphis' economic momentum.
It's really a simple equation: if you are really serious about wanting American to be great, you have to support and strengthen cities because they are where the jobs and the drivers of the national economy are located.  The 100 largest metros house 70% of all jobs and generate 75% of the total GDP.
The dominant role that cities play suggest the wisdom of a federal budget that makes important investments in their futures.  While the budget will undoubtedly be amended by the U.S. Congress but the final one is likely to share the same general framework as the one submitted last week by the Trump Administration.
Scorched Earth Budgeting
It is nothing less than a budgetary torpedo aimed directly at Memphis.  The concerns that we blogged about on January 26 have now been made manifest, and the number of programs important to Memphis that is recommended for elimination has only grown – from public transit to job training to public safety, from minority business assistance to arts and culture, from health care to early childhood development and weatherizing homes of low-income families, and from after-school programs for students in high-poverty areas to the social safety net to support for libraries, museums, and zoos.
This scorched earth approach to budgeting is best illustrated by the cuts to the U.S. Department of Housing and Urban Development.  In particular, it's hard for us to think of a program that has been more important to Memphis than the 42-year-old Community Development Block Grant (CDBG) program.
It has powered almost every housing project/program undertaken by City of Memphis.   Because city government has not provided funding for community redevelopment for many years, neighborhood improvement depended completely on CDBG funding (in other words, the amount spent in Memphis was the amount funded by the federal government).
Bipartisan Support
Overall, the Trump budget would slash $8 billion from HUD, which eliminates the $3 billion CDBG grants program altogether.  Also recommended for elimination are the HOME Investment Partnerships Program, the Choice Neighborhoods program, and the Self-help Homeownership Opportunity Program, all of which helped redevelop low-income neighborhoods and encourage homeownership with their $1.1 billion budgets.
The CDBG program has received bipartisan support since it began in 1974 by President Gerald Ford, but Trump's OMB Director Mick Mulvaney applied the same glib defenses for the devastating cuts to HUD that he used in discounting the effectiveness of programs from Meals on Wheels and educational programming by the Corporation of Public Broadcasting.  His argument is that CDBG grants do not have "demonstrated results" to justify their budgets.  It  belies the impact and the tens of thousands of Memphians whose lives were improved by CDBG projects.
"It's the lifeblood for many cities," said Stephen Glaude, CEO of the Coalition for Nonprofit Housing and Economic Development and former HUD undersecretary in the first Bush Administration.  "It's considered one of the most flexible federal programs in that it allows local communities to determine their greatest needs.  To come in and blatantly eliminate these programs because you're trying to meet a budget number without talking to the stakeholders, the constituents of these programs, is a little concerning.  In fact, it's more than a little concerning.  It's actually alarming."
CDBG funds can be used for purposes besides affordable housing.  They also can fund public facility improvements like parks, health care and child care facilities, neighborhood rehabilitation and disaster relief.  It also can provide public services for seniors, youth, and the disabled.
Trump's HUD would also unwind policies like the one requiring desegregation of affordable housing funded by the federal government, and it's not hard to imagine that Trump's own legal problems with discriminatory, racially-based housing practices would contribute to his animus about similar policies at HUD, not to mention that his pick for HUD secretary, Ben Carson, has no experience or policy knowledge about HUD's purpose, except to say fair housing is a "mandated, socially-engineered scheme."
It's An Investment
Meanwhile, back in Memphis neighborhoods, where the buck stops, most people aren't aware of the  extent and impact of CDBG grants that have funded housing and social service programs in 39 neighborhoods between 1998 to 2014.
Here's the thing: HUD programs are not welfare programs for cities.  Rather, they unlock private and philanthropic money that creates a ROI in financial terms that are unmatched.
For example, from 1998 to 2014, all federal money for Memphis Housing Authority and City of Memphis Division of Housing and Community Development had a return on investment of 3.5:1.  The $665.5 million in federal funds attracted $1.7 billion in private money and $443 million in state funds.
Back to just CDBG projects, the following are some of them and generally, the federal money was a small part of the total cost:
*  Down payment assistance program led to the purchase of 11,221 homes
*  $39.7 million in community services grants to nonprofit organizations for low and moderate-income Memphians
*  Minor home repairs of 2,422 homes between 2001-2013; Exchange Building's conversion to 202 units of housing
* 364 rehabilitated homes
And More…
*  First Parking Place garage to support housing at the Exchange Building, 10 S. Main, and Goodwin Institute
*  Great American Steamboat headquarters that created 587 new jobs
*  19 multi-family housing units at 964 McLemore
*  29 units of rehabilitated housing at Alabama Plaza
*  Rehabilitation of 60 units in the Vollintine-Evergreen neighborhood for "A New Place" with four units converted into office, laundry, and a community resource center
*  Newly constructed 60-unit April Woods East garden apartments and a 2,000 square foot community center on Breedlove at Chelsea
* 70 units at Autumn Park Apartments
More CDBG Projects
* 10 units at Burgess Manor
* 40 units of elderly cottages at Echo Westwood Manor
*  Six Habitat for Humanity houses on Polk Street
*  12 units of rehabilitated housing at Hampton Courts
* 90 homes that received significant home repairs
* Renovation of four historic shotgun houses in Greenlaw/Manassas Redevelopment District
*  Acquisition and rehabilitation of 448 affordable housing units at Millcreek Apartments
*  74 affordable homes at South Third and Fairway at Nehemiah Subdivision
*  46 units rehabilitated at Parkway Terrace Apartments
*  Renovation of 124-unit complex acquired by Salem Baptist Church
*  24 rehabbed units at Tate and Walnut
And More…
*  Purchase of the historic Walker House in South Memphis for a Neighborhood Resource Center
*  29 rehabilitated apartments located in College Park Neighborhood with Wellington Place Apartments
*  New construction of Eden Square with new home for the Power Center Academy and 32 homes on a site with wide sidewalks and bicycle lanes
*  Purchase of the Renaissance Business Center, a one-stop-shop technical assistance for business
*  9 units at Wicks Apartments
*  Construction of 15 units of senior housing
*  Rehabilitation of an existing structure serving 238 girls in Uptown with Boys and Girls Clubs
*  Acquisition of 3906 James Road for 159 units of elderly housing for Lutheran Social Services
*  Rehab of Porter Leath
*  Mayors' Ten-Year Plan to End Homelessness in Memphis and Shelby County
And Even More…
*  Chicago Park lease for the police mini-precinct and auditorium used as multi-purpose facility
*  Creation of Riverview Kansas Neighborhood Plan and Klondike/Smokey City Neighborhood Plan
*  Riverview Kansas Daycare rehabilitation
*  Wesley Neighborhood Center Revitalization for family and youth
*  Renovation of four-bay commercial structure in Frayser
*  Improvements to Burkle House (Slavehaven)
*  Sale and demolition of 39 units of multi-family house to Riverview Kansas CDC
*  Redevelopment of Foote Homes public housing development and surrounding Vance Avenue Neighborhood
* Construction of Lyon's Ridge, 102 apartments for seniors on Pennsylvania Street in fenced and gated community
* Development of 100-unit apartment complex built to National Green Building Standards
Bad Timing
In addition to the CDBG source of funding, City of Memphis has also relied on HOME Investment Partnerships Program to implement many of these housing and neighborhood improvement projects, and its list is as equally impressive as CDBG projects.
The proposed cuts in federal programs come at a time when Memphis is working hard to act on an expanding livability ethos and vision, and it needs all the fuel it can get to accelerate progress and create a new momentum that leverages the new energy and increased willingness to make investments that can transform the city.
***
Join us at the Smart City Memphis Facebook page for daily articles, reports, and commentaries relevant to Memphis and the conversations that begin here.