On Wednesday, May 10, 2023, 18 seniors from 10 area private high schools will celebrate their graduation at an event hosted by local non-profit Memphis Opportunity Scholarship Trust (M.O.S.T.), an organization committed to giving Mid-South families the opportunity to send their children to the schools that best fit their needs, regardless of financial circumstances.
"These scholars have achieved so many great successes in their academic careers and deserve to be celebrated not just as high school graduates but as standouts among their peers," said M.O.S.T. founder Bob Solmson. "As pleased as I am that M.O.S.T. is able to support these students by opening doors to opportunities for education to them from Pre-K through 12th grade, I'm also eager to see where each of them goes next and what they achieve in college and in their careers."
The 18 graduates will join more than 3,500 youth who have received more than $24 million in scholarship since M.O.S.T.'s inception in 1998.  The mission for M.O.S.T. is supported with contributions from individuals, corporations, and foundations.
Memphis businessman Solmson founded M.O.S.T. on his belief that all children and teens deserve an equal opportunity to receive the education that best fits their needs, regardless of their ZIP codes or financial circumstances.  .
To fulfill that mission, the nonprofit organization offers need-based scholarships to qualifying families in Shelby County who wish to send their children to private schools.
In the most recent year on record, M.O.S.T. provided 355 needs-based scholarships to Pre-K through 12th grade scholars, totaling $1,039,633. The organization also offers a smaller number of merit-based McDonnell Scholarships, with $35,000 going to 14 high school students in the most recent academic year.
This year's 18 M.O.S.T. seniors are:
*  Axel Mendez Padilla, Oscar Perez, and Jareth Sauceda from Christian Brothers High School;
*  Amelia Lydecker from Concord Academy;
*  David Kut and Jacob Kute from Evangelical Christian School;
*  Halle Johnson and Bryant Smith, Jr. from Harding Academy;
*  Nyla Johnson and Alacia 'Lacy' Williams from Hutchison School;
*  Atifa Alsaadi, Tasneem Khatib, and Nia Yusuf from Pleasant View School;
*  Cristian Arocho from Memphis University School;
*  Amaya Taylor from St. Mary's Episcopal School;
*  Margaret 'Maye' Edwards and Melissa Meliton from St. Agnes Academy-St. Dominick School;
*  Tiffany Garcia from St. Benedict at Auburndale Catholic High School.
"Thank you so much for all the opportunities the people at M.O.S.T have given me," wrote graduating Scholar Maye Edwards, who will be taking what she learned at St. Agnes Academy to begin her studies at The University of Tennessee at Chattanooga in the fall. "I would not be the same person I am today without the help of this wonderful and generous organization. I am beyond grateful for all the hard work you did for me and will continue to do for many other students. I'm definitely proud to be a M.O.S.T. scholar. Thank you again."
This year marks M.O.S.T.'s 25th anniversary, having opened doors to educational opportunities in the Mid-South for hundreds of families. In addition to local donations, M.O.S.T. receives funds from the Children's Scholarship Fund, a New York organization that helps support thousands of scholarships across the U.S. After high school graduation, 95% of M.O.S.T. scholars have gone on to matriculate at four-year colleges or universities.
"The growing community of M.O.S.T. supporters drives everything we do, helping Memphis families find the best environments to support their children's specific needs in school," said M.O.S.T. Board Chair Alexis Faber. "With this group of seniors, another cohort of M.O.S.T. graduates is leveraging the academic successes they've achieved, the confidence they've gained, and the dreams they've hatched to write the next chapter of their stories, with the potential to shape the future for generations to come."
Put simply, the support from M.O.S.T. means more options are available for Mid-South families, allowing parents to match their child's unique aptitudes, interests, needs, and circumstances to the curriculum, faculty, and student body that suit them best.
"Public and private schools don't compete, they collaborate. There's no one-size-fits-all education model for any community," said Abbey Cowens, M.O.S.T.'s Executive Director, who has two school-age children – one in public school and the other in a private school. "Mid-South kids thrive when there are accessible options providing opportunities for success. M.O.S.T. is proud to play an important role in connecting students to these opportunities."
To learn more about M.O.S.T. scholarships, scholars, and to become a supporter, visit memphisscholarships.org.
###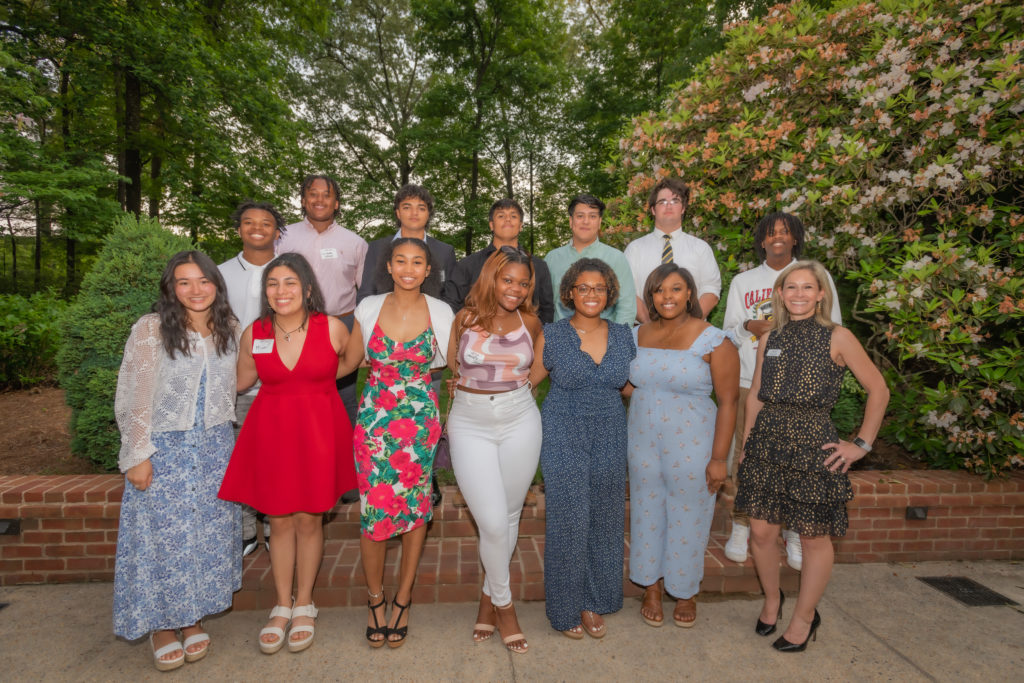 Photo: MOST 2022 Senior Reception Grads: Memphis Opportunity Scholarship Trust (M.O.S.T.) Executive Director Abbey Cowens, far right front, poses with the organization's 2022 High School Graduates at last year's M.O.SD.T. Senior Reception at Dixon Gallery & Gardens. Through scholarships funded by donor gifts, M.O.S.T. offers Memphis-area families the opportunity to send their children and teens to schools best equipped to meet their needs, regardless of financial circumstances. 
Media requests:
Matt Timberlake, M.O.S.T. Marketing & Communications Director
mtimberlake@memphisscholarships.org
(901) 842-5329
Interested in attending the event as a member of the media? Contact Matt to RSVP.