This is an exciting time for Memphis as the soon-to-be-revealed, reimagined Tom Lee Park moves toward its Labor Day grand opening.   
It's a day the city has been wanting for 99 years.  Finally, the spectacular riverfront envisioned in dozens of studies and reports dating back to 1924 will be a reality. (More on that later.)
Thirteen years ago, I joined those aspiring for Tom Lee Park's 30 acres to be transformed from 30 acres of moonscape (in the words of a leading Memphis architect} into the spectacular riverfront park that Memphis deserves.  
What is now 80% complete at the $61 million Tom Lee Park takes my breath away and surpasses even my wildest expectations when I started blogging and writing in Memphis magazine about what could be there.  There is no question as it wraps up its final 20% in construction that it will be one of America's premier riverfront parks and be a key part of rebranding Memphis nationally.
Best-in-class Collaboration Designers
There's little question of how this great park design came to be. It has an impressive pedigree.
It came from a commitment by  Memphis River Parks Partnership to associate with best-in-class professionals: award-winning firms, Studio Gang and SCAPE, designed the new Tom Lee Park; nationally renowned lighting designer, Randy Burkett Lighting Design, developed the lighting; and internationally honored artist Theaster Gates will produce a special tribute to the park's namesake, Memphis hero Tom Lee.  
Studio Gang has won dozens of design awards.  Its founder, Jeanne Gang, is celebrated as one of the country's most brilliant architects.  Just recently, she received glowing praise from the New York Times for the $465 million Richard Gilder Center for Science, Education, and Innovation addition to New York's historic American Museum of Natural History.  Her firm has won the Architezer A+ Firm of the Year Award and the National Design Award from Cooper Hewitt, Smithsonian Design Museum.  One award was for Aqua, an 82-story building in Chicago that is the tallest building in the U.S. designed by a
woman.
Working as a partner with Studio Gang to design the new Tom Lee Park was SCAPE, founded by the celebrated Kate Orff.  Just this year, TIME magazine named her as one of the 100 most influential people in the world. It is solid recognition that she is now a leading voice for new thinking in landscape architecture that balances climate change, equity, social change, and environmental sustainability.  She has won numerous awards, including the Buckminster Fuller Challenge Winner, two national American Society of Landscape Architects awards, and several NY American Society of Landscape Architects Awards.  
Both Ms. Gang and Ms. Orff are recipients of the prestigious MacArthur Foundation Fellows award, commonly known as "MacArthur Genius Grants."
Another Best In Class
In keeping with getting the best talent to work in Tom Lee Park, the Memphis River Parks Partnership commissioned Mr. Burkett to design a lighting plan.  Mr. Burkett's national portfolio includes the Martin Luther King, Jr., Memorial in Washington, D.C.; St. Louis Arch;  Pulitzer Foundation for the Arts, St. Louis;  Citygarden, St. Louis; Utah State Capitol, Beaden Park, Charlotte; and more. The firm has won multiple awards from the Illumina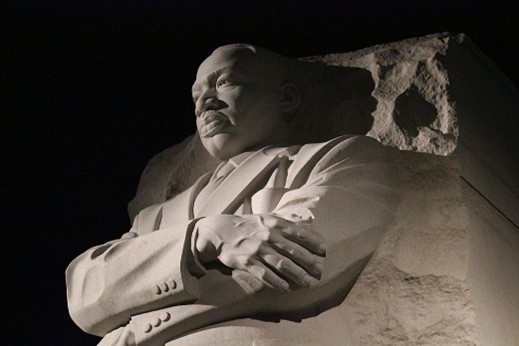 ting Engineering Society.
The national bona fides of the Tom Lee Park design team has attracted national attention, which will undoubtedly intensify with the park's grand opening.   The transformed Tom Lee Park has the power to rebrand Memphis, particularly with the about $400 million in new hotels and apartment complexes on the bluff overlooking the park.
The collaboration of these internationally known experts brings more talent and creativity to the Tom Lee Park project than any other park and public space project in the history of Memphis and Shelby County.
If there was any question about the importance of this park, the Mellon Foundation underscored that point when it selected Tom Lee Park as one of the first five recipients of grants from its Monuments Project, which is working to create monuments which better represent the diversity of the U.S.  As the foundation has pointed out, monuments are disproportionally White and do not represent the complexity of the American story.
Another International Talent
Mellon Foundation commissioned Mr. Gates to produce a $1.4 million tribute to Tom Lee that encourages conversations, common ground, and commitment to a better community.  His installation, "A Monument to Listening," is designed to spark self-reflection and conversation among park visitors. 
Mr. Gates is the quintessential Renaissance man – potter, painter, sculptor, activist, musician, founder of a nonprofit organization focused on culture-driven neighborhood development in the South Side of Chicago and a partnership between the University of Chicago's Arts + Public Life Initiative and the University of Chicago Harris School of Public Policy which brings together artists, policymakers, faculty, and students to design and implement new approaches to urban development.
Mr. Gates has mounted exhibitions in too many prestigious places to list, but they include National Museum of Art in Washington, the Tate London (where he was called "one of the world's most influential living artists"), Haus des Kunst in Munich, Museum of Contemporary Art in Chicago, the Venice Biennial, Musée du quai Branly in Paris, Fondazione Prada in Milan, and Whitney Museum of Art in New York.
The New York Times critic wrote in November that Mr. Gates last exhibition was "elegiac" and that he speaks in "spiritual, even animistic terms.  No matter the medium, Gates is motivated by a desire to connect Black people to their past and to one another."
A Bit Of History
It's been a long, strange trip from the first call for a better riverfront until today.
In 1924, in Memphis' first comprehensive plan, legendary urban planner Harland Bartholomew wrote something that could be applied to Tom Lee Park until the Riverfront Concept was created by Mayor Jim Strickland's special riverfront committee appointed in 2017.
Mr. Bartholomew wrote 99 years ago: "Today, the riverfront is not merely unattractive, but represents an unprofitable use of the property…With proper architectural design, attractive lighting, and the exercise of care in both pubic and private construction, this riverfront could be transformed into a picture of combined commercial and recreational activities truly representative of the city's character and unsurpassed in attractiveness in any other city."
There is the romantic mythology that the riverfront has always been a revered and valued place in Memphis. 
And yet, in its heyday of steamboats and cotton, it was a place for heavy, noisy, and gritty commercial activities powered by enslaved laborers later trapped in the world of Jim Crow laws.  The noisy hustle and bustle and the sights and smells of the riverfront were ignored by most of Memphis, and in the process, Memphis turned its back on the riverfront and faced eastward.
At the time of Mr. Bartholomew's admonition, Riverside Drive was still six years from being built and a nascent idea of using the riverfront for more than a public dump was emerging. Since 1879, the only productive use seen for the riverfront from Beale Street to the Frisco Bridge downstream was a landfill, where there was a mountain of cans, household waste, and rusting junk from the public and dump boats.
Because of the tons of trash building up below the bluffs, steamboat captains on the Mississippi River joked that they could smell Memphis before they could see it.  That continued until a billion pounds of dirt and trash were removed for the building of Riverside Drive in the early 1930s. 
Government Time
While it may have taken 99 years, finally, Mr. Bartholomew's vision is coming into focus.  Bumps along the way came in the form of more than two dozen studies since the 1970s that recommended for a better riverfront, recommendations that were largely ignored.  
In making something finally happen, Mayor Strickland and key advisor Alan Crone deserve a great deal of credit although strangely, Tom Lee Park does not seem to have ever been mentioned in his weekly email newsletter.  That said, he deserves a bow at the ribbon-cutting on Labor Day: it is his major legacy project for Memphis.
Polling shows that the new Tom Lee Park has strong support among all Memphians, but particularly residents of the high-poverty neighborhoods abutting downtown and young adults in Memphis who are making decisions on where to live based on one-of-a-kind green assets, outdoor recreation, and public spaces.
There have of course been some opponents to turning 30 acres of flat land into an actual park, but that's to be expected.  When I was a negotiator with the Grizzlies to build FedExForum, that project was marked by emotional conflict with opponents, including petitions and a lawsuit to stop it.  And yet, within a couple of years, it was difficult to find anyone who said they were against it.
Once Tom Lee Park opens on Labor Day, it will be reminiscent of when Shelby Farms Park and Greenline opened, and people said, "I can't believe I'm in Memphis."
Best of all, Tom Lee Park will become a new symbol for a new Memphis that has shaken off its low sense of self-worth, which has led us to adopt a "it's good enough for Memphis" attitude. 
Tom Lee Park will be the FedExForum of waterfront parks.  Memphis needs to decide now that Memphians do in fact deserve the best and that our public realm can be competitive with any found in competing cities.
***
Join us at the Smart City Memphis Facebook page and on Instagram for daily articles, reports, and commentaries that are relevant to Memphis.