Lar'Juanette Williams has played many roles in her extensive acting career but none means more to Memphis than her present role as executive director of the Memphis Black Arts Alliance.
It would be easy to assume that after her award-winning, storied theatrical career, the MBAA position would not measure up to the excitement, the energy, and the same passion as when she toured as Effie White in Dreamgirls and in roles in Ain't Misbehaving', Hairspray, and Holly Dolly, or when she appeared on Seinfeld, E.R, Chicago Hope, NYPD Blue, Ghosts of Mississippi.
But if that is your assumption, you don't know Lar'Juanette Williams. 
Effervescent in personality, courageous in vision, and loving in her opinion about her city, she is infectious in her belief that the beloved legacy of Memphis' African American creative talent is a platform for future stars.
Her confidence in this heritage and the reservoir of Memphis talent inspire her determined pursuit of the Soulsville Cultural Arts Center, a $10 million multi-purpose arts center on Bellevue adjacent to the MBAA that would be home to all kinds of performances and act as a seedbed for emerging artists of all kinds – plays, music, visual art, and more.
It might sound like a pipe dream from anyone else, but when Ms. Williams vividly describes the project and its impact, even the most cynical listeners should be prepared to sign on. 
Lighting the Fire of Imagination
"We have had literally a global impact," she said.  "Our artists are standing on the solid shoulders of giants.  We need space – even Stax doesn't have a performance venue – and build it at a price so people can afford to use it.  It would also mean that MBAA would not have to continue to rent other venues in the city.
"Everyone knows about the Harlem Renaissance, but what we did here predates the Harlem Renaissance," she said.  "People around the world expect more because we are from Memphis.  There is something in the water here.  That's why we are on a 40-year mission to preserve, celebrate, and advance African American arts, literature, and creative culture."
The Alliance's vision is to ignite imaginations that produce African American arts and culture, radiating from Soulsville throughout the Memphis region as a vehicle to inspire justice, equity, and sustainable community development. 
"By valuing the lived experiences of African Americans, we build on a living, breathing legacy evolving from a rich vein of talent," she said.  "Just think, we have artists who win Grammys and live right here in Memphis.  We have artists that travel all over the world.  They can make major impact and provide inspiration for out talented kids."    
An Exercise in Faith
For all of its 41 years, MBAA has been housed in modest former city firehouse number 12 at 985 S. Bellevue Boulevard.  Its exterior is adorned with eye-catching artwork, has been an engine of activity and creativity.  During its history, MBAA has employed more than 4,200 artists; trained more than 43,500 youth artists; and attracted more than 300,000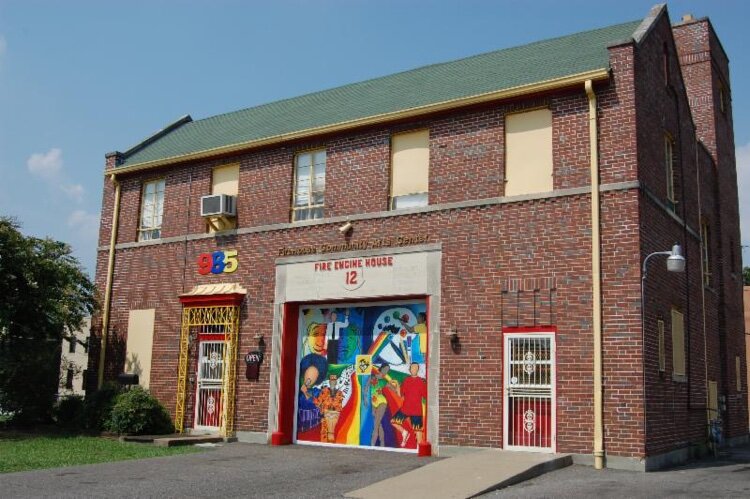 visitors, students, audience members, supporters, and volunteers to performances.
Under Ms. Williams' seven years of leadership, MBAA has produced 91 engagements with more than 6,070 youths and employing more than 800 artists.  She said: "We are aligned with 50 arts organizations locally, and many are doing great things.  We ask, 'what can we do to help you?'"
Except for the intervention of MBAA founder and impact player Bennetta (Bennie) Nelson West and Ms. Williams' family and her faith, Ms. Williams might never have accepted the position as the second executive director to lead the only all-Black arts group headed by women.  She in fact had volunteered to help Mrs. Nelson and gave her some recommendations for the next leader at MBAA.
But Mrs. Nelson knew who she wanted and it was Ms. Williams.  Finally, it led Ms. Williams to have a conversation.  "God said, I need for you to take all the knowledge that you have" and put it to important work at lead MBAA, she said.  
In large measure, she describes her life's journey that led her to stage and screen and then back  to Memphis as an act of divine intervention.  Ms. Williams returned home to care for her ailing brother, who died three weeks after she arrived and to help take care of her aging mother.   
In retrospect, it seems apropos, considering that her favorite quote is "if you decree it and believe it, you will see it – have faith in God!"
Opportunities and Ambition
She brings varied experiences to her MBAA job.  She graduated from the internationally known Stella Adler Academy with an emphasis on acting/directing/production and taking improv training from Tony-winning and comedic actor Charles Nelson Reilly. 
It was this comprehensive knowledge and her work in production that proves valuable to her MBAA work which benefits from her rich network of contacts and her deeply personal understanding of how one encouraging influence in a child's life can change its trajectory.   
Armed with a new strategic plan that has the Soulsville Cultural Art Center at its center, Ms. Williams is busy rightsizing MBAA; finetuning its work' strengthening its collaborations; setting its programs' agenda' operating its incubator program, MEMBAN (Memphis Black Arts Network; reaching out to Memphis legends and to artists hoping to become part of that group, particularly youths; and more.  "We have some really crazy talented kids in this city, kids who have the stuff to grow and become artists," she said. 
It's hard to spend any time with Ms. Williams and not get excited about the future of MBAA – and its importance to Memphis. "We have so many opportunities to celebrate and develop African American talent, and the Black Arts Alliance will leading it," she said, adding that with only women as executive director, the organization reflects "the nurturing and passion that comes from the heart of women."
***
Join us at the Smart City Memphis Facebook page and on Instagram for daily articles, reports, and commentaries that are relevant to Memphis.