There are street names, like monuments and parks, that deserve renaming, but a couple of the new names recommended by the special Memphis City Council-appointed committee deserve reconsideration. 
First, there's no argument about taking one of America's greatest acts of genocide on the Trail of Tears and renaming Jackson Avenue, but naming it Odyssey Avenue is misleading at best and tone deaf at worst. 
If the intention is to recognize Memphis' place in this dark chapter of American history and how the city was located on the route of the forced march westward, the name should be more direct, perhaps an actual native American word or a name that speaks to the unspeakable that occurred there.  I'm told "Nunna daul Tsuny" means the trail where they cried.  Sounds right to me. 
Jackson Avenue was named for one of the three founders of Memphis, Andrew Jackson, who, as president, directed the Indian Removal Act that led to the brutal and murderous treatment of native Americans as they were force marched from their homes and moved to what was a foreign land to them, Oklahoma.
To top it off, before he was selected president, he negotiated the treaty that led to the native American lands where Memphis is located being sold to speculators, including the future site of Memphis, which just happened to financially benefit the city's three founders, including Jackson himself.
It Wasn't An Odyssey
For him, the founding of Memphis was merely an investment for him that he sold early in the city's history.  It is likely that he never even visited Memphis for it was just another of the investments he made with John Overton.     
To put the label of Odyssey on this dark stain on our history is hardly Homeric.  It is a misdirection which will confuse future generations and obscure the Trail of Tears.
In the classic poem, Odysseus, the king of Ithaca, wandered for 10 years trying to find his home after the Trojan War.  The 2,800-year-old Greek poem was a heroic adventure with a largely happy ending, the anthesis of the Trail of Tears.
If Jackson Avenue is to be renamed, let it be something in keeping with the bleak history of which it is a part and that speaks clearly and loudly to future generations.  The Trail of Tears was not an odyssey; it was a death march. 
Honoring Mirian DeCosta-Willis A Better Way
Miriam DeCosta-Willis was a professor of mine at what was then Memphis State University and her husband, A. W. Willis is a special hero of mine.
Mrs. DeCosta-Willis was a civil rights pioneer and an accomplished teacher.  I was in her Spanish class two years after she became the first African American professor at the university.
I remember her fondly because in those days, journalism students had to take three years of a foreign language to graduate.  Our participation was generally grudging, and because she said  few of us were going to be speaking Spanish in our professions – it did not seem as useful then as it is today – and as a result, she focused mostly on literacy through Spanish literature and culture. 
The street naming committee of Memphis City Council recommends that Audubon Park, named for one of America's most famous naturalists and ornithologist, be renamed for my former teacher. 
She deserves to be honored, but there surely is a better way.
Audubon Park
Audubon Park is named for one of America's greatest naturalists and ornithologists.  His breathtaking drawings remain even today as the definitive images of birds and nature, and some of them were captured by him as he floated down the Mississippi River on a keelboat.
Memphis was a stop on his journey to New Orleans, and the city was right to celebrate its connections to arguably the country's greatest naturalist.
The committee is right to honor and celebrate the life of Dr. DaCosta-Willis but it would be stronger if there were a nexus between her leadership and the honorific.  For example, a building at University of Memphis or the University of Memphis' Park Avenue Campus or Southern Avenue or Park Avenue itself.
As for Audubon, his journal featured drawings made while he was in Memphis
Audubon in Memphis
Here's Audubon's entry from December 1, 1820, when Memphis was less than one year old and was largely a hardscrabble pioneer village that gave few indications of its future growth.  This is reprinted from an issue of Memphis magazine in 1984:
"I went a shore to a House about 5 Miles above Wolf River in a sharp running Bend, saw 2 beautifull Trees the Pride of China here the High Land is within 2 miles of the River and the spot on never overflows, these are remarkable spots.
"We are Landed immediately at the foot of Old Fort Pickering. We Walked up to it through a very narrow crooked path, and found in a very decayed situation; the Position a Beautiful one the Land Rich about it — and were told that the Spaniards own it. it was an agreable spot to live at — about 2 miles above this, the Mouth of Wolf river came in from the East, and is the Landing place of a Town Called Memphis — have runned 24 miles — Saw some Towe Buntings and Many Sparrows —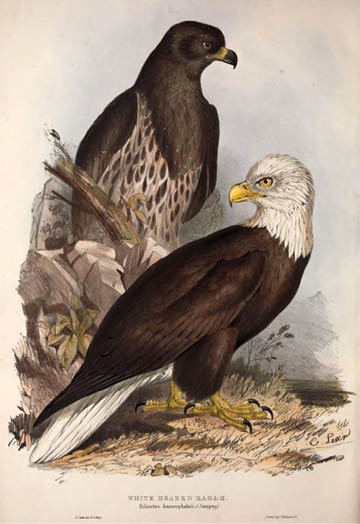 "I saw this afternoon Two Eagles Coatiting — the femelle was on a Very high Limb of a Tree and squated at the approach of the Male, who came Like a Torrent, alighted on her and quakled shrill untill he sailed off the femelle following him and zig zaging herself through the air — this is scarce proof I have had the pleasure of witnessing of these and all of the Falco Genus breeding much Earlier than any Other Land Birds —
"As soon as we had eat our Common Breakfast fried Bacon and Soaked Biscuits — Joseph [Audubon's assistant] went to his station and I to Mine, i.e., he rowed the skiff and I steering it — Went to the Little Prairie …
"I shot a Beautifull White headed Eagle Falco Leucocephalus — probably 150 yards off, My Ball Went through its body —
"Returned to our Boats immediately and began My Drawings — it is a Handsome Male —"
Audubon was still working on the drawing three days later, November 26th, on which day he noted that the thermometer was down to 22 degrees. That might explain the glint of ice the viewer can still detect in that eagle's eye.
The drawing was finished the next day, Audubon noting that the "Noble Bird weighed 8½ lb."
**
Join us at the Smart City Memphis Facebook page for daily articles, reports, and commentaries that are relevant to Memphis.