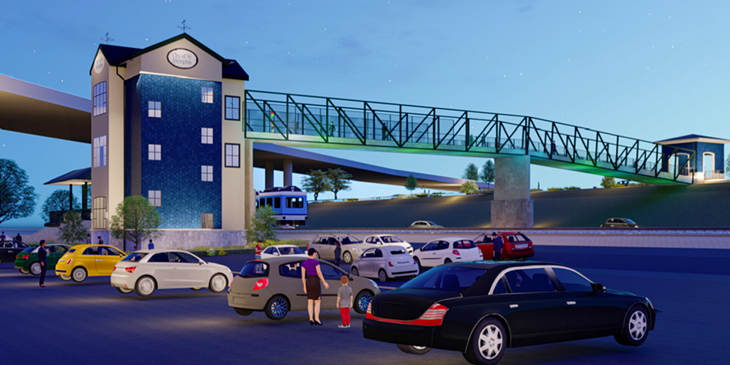 After the initial reaction to the rendering for the long-awaited pedestrian bridge connecting Bass Pro Shops with the Pinch Historic District, we're confident that the City of Memphis will take a new look at the proposed architecture and come up with something better.
Perhaps, it merely was a trial balloon to gauge public reaction, which was decidedly negative.
The bridge application was taken last week to the Design Review Board of the Downtown Memphis Commission, and the staff unusually did not make a recommendation as they smartly dodged a political bullet by taking no position and punting it to the board.
However, three issues were focused on for discussion: location of the bridge, its form or shape, and its materials. As a result of that conversation, the board suggested that a simpler, more contemporary, and striking design should be considered as part of the "value engineering" process to now be undertaken by city officials
All in all, it was a Solomonic outcome in which City of Memphis application did not receive a rejection and has the opportunity to produce a bridge design that would be a more positive addition to the downtown built environment.
A Hopeful Stimulus
In the immediate aftermath of the 2015 opening of Bass Pro Shops, there was an outpouring of questions about when this promised pedestrian bridge would be built and why it wasn't ready on opening day. Much of that interest was based on the idea that it could stimulate investment in the Pinch District for businesses wanting to take advantage of a proximity to the megastore.
Looking at the Pinch District today, it's difficult to imagine that the bridge would have had impact that profound, but there was always money in the budget for it and the bridge was a priority for people excited about a possible renaissance of the area that was Memphis' first center city.
At this point, it appears the likely future for the Pinch is that more of it will be purchased by St. Jude Children's Research Hospital, and perhaps, in time, a small, compressed area could become what is essentially the neighborhood for the 7,500 families whose children are treated there each year and its almost 4,000 employees.
The research hospital has already begun to expand to the west, purchasing several blocks of the Pinch District in the midst of some frenzied hiring and building in recent years. Memphis almost lost St. Jude in 1985 to St. Louis, and there are few victories in Memphis' history that has meant as much to the city's economy, reputation, branding, and future, so it's exciting to see its continued growth.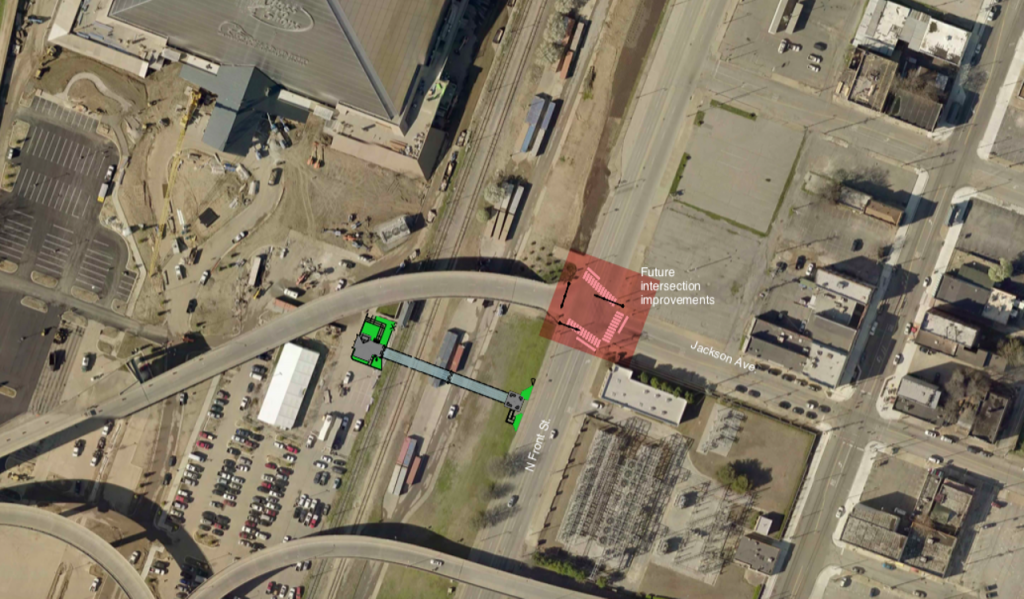 Setting A High Standard
That aside, it's not illogical to question whether the pedestrian bridge is even needed now, particularly if it is sited as far south as it is currently planned – between two massive interstate ramps.  That siting suggests that the emphasis is about accessibility for conventioneers rather than from the Pinch District since the property across from the proposed site is dominated by an electrical station (although it will become a colorful lighting location – one of the few places where the city's long-ago Light It Up! project is actually implemented).  When the bridge was first proposed, the site was north of the I-40 entry ramp so that it lined up more with the main entrance of Bass Pro on the south side of the Pyramid.
It made for a quick walk to the front door of Bass Pro Shops to the Pinch and promised to be an attractive eye-catching bridge that encourages out-of-town visitors to spend more time in downtown Memphis by hopping a trolley.
We're suspicious that Bass Pro Shops is involved somewhere in this bridge design process, and if that is the case, it's time to tell Bass Pro Shops that they risk a public controversy about injecting their architectural preferences into a bridge that should be an iconic image for downtown.  That's certainly not the case now.   Bass Pro Shops said at the opening of the Pyramid store that it was the only one in a downtown.  Most of its stores are in the 'burbs and this is an opportunity to educate them on the difference between architecture there and that in an urban setting.
There's a good example of this at University of Memphis, where a well-designed bridge reflects positively on the values, brand, and commitment to quality.  Downtown needs nothing less in its pedestrian bridge.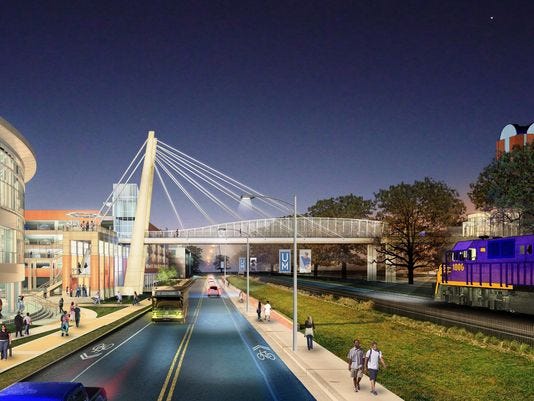 However, the current architectural design seems, in the words of an urban planner, to be "foreboding," which could discourage pedestrians from using it, and "suburban" and "out of character" with the Pinch District Concept Study, which envisioned a vibrant nine-block area with high-quality architecture.
An architect made the point that several years ago, widespread opposition prevented a motel from being built in the Pinch because its architecture had more in common with motels on Sycamore View Road than downtown Memphis.  He said the proposed design echoes that same issue about the appropriateness of suburban architecture in a downtown setting, which should aim higher because it comes at a time when the Memphis Cook Convention Center will have a spectacular new look and the new Lowes Hotel will have a high-quality architectural presence.
As we said, we are confident that City of Memphis will take a new look at the design during the value engineering process and yield architecture that would warrant the adjectives used by Design Review Board members – striking and contemporary.
***
These commentaries are also posted at the Smart City Memphis' Facebook page along with daily articles, reports, and commentaries relevant to Memphis