Thumbnail: The University of Memphis'Athletics Department made a serious misstep when it signed a contract with a right wing radio station spewing vitriol about African Americans, Black Lives Matter, and more.
**
There's a principle in branding that the University of Memphis Athletics Department needs to remember: only associate your brand with another brand if it makes yours stronger.
That's what makes the decision even more baffling that U of M would sign a multi-year agreement with News Talk 98.9 FM which changed its format from pop music to programs hosted by far right extremists. 
In my alma mater's defense, perhaps the athletic director and his staff were not aware of the upcoming reprogramming.  (Note: subsequently, we've seen the May 25, 2021, news release that shows that U of M had to know the station's format was changing.)
It also begs the question: did the university know when it partnered with this station that it would brand itself as the ROAR OF MEMPHIS with a logo with a growling tiger inside letters written in Tiger blue?
Singling Out Black People…Yet Again
Here's who the university is partnering with: yesterday, a talking head for that program complained that Black people are always looking for a hand-out, he demeaned the landmark Harlem Cultural Festival, and he continued harping about African Americans in the same racist vein.  
The other day, a host ranted about African Americans, contended that Democrats are aborting babies to harvest their organs, and more of the greatest hits of far right extremism.  Both day, there were harangues attacking vaccines and mask wearing and encouraging people not to get vaccinated. 
Meanwhile, University of Memphis announced that students, staff, and faculty are required to wear masks indoors.  It was a smart move in light of the dramatic increase in new COVID-19 cases resulting from the delta variant. 
Meanwhile, any students, staff, and faculty listening to 98.9 FM were told that mask wearing is a violation of individual liberty. 
Tell Us What You Believe, But Even Better, Show Us
Partnering with an anti-science, vitriolic radio station like this would be questionable for any institution of higher learning, but that is particularly the case for University of Memphis which takes pride in a student body that is 32% African American.  That's not to mention that it wants a positive brand in a city that is 64% Black and a county that is 54% Black.
Then, too, a large percentage of Tiger athletes are African American, and the major sports organized ways to support Black Lives Matter.  The football team put "BLM" stickers on their helmets, and eventually, all Tiger athletes wore the patch on their uniforms.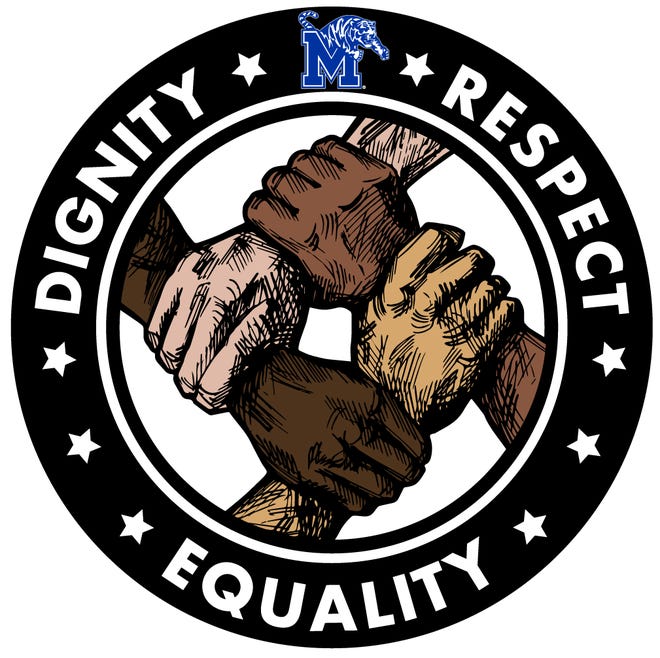 The patch had a circle with four hands of different colors and outside the circle were the words, Dignity, Respect, and Equality.  There were eight stars which represent the African American students who integrated the university in 1959.
Meanwhile, the University launched a new Black Lives Matter project by Dr. Andre E. Johnson and Dr. Amanda Neil Edgar, with help from student researchers DiArron Morrison and Peter Boyd, to collect ideas and perspectives from BLM movement participants.  Dr. Johnson and Dr. Edgar had previously explored the meaning of BLM within Memphis. 
Building on their 2018 book, The Struggle Over Black Lives Matter and All Lives Matter, the professors wrote that "while definitions may vary by regional and local goals, BLM's national online platform defines the movement in terms of both policy and ideals, striving to highlight and dismantle anti-Black racism and white supremacy and the ways these systems target Black lives…(BLM) is an affirmation of Black folks' humanity, [their] contributions to this society, and [their] resilience in the face of deadly oppression."
They need look no further for anti-Black racism and white supremacy that the station which is a partner with U of M athletics.
Times Have Changed
In the context of all of this, the decision to partner with station featuring anti-BLM programming and racist commentary becomes even more incredulous.
While I held my nose when University of Memphis Athletics broadcast over AM 600, the land of Limbaugh, Hannity, and Levin, times have changed. 
Today we are living in the midst of a pandemic, in the wake of an insurrections, in a time of racial consciousness sparked by Black Lives Matter, and more. 
The time for patience is over, and I hate for my university to be on the wrong side of history.    I'm told that university officials say they are in "candid conversations" with the radio station, and although it's late to conduct the kind of due diligence that could have prevented this embarrassment, it's never too late to do right.
Here's hoping the University of Memphis will.
***
Join us at the Smart City Memphis Facebook page for daily articles, reports, and commentaries relevant to Memphis and the conversations that begin here.