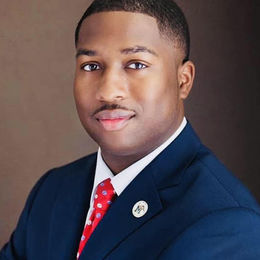 James Johnson, 30, is the embodiment of the hopes expressed in 2006 when it was announced that Teach for America was adding Memphis City Schools to its national program.
At the news conference for the announcement, the stated goals were to create a talent pipeline of highly motivated college graduates to drive classroom excellence, and to create a new pool of potential leaders with the goal of greater educational opportunity.  He is the 2019 recipient of the Barbara Rosser Hyde Teach for America Alumni Leadership Award.
Mr. Johnson was a member of the 2012 corps of Teach for America.  "It completely changed my life," he said, "and my view of community and what that means."
As a member of a military family, he had seen much of the world until his father was stationed at Millington.  "I decided I'm going to stay put and plant some roots," he said.
Finding His Calling
It was thought that he would become an attorney, and with a degree from University of Memphis with a degree in political science and African American studies, he became an intern for U.S. Attorney General Eric Holder.  "It was eye-opening," he said.  "I saw people who are marginalized and others who are victims of circumstances not having means to have legal representation."
It was an epiphany that led him to consider how he could most make a difference.  "I thought about teaching," he said, reflecting on his undergraduate education and the impact of his own mentor.  In high school, he had laughed when friends told him that he liked children so much that he should pursue a career that involved them.
He was still working in the nation's capital when he applied to Teach for America, a decision that changed the trajectory of his life when he was accepted a month later.  By then, it had become clear to him what he should do: "It was about being in the classroom where I could make a difference.  It's about educating all our children, not just the privileged few, because all kids deserve opportunity."
Many Teach for America alumni could appreciate the fact that it was not an overnight revelation once he entered the classroom.  "It was a slow evolution," Mr. Johnson said.  "In my second or third year, I realized this is my calling.  I was teaching a sister, then a cousin, or a younger brother and I could see my future in this."
Finding His Philosophy
Like so many teachers everywhere, he developed his philosophy for reaching his students.  "I want to build relationships, analyze data, and see what the kids need."  In addition to his classroom, he coached the boy's track team to a city championship and advised Student Council, using them as vehicles to connect with parents and children.
"People like to criticize parents," he said.  "We can't make assumptions that perpetuates stereotypes.  If you look at parents with disdain, it creates a barrier.  We need to have a clean slate and adopt Dr. King's vision, understanding that I may not be here to see the changes I set in motion but it doesn't matter because I played my part.
"It's about teaching children things that aren't in a textbook like how to be resilient and the skills to overcome challenges. Kids only rise up to expectations we set for them.  If we challenge them and speak positively, kids can perform.
"You hope every kid does well.  Some don't and it breaks my heart.  When you're trying to survive every day, it's not easy.  If we can come together for education like we do for the Grizzlies and University of Memphis football and basketball, we are unstoppable.  It requires work but we can do it.  It does in fact take a village."
In that vein, Mr. Johnson has reached out to the village to form alliances with community groups that can support students and their families and attack the isolation they often feel.
Looking Ahead
Bolstered by his seven years of experience at Cypress Middle School and Chickasaw Middle School and armed with a master's degree in school administration and leadership and a two-year graduate fellowship with Yale University, his ambition is to become a school principal after serving as acting assistant principal at Bluff City High School.
In addition, his ambition is to launch a teacher-related podcast that serves as a platform for sharing positive, joyful stories.
He was elected president of The Collective Memphis, an association of Teach for America's alumni of color.  He also was the recipient in 2018 of the New Memphis Educator of Excellence Award for being the highest performing science teacher for Shelby County Schools' i-Zone.
The other finalists for the 2019 Barbara Rosser Hyde Leadership Award were Mahal Burr (Memphis '12), Andrea Criolla Echetebu (Memphis '09), Deidra Hawkins (Memphis '16), and Anthony Oddo (Rio Grande Valley '11).  The $5,000 award is given to leadership by a Teach for America alumni.  Mrs. Hyde is president of the J.R. Hyde III Family Foundation, which led the four-year recruitment of Teach for America to Memphis.
Still in Memphis are 500 alumni of Teach for America, including 100 school administrators, 300 teachers, and five in charter network or district leadership, including Brad Leon, the first Memphis Teach for America executive director and now chief of strategy and performance management for Shelby County Schools.  More than 80 percent of alumni still work fulltime in education.
***
Join us at the Smart City Memphis Facebook page for daily articles, reports, and commentaries relevant to Memphis.