Thumbnail: Christopher Reyes sets the standard for creativity in Memphis again with a proof of concept project that is mind-blowing and could hopefully open up an era of artistic creativity with support from the public and private sectors.
**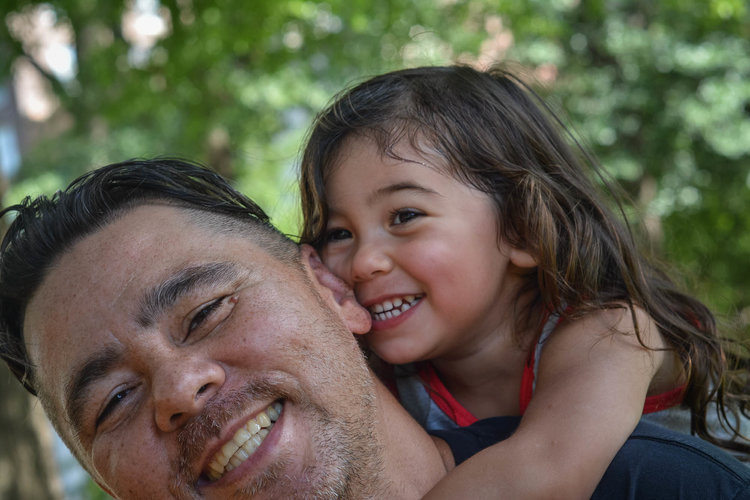 It is hard to think of anyone in Memphis who is more creative than Christopher Reyes.
And his latest experiential, interactive art installation proves it.  In spades.
Just when we think we've figured him out, he surprises us again.
His latest project, as he has done for decades, follows his muse to new frontiers and this one is a startling multi-media fusion that is a culmination of his journey thus far.
The latest way station on his journey is 2,000 square foot of warehouse space at Off The Wall Arts at 61 Walnut.  This week, Mr. Reyes' project, Baron Von Opperbean's Exploratorium of Magic, Science, and the Multiverse, gets well-deserved cover story treatment (with 21 stunning photographs) in the Memphis Flyer with coverage by reporter Chris McCoy.
Mr. McCoy sets up the premise:
"The moto crawler has crashed on a moon in an obscure corner of the multiverse. Its pilot and creator, Baron Von Opperbean, is missing. A towering volcano spews smoke and dribbles lava. Mysterious caves beckon you to enter. Maybe the Baron went this way. But then you remember the warning from Louise, the helpful A.I. who guided you here — 'Don't go near the anomaly.'
Career of Creativity
It's up to visitors to search for the missing scientist/magician, and Mr. Reyes is loathe to give clues because he wants every person to conduct their own exploration and develop their own story.  There are as many routes as there are explorers, and that's the beauty of Mr. Reyes' creation, which uses augmented reality, scenography, and cinematic wizardry. 
The Exploratorium is open until October 31.
Mr. Reyes refers to it as a proof of concept, and it reminds us most as a variation of the City Museum in St Louis because of its imaginative use of found objects, which in the case of Memphis, have been interpreted within Mr. Reyes' personal context as doting father, experiential artist, composer, filmmaker, outspoken activist, unrelenting cheerleader for the creative community, and lifelong self-defense instructor.
Since beginning this blog in 2005, I've written often about my admiration for Mr. Reyes, going back to the days when he was pointing to the future with Live From Memphis, the seedbed from which all has sprung.
Since then, he's distinguished himself for leading the painting of a mural on Barboro Alley, a 25X16 foot mural the comes to life with a 20-minute original music and animation performance loop.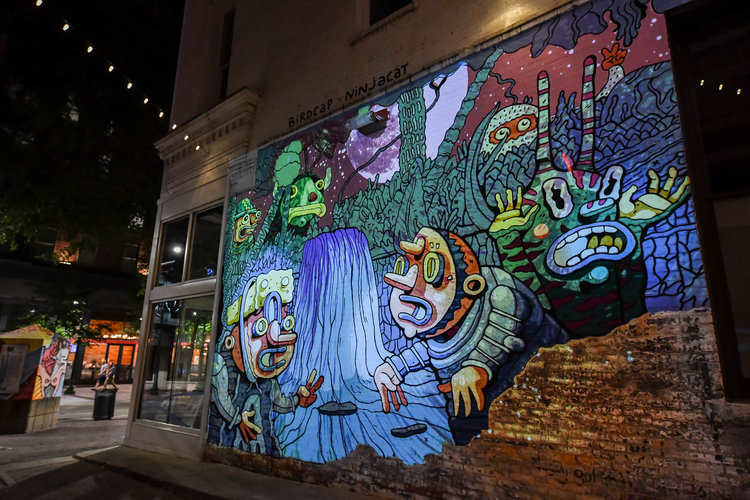 A Music Prophet
Then too, there are projects like FISH, an immersive, site-specific, underwater world with light, sound, film, projection mapping, murals, and with 2D and 3D elements.
Long before the rest of the world caught up with him, he foresaw a future where music would largely be free, streamed, sponsored, and where record labels would mean less to whether musicians could get their music heard. 
This was especially important for Memphis music which so often seems to be looking in the rearview mirror rather than inventing the future as it had done in its supposed heydays.  Live From Memphis, with its films of band performances and streaming music, was a way for musicians here to get out front of industry changes.
Instead, Live From Memphis was strangled by people with less imagination – the business community, Memphis Music Foundation, Memphis and Shelby County Music Commission, and others who should have stepped up to support its full potential.  Instead, they chased magic bullets rather than invest in the organic growth of a homegrown, band-centric solution. 
Mythologizing History
In a way, Live From Memphis was the story of Memphis Music.  Although Memphis legends – from Elvis to Otis, Jerry Lee to Isaac, and from Johnny to Al – are now the grist for Chamber and Memphis Tourism brochures as if Memphis knew all along how great they were.
The truth: we didn't.  In fact, those now considered legends were back then generally ignored.  They were outsiders proving the point that outsiders have always driven innovation in Memphis.
That continues today.  The most innovative and creative among us are still regularly dismissed because they aren't from the right family, the right school, or they aren't supported by the right usual suspect.  Instead, they struggle to pursue their creative vision and disrupt business as usual here to get the kind of support that could position Memphis as a center of creativity and a culture of artistic support that characterizes who we are and pays tribute to the reservoir of creativity that bubbles just beneath the surface looking to escape.
The day Live From Memphis shut down is a blot on our artistic and cultural history.  A question now is whether we could leverage a bold project like the one at Off The Wall Arts to catapult into the future.
Proof of Concept
In this way, it is, as Mr. Reyes says, a proof of concept. 
City of Memphis, in its plans to reinvent the Memphis Fairgrounds, has discussed the addition of our community's version of St. Louis' City Museum.  I'm told the interest remains, and if that is right, they would be smart to connect with Mr. Reyes.
If the interest has waned, it is time for the business community to step forward and make it possible for it to be developed in one of the many warehouses that could be put to better and more active use. 
While Mr. Reyes' continuing creativity is exciting, it is tinged with regret.  He is a Memphis College of Art graduate and what he learned there, particularly in digital art, fueled his work.
It may be years before we realize the full impact of the loss of the College of Art, but it's clear we will pay a painful price because it has been a powerful engine for creativity in this community.  Like Live From Memphis, its demise is a failure not just for the college but the entire city and county.
****
Join us at the Smart City Memphis Facebook page for daily articles, reports, and commentaries relevant to Memphis and the conversations that begin here.