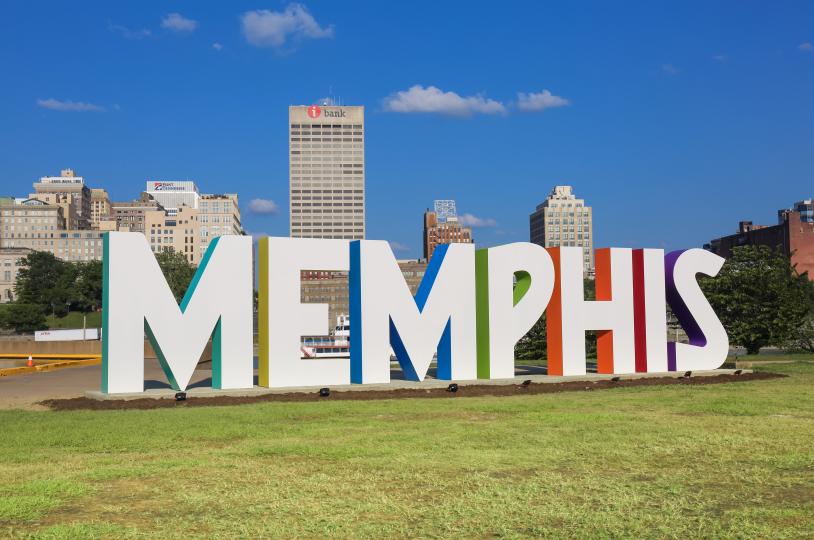 On July 23, 2018, we wrote that in four years, if all goes well, we won't even be able to recognize the CBD.
Eight months ago, we wrote that "after more than a decade of hyperbole, downtown Memphis may be poised to deserve it."
Today, the transformation defies all of our expectations..
Just last week, someone who lived in Memphis for 15 years came back after living in Texas for the past eight years, and she said she was "absolutely blown away" with what is going on downtown.
It's hard to find anyone who would disagree.  As for us, we have not seen this much activity since the 1960s, and although there is still a way to go to catch up with some of our peer cities, for the first time in decades, new projects are being developed in adjacency to each other sp that they can result in the connected fabric in downtown that has been lacking.
The Eras
After 47 years of working downtown, we have vivid memories of the various eras – from the time when there were multiple department stores and throngs of people filling Main Street's sidewalks; the hail Mary pass that was the Mid-America Mall, which, along with changing consumer behaviors, was a death knell for many of the businesses; the plan for it to be a center for government, finance, and entertainment even as the first two were moving some offices eastward; city and county governments showed courage in insisting that major investments in an arena and baseball field had to be made downtown; and the political paralysis and excuses by the Center City Commission as downtown lost more and more of its marquee businesses before the downtown redevelopment agency was revived by young leadership.
It's a brief synopsis because there were of course many twists and turns, milestones and misery, and the promise that this big project or that project would turn it all around.  We were excited by the renewal of the Orpheum Theater, restored to a state that exceeded even its glory years; a few years later, Beale Street's redevelopment began but regularly sputtered; and how the boarded-up Peabody Hotel, bought and lovingly restored by Jack Belz, was reopened.
At a point in those years of decline, it was just as possible to imagine that downtown was fatally wounded and would never recover. There were some bright spots of progress but they were indeed spots – isolated islands of activity largely disconnected from each other.
Roots
For us, in truth, downtown's road back began in 1995.  That was when AutoZone moved to the riverfront from East Memphis (where the main library for City of Memphis sits today).  It was a time when the assumption was that the city's major employers would invariably move in the opposite direction.
The company's more than 1,000 employees (now closer to 2,000) were of course a boost to downtown, but even more important was the example that it set.  There were hopes back then  that FedEx would follow suit but it took 24 years for it to follow suit with a major presence (and ServiceMaster had beaten them).
To put an exclamation point on AutoZone's decision, the Hyde Family Foundation, headed by AutoZone founder J.R. Hyde III, did the same and the company and the philanthropy became tireless advocates for policies and investors in programs that would revitalize downtown.
A year before AutoZone opened, downtown visionary Henry Turley's concept of a livable, thriving community was coming into focus at Harbor Town.  By 1994, there were apartments and houses and by 1998, he had added Memphis Yacht Club, a school, and the Harbor Town Square retail area.
Project After Project
While AutoZone was proving to people that it could be fun to work downtown, Harbor Town was showing that it could also be fun to live there. More to the point, they were proving that people were interested in working downtown near where they lived.
I remember when Carol Coletta was one of the handful of urban pioneers who moved downtown in the 1970s, and the number of residents there were in three digits.  Today, they are counted in five digits and growing fast.
Our excitement about downtown in February was based on the billion dollar, 20-acre plans for  Union Row development; $210 million, 500-room Lowe's Hotel (a coveted brand now expanding to include the historic Memphis Police Department headquarters); the strength of South Main development, notably the Central Station mixed-use project; new boutique hotels and restaurants mushrooming all over downtown (chiefly south of Madison Avenue; the $150 million One Beale development started coming out of the ground; and more than 2,000 apartments are in some stage of development.
Then about 10 days ago, there were five projects totaling $100 million on South Main rolled out by a New York developer (who got $24 million in tax breaks from the Downtown Memphis Commission), and he followed it up by announcing his ambitions for a $1 billion development in the Pinch Historic District.
Here's Hoping
Put simply, we have entered what will be downtown Memphis' golden age.  We have to think back to the Sixties (pre-Dr. King's murder) to see a time when there was a climate of excitement and a reality of activity as there is today.
That does not mean that there's nothing little left to do.  There remains gaps of blight and disinvestment, but for the first time, there is the feeling that all of the progress gives downtown its best opportunity address the areas that have resisted revitalization for decades.
In other words, it is a hopeful time and that hope is being backed up with progress. It even encourages us to hope that all of the proposed projects come to pass and reach their full potential.
After all, with just Union Row and the Pinch District projects, those two developments are based on more than 1.14 million square feet in new office space along with 313,000 square feet in retail and more than 4,300 residential units.
Today, there are 4.5 million square feet of office space downtown with a vacancy rate of about 15%.  It's difficult to imagine at this time that the market can support that much office and retail space, but then again, this could easily require the next 15 years or more.  It is hard to argue that there is a demand for it now and looking at trend lines, it's a long-shot that it will all take place, especially those two high-rise buildings in the Pinch.
Check Your Pulse
Considering how quickly 15 years passes in the life of a city, the full potential of the projects are definitely worth waiting on.   Propelling it forward will be a newly reimagined riverfront, which  will be a major stimulus in attracting new investment and developments.
Funded at a cost lower than many of the cities we aspire to compete with, the riverfront will result in stepped up investments in downtown and the adjacent north and south neighborhoods to it.
How do we know?  Because that's what it's done in other cities.  In fact, a nationally known economic analysis firm concluded that the return on the investment in our riverfront is 14:1.
Surely, if there's a time when we can shake off the idea that barren Tom Lee Park is good enough for Memphis or that we're so different from every other city that it can never happen here, it is now.
Back in the late 1980s, when the Memphis Jobs Conference supported the creation of Memphis as a global logistics center and when Shelby County Government successfully set Japanese investment as a priority, attracting about 20 companies to Memphis and Shelby County, then county mayor Bill Morris often said: "if you can't get excited about Memphis these days, you should check your pulse because you may be dead."
For obvious reasons, that quote comes to mind these days.
***
Join us at the Smart City Memphis Facebook page for daily articles, reports, and commentaries relevant to Memphis and the conversations that begin here.