A Tale of Two Fires – Fiscal Arson or Flaming Growth?
By Kemp Conrad, Memphis City Council Chairman
Today's headline in the Daily Memphian, "Roaring Memphis economy best in decades, economist says" is proof positive we are on the right track.  The alternative is a return to a fire of a different kind – a self-inflicted fiscal arson, when politicians and political union bosses conspired against the best long-term interests of first responders and the City of Memphis.
They almost burned the house down with an incendiary benefits and budgeting scheme.  But in 2014 and 2015, responsible people put the fire out, and in turn lit a fire of a different kind.  We lit the fuse of growth that is powering and showing us a glimpse of the New Memphis.
The police union, which is behind the sales tax increase and benefits restoration scheme, have also endorsed former Mayor W.W. Herenton and only one of the 12 current Council incumbents running for office despite this being the most diverse Council ever – eight African Americans and four African American females.
Let that sink in. Yes, groundhog day is here.
This is really the choice we face.  It's much bigger than .05% on the sales tax increase.  In truth, it's do you want to go backward or forward?
Do you remember the days of a malfunctioning rape crisis center?  Thousands of untested sexual assault kits (SAK)?  I do. Doug McGowen and I had to come and fix the SAK situation.  It was an awful mess and a microcosm of municipal governing incompetence.
Do you remember Mayor Herenton's taunting encouragement for people to move to Mississippi?  Thousands did, voting with their tail lights, making the towns of North Mississippi some of the fastest growing in the U.S.  Do you remember the current Police Union President who hosted recruiting fairs for other departments in the Union Hall and paid to have billboards erected to scare Memphians?
Ask if you are with them – or the current team that has reformed government and ignited a fire of growth and momentum, now roaring.
The fiscal arsonists had their turn and elections are about choices – and this one is yours.  Choose wisely.  Hopefully this blog post will lay out the importance, facts, and rationale for my passion on the topic.
WHY IS THIS SO IMPORTANT?
By far, the most difficult issue I advocated or voted for on my almost 11 years on the Memphis City Council was to reform our health care plan so that we could modify and shore up our pension plan.  After all, retirees and employees had other health care options in the marketplace – but not other retirement options.
We needed to protect the pension plan at all costs.
We faced one of three options back in those dark days of 2014 and 2015:
1)  30% plus property tax increase
2)  Massive reduction in city services including deep layoffs, or
3)  Reform of an antiquated and unaffordable health care and pension scheme that Memphis could no longer afford and that was unfair to taxpayers paying the freight.
We studied the matter in-depth and then took bold action to create a hybrid pension plan and sustainable health care benefits that were still fair and competitive.  Now is not the time to turn back as the union politicians would like.
WHY WE ACTED:  SECURING THE FUTURE OF MEMPHIS & FIRST RESPONDERS
This reform was as much about securing the future of our first responders as it was securing the future of the City.   We wanted to provide a competitive compensation package that was honest, durable, and would stand the test of time – the prior plan was a house of cards.  We advocated for this change because we care about the long-term viability of Memphis, not just the next union election.
We also care about city employees, especially those in public safety, and they deserve to have a pay structure and retirement vehicle that they can count on over the long haul.  I know many first responders don't believe this. And it pains me.
I am proud to say that now in my last year on the Council, we have achieved the once elusive goal of fully funding our mandated ARC (Annual Required Contribution) – a $50 million annual additional annual lift – and we did it without raising taxes, but by running the $650 million city of Memphis government more efficiently.
In sum, since 2014, we have increased our investment into the pension plan by $203 million while also providing $25 million in cumulative in pay raises – the lions share to police and fire.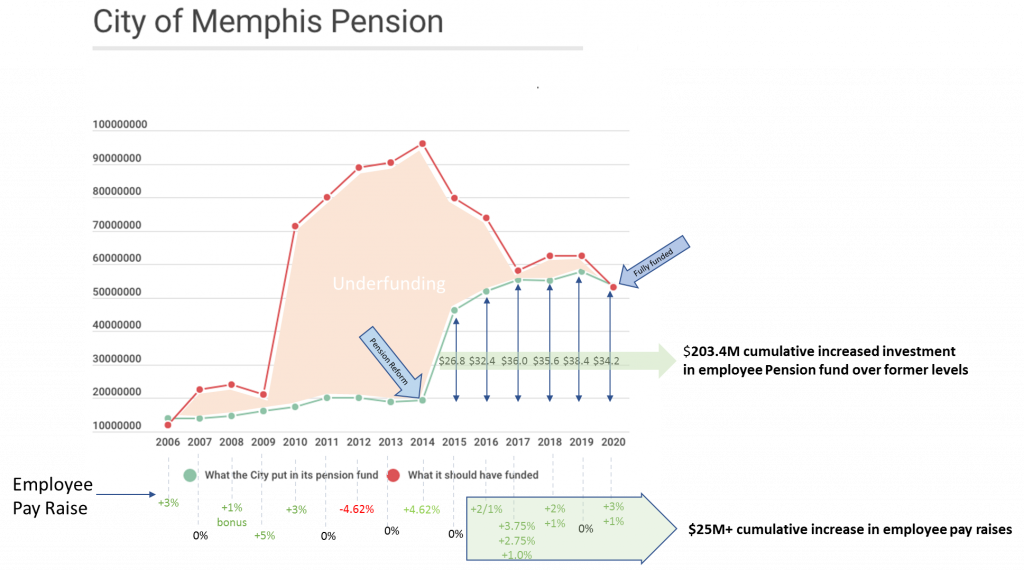 Voting Yes on the Referendum will send us right back to the abyss.  Make no mistake.  What's changed to make anyone believe otherwise?
Voting No validates the reform that I believe is the foundation on which we are building the New Memphis.
THE FACTS & NUMBERS OF BENEFITS RESTORATION
Our experts estimate that maxing out the regressive sales tax at 9.75% as the Unions propose will generate $54 million per year.  In a downturn, the number could drop to less than $40 million.
BUT, based on state law, Shelby County can, through referendum, increase its sales tax by 0.5% and take $27 million of those funds, leaving the City with only $27 million.
The City's actuary, PWC, and the City's Finance team estimate that conservatively the cost to add all employees and retirees back into the legacy plan at $43 million in year one – $40 million for additional health care costs and $3 million for the pension.
So, the immediate gap if the County takes its share (and why wouldn't they?) is $16 million!
Even if the County did not take its share, it's only a matter of time until the rising health care costs and reverting to a defined benefit plan (instead of the hybrid plan we put into place) will far outstrip the additional revenue.  Health care costs grow much faster than sales tax growth.
Also, is this the best use of $54 million?  Aren't there other ways to invest that money, such as in our youth?
And is it fair? As an example, an employee could work only 10 years for the City and retire – yet receive a 70% subsidy in perpetuity and stay on the City plan – even if their new employer offered insurance.  This is one of many parts of the plan that made it fiscally unsound.
My tenure on the Council has been focused on finding solutions in the center and in this vein, I proposed alternate solutions,  such as tiering retiree health care based on years of service – but any reduction was summarily rejected by the unions.  I warned that refusal to compromise would likely later lead to more severe reductions.
Unfortunately, that's exactly what happened.  Several other alternatives were proposed as well – all rejected by union leadership.  The hole got deeper, the options more limited and severe.
$54 MILLION GAME OF THREE CARD MONTE?
Another problem is that regardless of what the referendum language states, it's up to a vote of the City Council every year on how this money gets spent.  And we don't even know who will be on the Council next year and what their governing philosophy will be.
Even if citizens vote YES, the government has NO obligation to spend the money on the items listed.
Yes, you read that right. You are only voting to increase the sales tax, not to restore benefits.  That part of the language is simply aspirational.
Also, raising your sales tax will not result in recruiting or retention of first responder personnel. The benefits, if enacted as written (which is another matter entirely) will only accrue to officers who were on the force before 2016.  But it won't apply to the more than 450 officers we have successfully hired since January of 2016 or any that come after that.
How does providing the legacy health care plan to retirees help us recruit or retain into the future?
Finally, time is precious and there is an opportunity cost to every minute spent at City Hall.  Memphis has been so successful the last three years because we spent our time on the right priorities.  Time and resources are limited.  If this referendum passes, the Council and Administration will spend valuable time, effort, and energy debating this issue as other pressing matters and opportunities fall by the way side.  Positive momentum will grind to a halt.
FIRST RESPONDER HIRING & RECRUITING RESULTS – MANAGING WITHIN OUR MEANS
Starting with Jan. 1, 2016, police officers have seen their pay increase by 9.75 to 11.75 percent, and fire employees will have seen theirs increase by 10 percent. We have a fully staffed Fire Department and we have hired more than 400 additional police officers in the last three years.  We are on track to graduate 196 officers in 2019, the largest number since 2009.
In addition to pay raises, the City also provides other compensation that can substantially raise an officer's salary like an automatic increase in base pay with a four-year college degree, a tuition reimbursement program, a student loan payback program and thanks to many private donors, an annual retention bonus.
In 2019, 639 out of 642 eligible officers (99%) took the retention bonus. And attrition is back to normal levels, dropping 19% since 2014!
THE DATA: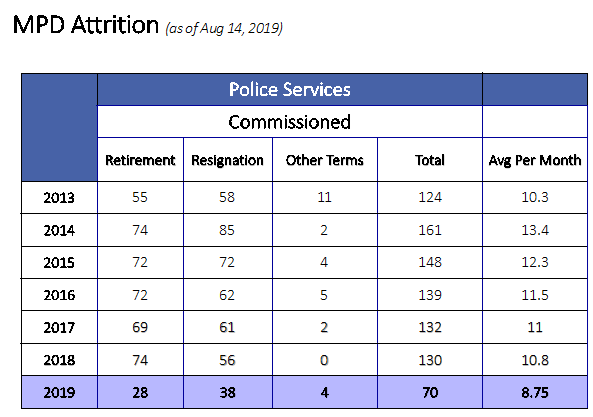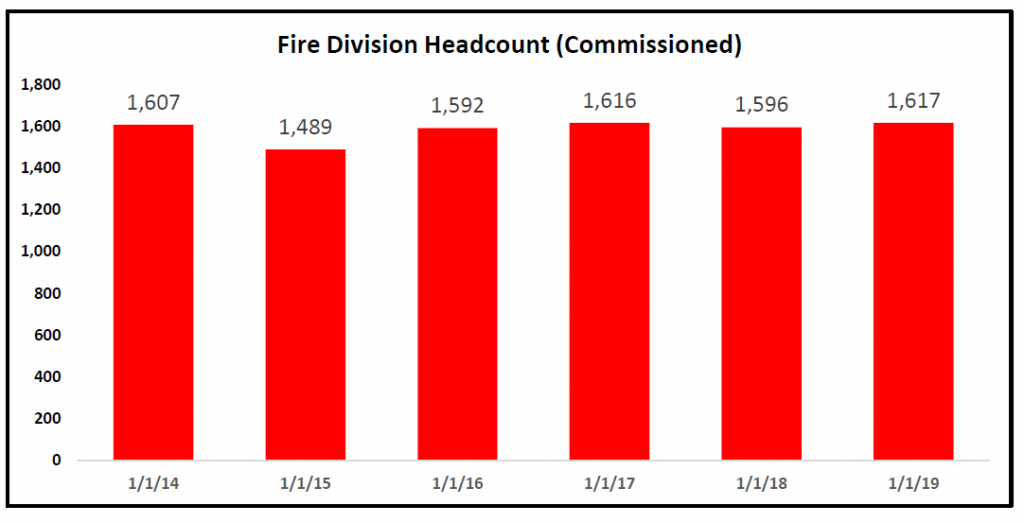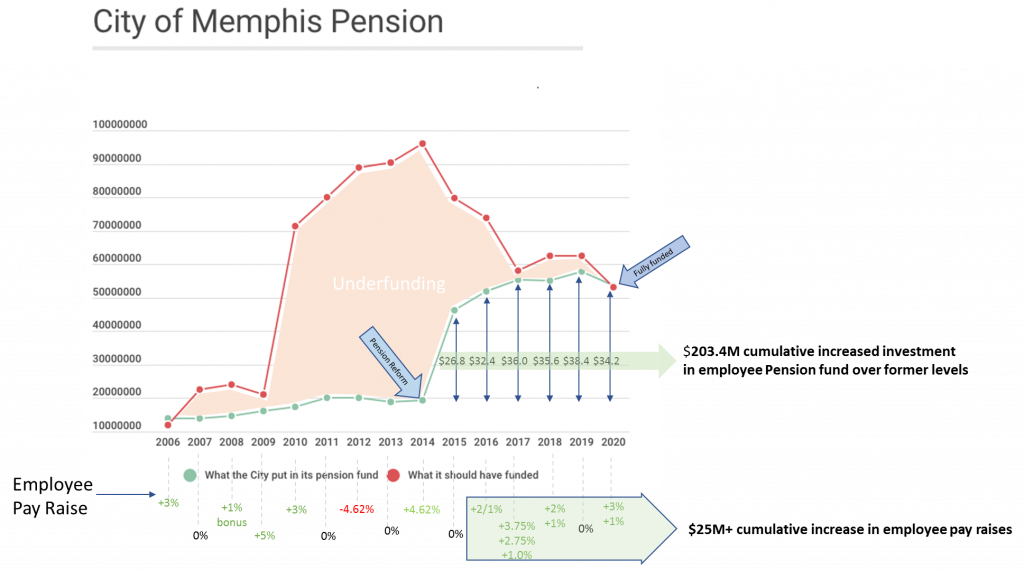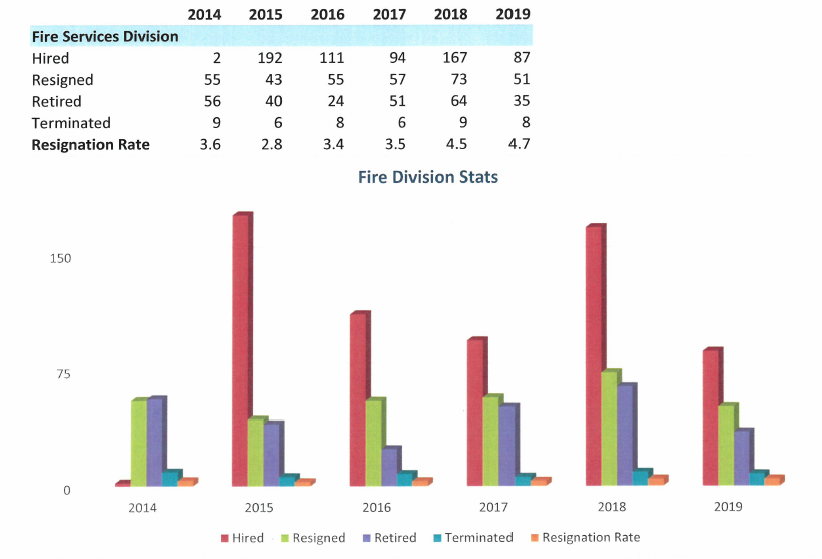 The fact is, there is no amount of money that we could pay our public safety team to properly compensate them for the most difficult and sacrificial jobs they do every day. They put their life on the line every day for all of us.
I am eternally grateful and humbled by watching the work they do.  It is a calling.  And our responsibility as elected officials is to ensure that they are compensated fairly, in line with other departments, while also leaving funds for the many other important parts of city government (parks, libraries, youth) while also keeping our tax rate competitive.    We have done that and found the balance.
And, we already spend more than $450 million per year on public safety – two out of every three dollars in the City budget.  As the graph below shows, public safety has far outstripped other important functions of city government over the last forty years.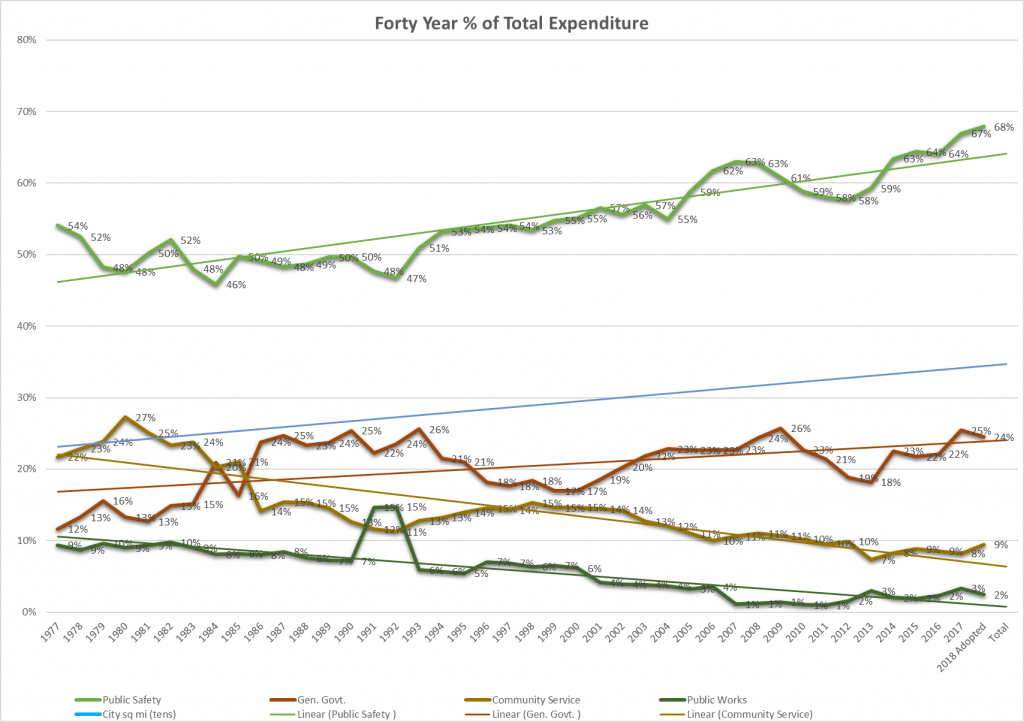 The best way to continue to lift the pay of first responders is by growing the tax base by recruiting and expanding industry and residents.  That is happening now, in a roaring way.  Growth is the elixir we need more of, not higher taxes.
THE TWO P'S?
The unions also use two very popular hooks in the referendum language – Paving and Pre-K.  While I have already explained how there will never be money for these two important initiatives in addition to restoration of benefits, the Mayor and Council have been hard at work here as well and have solved for these issues.  The unions don't give the voters much credit and again, here are the facts.
Notwithstanding the fact that the union argument that fewer potholes will result in less crime or few fires is an insult to our intelligence, we have allocated a combined $73.5 million to street paving in the last three years when in the four years immediately prior, the City spent just a combined $39.5 million. This effective doubling of the paving budget and innovating by using Google and video imagery on our MATA buses to proactively repair potholes, as an example, has our paving cycle under control.
And regarding Pre-K, once again the City led the way and we will have free, fully funded, universal, needs-based Pre-K, funded through our existing budget, in partnership with Shelby County Government and Shelby County Schools.  I was proud to lead the charge (along with my friends and colleagues Patrice Robinson and Berlin Boyd) in 2017 to gain the support of the Council in making the strategic decision to reinvest in education.  The Mayor's team came up with a smart way to fund it.
This Pre-K investment and two generation approach to poverty reduction should lead to more long-term prosperity in our City.
THE NEW MEMPHIS?
What does the New Memphis look like?  A City that has a living wage for all its full-time employees of $15.50 per hour, three credit rating increases in the last two years, a fully funded pension plan, a balanced budget every year, no tax increases in more than 10 years, and creditworthiness in the top third of cities in America.
Upwards of $15 billion of private sector investment recently completed or underway, an unemployment rate at a historic low of 3.8%, 20,000 more Memphians working today than in 2016, an animal shelter recognized as a top five shelter in the nation, a fire and EMS operation that just received a national award for excellence and has been continually certified as an ISO 1 or 2 department (the highest ratings possible and one of the only large agencies in the nation to maintain that rating), a Metro Alarms office that reduced false alarms by more than 20% in less than one year, a 9-1-1 system that reliably exceeds the national standards for answer, dispatch, and response time,  a finance department that has received awards for excellence in budgeting for 15 years in a row, a library system that has increased participation in programs by 400% in three years, and a parks system that has improved programming and attendance through free summer camps, a city investing in youth, and a City Administration and City Council that work together to win for Memphis.
Per Bloomberg News, a city with the No. 1 job growth of any metro area in 2018, and our wage growth the past three years on par with counties with cities like Charlotte and Atlanta and ahead of Dallas, Nashville, and Houston.
As the #1 place in America to start a black-owned business and the #1 place in America for women-owned businesses.
Memphis is rising and roaring and there is more work to be done for sure.  Challenges exist, but where they do, Memphians are rising to meet them.  Now is not the time to go backwards and undo all the hard work that has been done.
The potential of Memphis has been long discussed, dreamed about, written about, and pursued.  Now, we stand at the precipice of that potential, and it's like a warm sunrise on the skin after a long cold winter.
Are we confident enough to stride into our new reality or will we lose confidence, look backwards, and self-destruct?
The fire of our potential and the soul of the city is now aflame.
Will we breathe a collective breath into the fire that is our forward-moving potential, igniting the God-given potential of all Memphians to propel our city to its destiny?  Or, will we let the winds of resignation, fear, misinformation, and scare tactics blow the embers backward, lighting our own houses on fire once again?
I'm leaning in and forward. I have burned the bridge to the past.  May that fire light my way home, and I hope yours too.