We have written before about how we are often hypnotized by our own hyperbole.
It's tempting to just dismiss the overstatements with comments like "fake it until you make it," but the harsh reality is that the risk is that it results in our taking our eye off the ball at the precise time when we are swinging and missing.
A current example are the talking points that treat the $15 billion in construction as the same as economic development.  It's a perpetuation of the long-time notion here that real estate development and economic development are the same things.
It's a fact of life that helps to explain why so much of the $800 million of taxes waived over 10 years are directed at stimulating real estate development to the detriment of the fundamental factors that determine if a city is economically successful – college-educated talent, innovation, entrepreneurship, quality of life, and workforce quality.
Decline
An example of hypnotic hyperbole is how quickly we latched onto Time magazine's erroneous interpretation of our disproportionate percentage of population under 35 years of age.  The magazine concluded that Memphis was the #4 city in the U.S. where millennials are moving.    And yet, as recently as an op-ed in the Daily Memphian this week, it's treated as if it's actually true.
We were thinking about this a few days ago as we read CityLab's recent series of articles about the economic performance of America's cities.  We posted two of the charts last week that showed that of the 50 largest cities, our community falls near the bottom of the rankings in population growth and jobs growth.
Richard Florida, who first applied his research on the "creative class" to Memphis, described our community as a "Southern Rust Belt city" and wrote in CityLab: "When it comes to slow-growing cities, Detroit, Baltimore, Milwaukee, and Memphis have lost population; Chicago has barely held constant. Southern and Western cities round out this group: Long Beach, California, Albuquerque, Virginia Beach, Wichita, and El Paso.
"There is more overlap between declining cities and declining metros. Detroit, Chicago, Milwaukee, and Memphis show up on both lists. The slow-growing cities of St. Louis, Buffalo, and Cleveland also show up on the list of the 10 slowest-growing metros."
Not Enough Knowledge Workers
Yesterday's article was about which regions are winners and losers in the competition for creative workers.  It speaks directly to Time magazine's faulty reporting.  Among the 50 largest metro areas, the Memphis region ranks #47 in its percentage of creative workers and #48 in the rate of growth.  Ultimately, it means that our community has essentially been running in place for the past 15 years.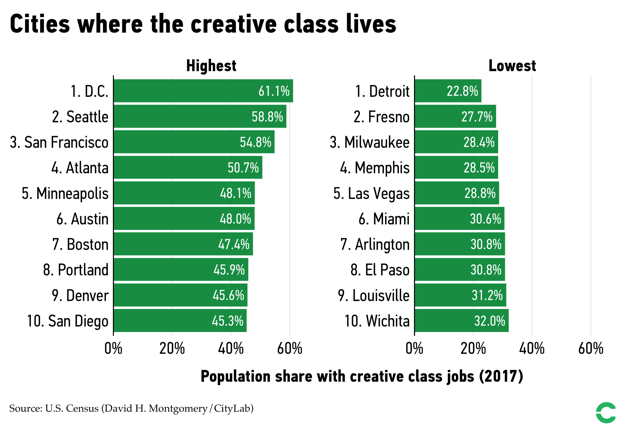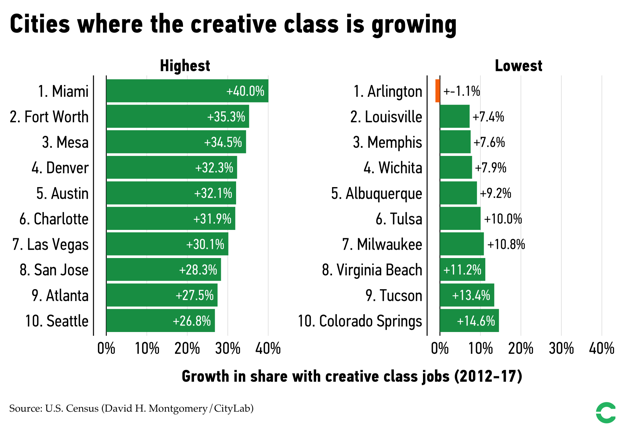 Mr. Florida wrote: "The bottom 10 creative-class cities are a mix of Rust Belt and Sunbelt places. Despite the narrative about its resurgence, and even gentrification, Detroit has the lowest share of the creative class of any large city by far—less than a quarter of its workforce. This list has Southern Rust Belt cities (Memphis and Louisville), as well as Sunbelt cities (Las Vegas, Miami, Arlington, Texas, and El Paso). Houston and Dallas do somewhat better, with a 35 percent creative-class share (ranking 30th) and 33 percent share (ranking 38th), respectively.
"The class composed of knowledge workers, techies, and cultural creatives is a key force in the economic growth of U.S. cities. More than 55 million workers are members of America's creative class, or above 35 percent of the workforce. The creative class is one way of measuring talent or human capital, based on occupation or skill—the other way being educational attainment, which we covered in the previous post in this series."
Needed: Talent
The Memphis metro also ranked in the bottom rungs of educational attainment – ranking #45 in percentage of college-educated adults and #48 in the growth rate of college-educated adults.  Again, these were essentially the same rankings as 15 years ago.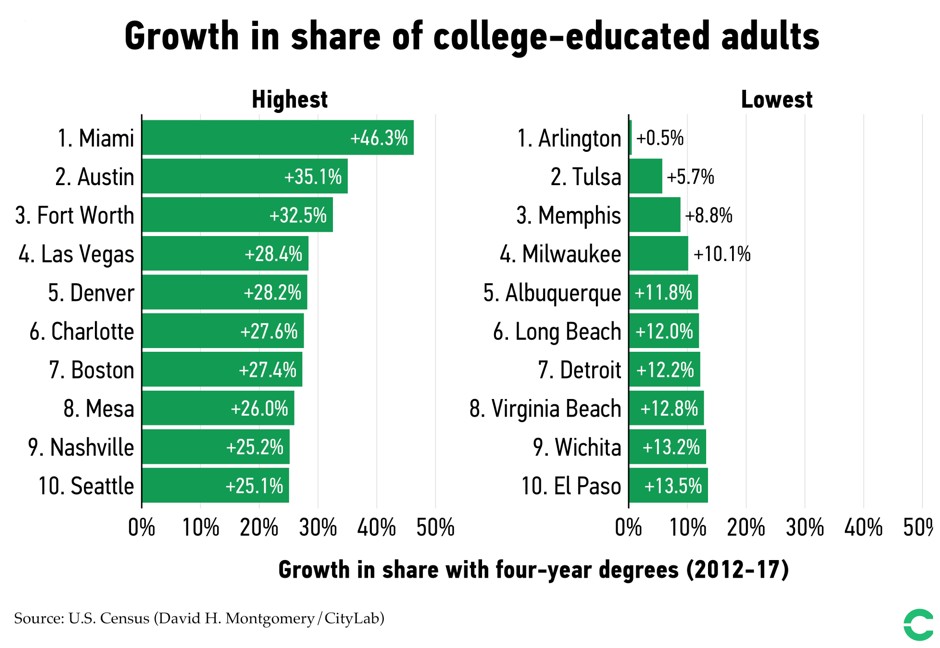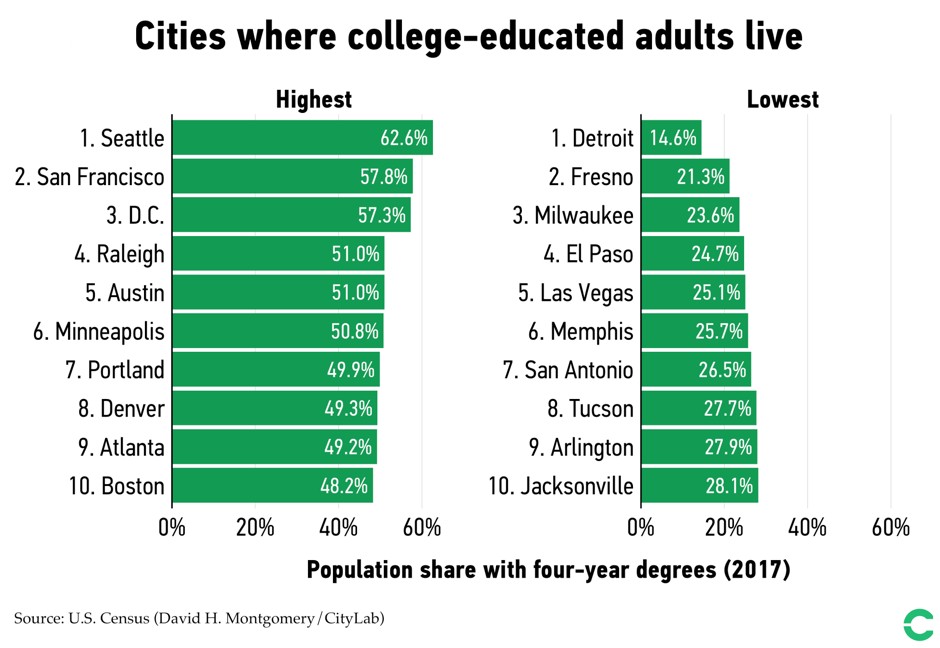 Mr. Florida wrote: "Talent, or what economists refer to as human capital, is a key driver of economic growth. A wide body of studies documents the role of education in the economic growth of cities, regions and nations. But, talent has increasingly concentrated in a relatively small number of cities, leading to a growing divergence in talent across places.
"The leaders on college grads are a veritable who's who of leading tech hubs. Seattle tops the list with more than 60 percent of adults having graduated college, with San Francisco; Washington, D.C.; Raleigh; Austin; and Minneapolis rounding out the top six. In the remaining four cities—Portland, Denver, Atlanta, and Boston—nearly half of adults have graduated college.
"The cities with the smallest shares of college grads are a combination of Rust Belt cities, like Detroit, Milwaukee, and Memphis, and less-skilled Sun Belt cities like Las Vegas, Fresno, and El Paso."
A Call To Arms
We don't point out these harsh facts of life to diminish the growing sense of confidence that characterizes much of Memphis these days.  We point them out as a reminder that we have much that remains to be done and that we must tap into this vein of self-confidence and determination for things to get better and get us out of the basement in the rankings of key economic indicators.
Our alternative is to accept these languishing indicators and be willing to see our purpose in the future as managing our region's decline.  For us, such acquiescence is out of character for Memphis, whose entire history has been defined by a people refusing to yield to the forces of nature, man, and history.
The CityLab series offers a troubling profile of the Memphis region, and it should be the ultimate wake-up call for action and the sense of urgency that is needed to change the trajectory of our economy. There's no time like the present.
***
Join us at the Smart City Memphis Facebook page for daily articles, reports, and commentaries that are relevant to Memphis.