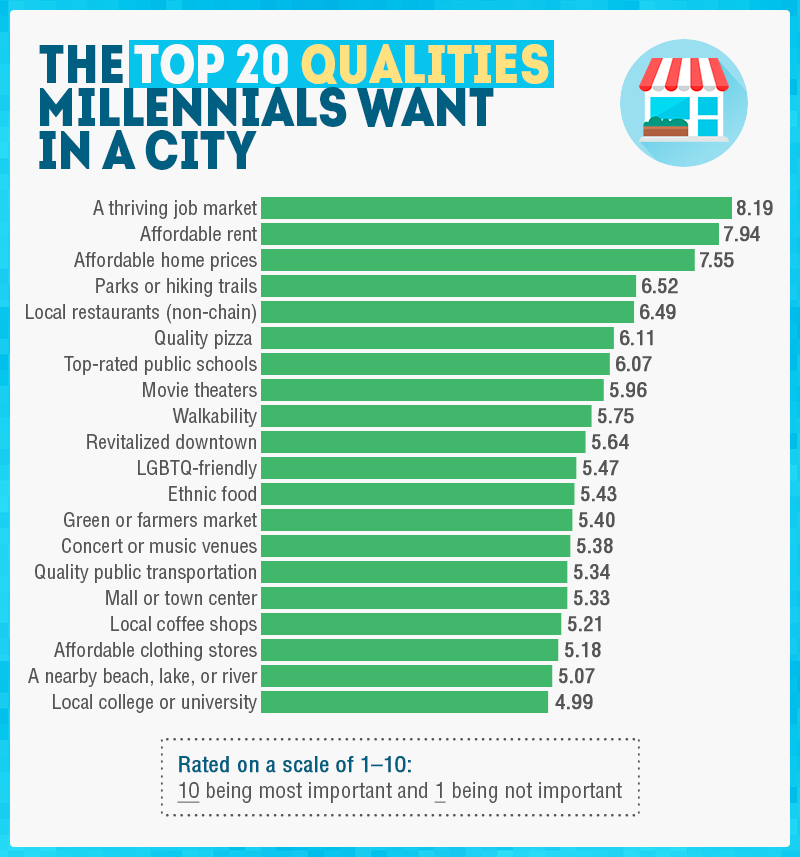 OK, before we start, we acknowledge that correlation is not causation.  However, it is striking that the 15-year lethargy of the Memphis regional economy has a parallel trend line that shows lack of progress in increasing our share of millennials and  creative workers.
In fact, back when we began, the coveted generation was referred to as the creative class or young professionals before it was college-educated 25-34 year-olds and simply talent.
It's hard to criticize Memphis for lack of effort.  In fact, as the 21st century began, our community was on the frontlines of the national conversation about the importance of creative workers and helped define its dimensions.
It was 15 years ago this week that author of the Rise of the Creative Class and urban studies professor Richard Florida and Memphian and nationally prominent urbanist Carol Coletta co-hosted the Memphis Manifesto Summit for 150 people to write a platform for cities that wanted to attract and retain the "creative class."  It came to be called the "Memphis Manifesto."  It was an outgrowth of work between them before Mr. Florida's seminal book was even published and which produced the 2002 Memphis Talent Magnet Project – "Technology, Talent, and Tolerance: Attracting the Best and Brightest to Memphis" – that set out an agenda for Memphis to become a hub of young professionals.
Thick Labor Market
Mpact Memphis was formed a year earlier to mobilize young professionals behind an agenda for change and to involve them more deeply into the life of the community.  Unfortunately, roughly 10 years later, it closed its door because of lack of financial support from many of the organizations that talked about talent but failed to fund the work to keep and attract it.
It left a vacuum, but that's not to say Memphis gave up, and because of it, there is the New Memphis Institute, Leadership Memphis' FastTrack program, Choose 901, undercurrent, Urban League Young Professionals, Greater Memphis Chamber's SoundCheck program, Mayor Luttrell's Young Professional Council, and more.
So, while we can be disappointed by the lack of significant progress in attracting and retaining millennials and creative workers, it does not make the work of these organizations any less important.  In fact, it makes them crucial.
If anything has changed in the 15 years since our community began to talk about the importance of talent to the economic competitiveness of cities, it is that the emphasis is even more important.   Economies of the cities we most envy are fueled by talented young workers in the knowledge-based economy, and they are attracted there by the thickness of the labor force and many options with companies that when seen on their resumes advance their careers.
Memphis is fortunate to have three Fortune 500 companies with tens of thousands of jobs, but there is a drop-off for many professionals when they leave them.  Similar opportunities are too few.
Human Capital Ambitions
More to the point, without any announcements in the past 15 years about headquarters coming here, Memphis lacks the allure of peer cities whose economic successes create the image of vibrancy and energy.  While EDGE's tagline is "Transforming the Memphis and Shelby County Economy," its last email was headlined by a 10-year tax freeze for a warehouse that makes branded blankets and throws, and the breathless excitement over an Amazon warehouse that only deepens our low-wage economy does nothing to retain and attract the kind of workers that Memphis needs if it is to make an economic leap forward.
When we began our conversation about the need for a more educated workforce, we were trying to compete for a generation of workers who were the most mobile in modern history.  Millennials move less than the Generation Y and Generation Z, but that still means that a million young adults move each year.  As a result, the stakes remain high.
After all, human capital, as measured by the educational attainment of the adult population, is a major driver for cities that have advanced economies.  Creating that kind of economy should be our ambition for our community, and because of it, it is a good time to reassess our talent programs, recalibrate our strategies, and recommit to a sustained and generously funded program targeted young adults.
This does not just mean that our targets are just those to be recruited to Memphis, but equally important, there are those who are home-grown.  That offers its own challenges.  For in-state adults, only 23.1% have bachelor's degrees, compared to 36.5% for out-of-state adults.  (The average for the 100 largest metros is 41% for out-of-state adults and 33% for in-state adults.)  The Memphis region has the 15th largest difference between the two groups of workers at 13.4%.
Winners and Losers
Meanwhile, in a listing of the "Winners and Losers of the U.S. Creative Class," Memphis ranked #49 among the 51 largest regions, which places it in the bottom three of cities with the highest concentrations of creative workers in the total workforce.  The following are the top and bottom 10 creative class concentrations:
46.1% – San Jose (#1)
44.6% – Washington, D.C. (#2)
38.8% – Boston (#3)
37.5% – San Francisco (#4)
37.0% – Hartford (#5)
34.7% – Seattle (#6)
34.8% – Baltimore (#7)
34.3% – Denver (#8)
34.1% – Minneapolis-St. Paul (#9)
34.1% – Austin (#10)
28.0% – Birmingham (#42)
27.7% – New Orleans (#43)
27.5% – San Antonio (#44)
27.1% – Jacksonville (#45)
25.7% – Miami (#46)
25.5% – Louisville (#47)
25.3% – Orlando (#48)
25.2% – Memphis (#49)
24.0% – Riverdale (#50)
20.7% – Las Vegas (#51)
Shaking The Economic Lethargy
As for growth of the millennial generation between 2010-15, Memphis ranks #90 among the 100 largest metros for growth of the 18-34 year-old population at 2%.  (Nashville was #12 with a 10% increase, and Chattanooga and Knoxville were tied at #64 with 4.4% increases.)
As for the millennial population in the Memphis region, 51.1% are African American, 38.9% are white, 6.2% are Hispanic, and 2.3% are Asian, which speaks again to why Memphis should set a goal of being a hub of high-performing African American talent.
Here's the thing: millennials now constitute all of the people between 25 and 34 years old, and in the next six years, their numbers will increase by about three million before stabilizing at a fairly high plateau.
The preference for young adults for close-in neighborhoods continues and offers a clear opportunity for Memphis to capitalize on its wealth of distinctive, authentic, and affordable neighborhoods.  In 1980, young adults were about 10% more likely than all metro residents to prefer close-in neighborhoods, but today that has risen to 51%, and this wave of young adults will drive a revival of urban living and a revitalization of urban neighborhoods.
There are many factors that lead millennials to choose one city over another: efficient transportation and mobility, cultural attractions, affordability, entrepreneurship, and technology.  Memphis can compete with any place when it comes to affordability and cultural attractions, but it lags in the other categories, notably entrepreneurship, especially crucial, considering that almost half of millennials want to start their own business.
A prime motivation for millennials to move in the past year was job opportunities.  The Memphis region's slow recovery from the Great Recession – the economy has only recently returned to the pre-2007 levels – created an employment environment that did little to lure young adult workers, and the current lack of momentum in shaking off the nagging economic lethargy only exacerbates the issue.
The Memphis Brand
Over much of the past 15 years, we have had a faltering economy which was mirrored by a lack of improvement in talent.  In 2002, the Talent Magnet Report pointed out the "obvious need for updated images, themes, and packaging to communicate the 'real' Memphis, the authentic Memphis, to talented young knowledge workers. In many cities there is a push on to integrate a city's disparate parts into one cohesive branding approach. That's the way powerful brands are built.
"But the Memphis brand is, at best, inconsistent as presented by various civic and business organizations. One could even make the case that Memphis is a brand that is 'dead,' if one considers how often images of the deceased are used.  A concerted effort is needed to convey a much more powerful, compelling, consistent message for our city.  In particular, the ways in which we choose to communicate must resonate with young knowledge workers. That means that the message, attitude, and style must be age appropriate."
This branding need was finally addressed about 18 months ago with the hiring of David French, formerly interim president and CEO at the National Park Foundation, to lead the Memphis Branding Initiative, which has launched an ambitious program to spread the message about Memphis and its unique personality.  There is the "We Are Memphis" website, but even more importantly, are the dozens of articles about Memphis being "pitched" to major national publications, so if you've been reading some interesting articles in unusual places, you've likely seen the work of the branding program.
Much has been written in recent months about the magnetism for millennials for mid-sized cities like Memphis.  But if the past 15 years has proven anything, it is that simply basing our selling of Memphis on our own pride in it or by talking about the things that we believe make it special are not enough.  The Memphis Branding Initiative is early in its work, but it has sustainable funding – although it could use more – and its results are being stringently evaluated for their impact.  One measurement if its success in introducing Memphis to the younger workers that are needed if our region is to compete for new jobs and investments that could in time create the pressure for better wages.
No Reason We Can't Do It
While economic development officials are for the first time in decades confronting the harsh realities of Memphis and Shelby County's economy, strategies to keep and bring to Memphis the best and brightest has to be a top priority for any competitiveness agenda.
Most of all, we need to seriously and sincerely invite younger adults into hands-on opportunities to take part in the renewal and reimagination of Memphis.  Any signs that the usual people are getting the usual important jobs and that special people get to have special privileges in setting policy ferments distrust and destroys rhetoric about the community's commitment to real accessibility.
Right now, it is harder to think of a stronger talent and millennial strategy that to create an economic plan that produces dramatic growth, because absent that, our regional economy will remain on the bottom rungs of the economic rankings that matter.  And so will our millennial population and creative workforce.
Other cities like Pittsburgh have proven that a city can turn itself around despite massive economic jolts and population loss.  With its vein of entrepreneurship and creativity, there's no reason Memphis can't do it too.
***
Join us at the Smart City Memphis Facebook page for daily articles, reports, and commentaries that are relevant to Memphis.