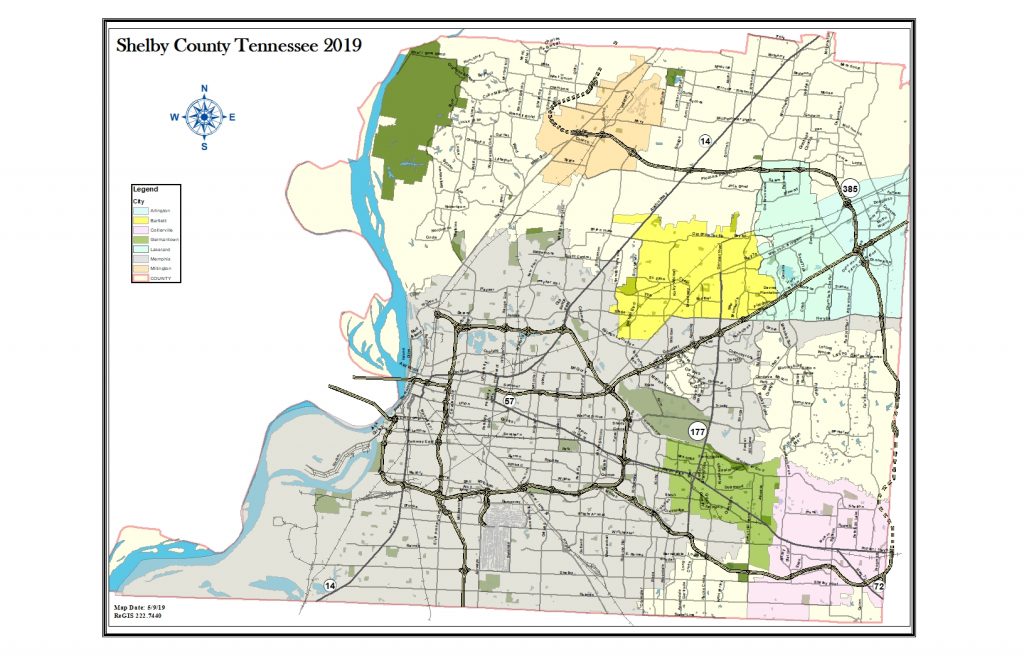 Contrary to the perceptions held by many, the Memphis region has a simple government structure, and that is particularly true in Shelby County.
While many cities, say, St. Louis and Louisville, for example, are surrounded by dozens and dozens of small incorporated towns, Memphis has only six other cities in Shelby County.
Some years ago, the St. Louis airport needed to make some improvements but needed the agreement of the cities that bordered it, and it had to negotiate with more than twelve different jurisdictions.
When Louisville made its much-ballyhooed consolidation in 2003, it was boosted as a way to simplify the governmental confusion in that city and Jefferson County.  When the smoke had cleared and Louisville and Jefferson County had merged, it still had 49 cities within the county borders.
Why Our Towns Are Different
Here, thanks largely to former Memphis Mayor Willie W. Herenton's outrage about a proposed Tennessee law – the so-called "tiny towns" law – that would have resulted in more small towns in Shelby County, here, the government structure remains simpler.
Unlike the proliferation of towns that mushroomed around larger cities in other places, Tennessee's once rational annexation law prevented that from happening.  And now, even after the pandering to suburban and Republican interests that resulted in illogical changes to state annexation laws, it is difficult to envision a future in which Memphis becomes surrounded by a glut of small towns.
That said, there is something else that makes Shelby County and its towns different from these other cities.  The cities here in Shelby County did not spring up as bedroom communities, excluding Lakeland, and instead, they have histories that go about as deep into the 19th century as Memphis.
By now, we all know that Memphis was officially created in 1819 – although there had been a small frontier outpost here for many previous years, that was the year that the developers Andrew Jackson, John Overton, and James Winchester sold lots – and within that same era, the roots of the other towns in Shelby County were planted.
A Little History
Collierville, occupying Shelby County's highest ground, shared the good roads for stage travel.  Itinerate land speculator Jesse Collier sold 150 acres for the town in 1836 and it was incorporated in 1850.
As early as 1854, there were small villages in the vicinity of Millington which was connected to Memphis by a plank road on the right side headed into city.  George Millington donated land for a new town in 1878 which was incorporated and named in his honor in 1903.
The first residents of Germantown arrived in 1825, and some of them were living at Neshoba Plantation, the utopian community founded by feminist Frances Wright to free slaves.  The town began along the Chickasaw Trace on the ridge between the Wolf River and Nonconnah Creek.  Its name was changed from Pea Ridge to Germantown, in honor of the surveyor who laid it out in 1837 and it was incorporated in 1842.
The settlement of Bartlett began before 1840.  A pioneer trail running from Nashville through Somerville and Raleigh in Memphis in 1829 became a state coach route, giving the name to Stage Road, which became Main Street for Bartlett.  The town was called Union Depot – which was the name of the work camp for railroad workers – but in 1866, the town's name was changed to Bartlett to rid the town of a name that suggested they were a nest of Union sympathizers.
Settlers came into the Arlington area in the 1830s when the first town was named Haysville.  In 1883, the town's name was changed to Arlington in tribute to Arlington National Cemetery.  The town was chartered in 1900.
Getting Back on Point
Growth in these towns was directly related to their proximity to Memphis and the growth of railroads.  Germantown and Collierville were on the route of Memphis' first railroad line, the Memphis and Charleston.  Bartlett and Arlington were built along the Memphis and Ohio, and Millington was established on the Paducah & Memphis line.
As for Lakeland, it is poor in history and the city is just over 40 years old after businesses sprung up along U.S. Highway 64.  Its claim to fame was an amusement park with its "skyride," "Huff-n-Puff" locomotive, and a beach along with Lakeland International Raceway that once gave it character but today are only memories.  Its attraction as an amusement park location gave way to its attraction as a bedroom community.
OK, we admit we are prone to digress, and you may have by now forgotten the subject of this post.  We almost have too, but the point is that Shelby County's cities, except for Lakeland, have histories that date back to roughly the same era as Memphis, and because of it, they are not the kinds of traditional bedroom communities found in other places that lack an authentic character.
At any rate, the fact that Shelby County only has seven cities in its core county is a major benefit to all of the governments located here, but we'll save that for another day.
The Number of Governments
Our original point is that compared to other places, we have a simple government structure here, even when considered from a regional level.
For example, the Memphis region has 60 governments or 0.4 per 10,000 population.
Here are some other comparisons:
* St. Louis – 393 governments, or 1.4 per 10,000 population
* Louisville – 193 governments, or 1.5 per 10,000 population
* Nashville – 67 governments, or 0.4 per 10,000 population
* Birmingham – 95 governments, or 0.8 per 10,000 population
* Chattanooga – 32 governments, or 0.6 per 10,000 population
* Kansas City – 252 governments, or 1.2 per 10,000 population
* Little Rock – 52 governments, or 0.7 per 10,000 population
* Minneapolis – 412 governments, or 1.1 per 10,000 population
Source: Governing magazine calculations of 2017 Census of Governments data
**
Join us at the Smart City Memphis Facebook page for daily articles, reports, and commentaries relevant to Memphis.