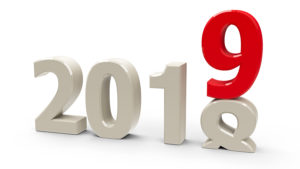 We are posting resolutions, commentaries, and predictions by Memphians about the coming year.
Darrell Cobbins, President/Principal Broker at Universal Commercial Real Estate, LLC"
"EQUITY AS OUR EQUALIZER"
As we prepare for Memphis' Bicentennial celebration this year, I am confident we will laud ourselves for all of the progress we have made in our 200-year history, evolving from what was once the largest territory in the Chickasaw Homeland to one of the nation's largest and most culturally rich metropolitan areas.  We have seen the establishment of Memphis as a cotton metropolis of the world, building many family fortunes that exist to this day.  We have seen a world-class medical research infrastructure emerge in Memphis, as well as becoming the overnight shipping capital of the world.
In as much as it will be a time to celebrate how far we have come, it will also be a time to reflect on those historic challenges that we have been able to overcome in these 200 years since our founding.  This includes the well-known yellow fever epidemic that wiped out nearly 80% of the local population and much of its wealth, race riots and series of lynchings that sent thousands of Memphians seeking refuge in northern and western cities, a sanitation workers strike that brought the eyes of the world upon Memphis following the assassination of Dr. Martin Luther King, Jr.
We have come so far and overcome so much.  The good and the bad are inextricable in our appreciation of what has put Memphis on the world map and placed an indelible mark upon our hearts, and the hearts of those Memphis who came before us, as the stewards of Memphis' future.
Upon careful examination of our community's evolution, however, there is a common thread that has persisted and historically challenged.  This common thread has been our biggest hurdle in realizing our full "potential" that we have so often espoused, decade after decade.  This thread is the persistent inequity that has been the largest contributing factor to many of the structural impediments that has plagued our measurable progress as a community.  The significant imbalance between the "haves" and the "have nots" is an identifiable challenge that can be evidenced during every period of Memphis' existence, broadening the chasm between Memphis and the realization of its full potential.
My hope for 2019 is that as a community, we finally prioritize having an ethos of equity for all Memphians as an equalizing force that signifies our discomfort with persistent inequality.  I dream of the day that our civic aspirations and beliefs ultimately match up with our actions and outcomes, unleashing boundless opportunity that touches as many Memphians as humanly possible.  In order to achieve this end, we must first acknowledge where we are today in this regard.  We must then collectively commit to act in alignment with the future we so desperately want to see.
In the recently released Opportunity Nation annual '2017 Metro-Level Opportunity Index,' 13 metropolitan statistical areas (MSA's) were compared to each other and to a national benchmark for the United States overall, highlighting the variation in opportunity between cities, counties, and states.  Baltimore, Boston, Chicago, Dallas-Fort Worth, Des Moines, Detroit, Los Angeles, Newark, Phoenix, Seattle, Washington, DC, New Orleans, and  Memphis were the subject MSA's studied.  Opportunity Nation states that the aim in producing the index is to "aid policymakers and local stakeholders as they work to widen opportunity in our nation and address inequities."  In this year's report, the Memphis MSA ranked 13th out of 13 MSA's, hampered by underperformance in the broad domains of Economy, Education, Health, and Community.  Nine MSA's performed higher than the national benchmark in terms of overall opportunity, while four below the national benchmark.
Following study of those MSA's with the highest level of performance with regard to opportunity, it begs the question, "Could embracing equity become our equalizer in comparison to our peer MSA's?"  I believe the answer is a resounding "Yes!", but that is only if we are solidly committed to truly "walk the walk" through the creation of a local equity agenda that governs our decisions and priorities going forward.  Pursuing equity as our equalizer, via a local equity agenda, should permeate throughout the halls of government, the boardrooms of business, the classrooms of the colleges and universities, the missions of nonprofits, and the investments of philanthropy.
This is not to say that the concept of equity is nonexistent locally.  We can point to efforts in local government, the arts, economic development, education, community health, and other areas that recognize disparities and has efforts to address them.  However, a local equity agenda could tie these separate efforts together, under a larger civic goal to which we can hold ourselves accountable over the long term.
Embracing this new common thread of equity and opportunity allows us to begin to write a new history that is exhibited in all that we do and all that we pursue.  This new common thread provides a more level playing field where more Memphians can find their place and have a meaningful stake in Memphis' growth and forward evolution.  In this new reality, a chorus of enfranchised and empowered Memphians will lead to a more vibrant, engaged, safe, and sustainable Memphis.  This is the most effective way for Memphis to rise up the rankings, equalizing our standing among the greatest American cities for accessing opportunity.
In this, Memphis' 200th year of existence, let us all pledge our actions in dedication to this most noble pursuit.
Wendi Thomas, Founder, editor and publisher of MLK50: Justice Through Journalism:
What's ahead for Memphis in 2019?
This is the year that Memphis turns 200. Some city leaders and boosters will attempt to measure success by the value of construction projects, or museums to be relocated, or investments in some parts of town but rarely others.
Justice-minded Memphians will remember the words of Dr. Martin Luther King Jr., who wrote in his last book, "No matter how dynamically the economy develops and expands, it does not eliminate all poverty."
Most, if not all, of these boosters are those who "believe that American society is essentially hospitable to fair play and to steady growth toward a middle-class Utopia embodying racial harmony. But unfortunately this is a fantasy of self-deception and comfortable vanity," as King wrote.
These leaders will try, but fail, to drown out necessary questions about the city's responsibility to those progress always seems to leave behind.
The solution to poverty is money (when you have enough money, you're no longer poor), so expect activists and organizers to continue to force companies and organizations to examine their role in the region's persistent poverty. Give thanks when smart organizations raise workers' pay to at least $15 an hour.
Expect MLK50: Justice Through Journalism, as part of ProPublica's Local Reporting Network, to uncover and examine the systems that trap people on the economic margins.Journalists whose work centers the most vulnerable, not the most powerful, will persevere and even thrive. That includes The Commercial Appeal's Sara Macaraeg and Katherine Burgess; the High Ground News team, led by Madeline Faber; and the MLK50.com team, led by Deborah Douglas and Andrea Morales.
All justice-minded Memphians will find strength in the words of the nation's first black investigative journalist, Ida B. Wells, herself a former Memphian: "The way to right wrongs is to turn the light of truth upon them."