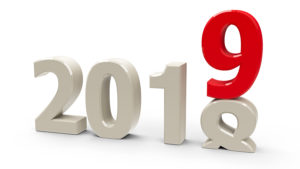 We're posting resolutions, predictions, or observations by Memphians as they look ahead to the new year. 
Jim Strickland, Mayor of Memphis:
As we move into the new year, I am filled with optimism and excitement for the future of our City. Everywhere I go—whether it's to speak at a luncheon, neighborhood event, or a trip to the grocery store—I am constantly talking about the momentum we are feeling. With nearly $15 billion in recent, current, and planned development and nearly 18,000 more Memphians employed since 2016, the statement that "Memphis has Momentum" is undeniable.
Over the last three years as Mayor, we've roughly doubled the City's street paving funds. We've doubled City spending with Minority and Women Owned Businesses. We're in the process of rebuilding our police force and on track to have 2,300 officers by 2020. We saw a need for productive activities and engagement for our youth and made summer camps free at community centers; we started and made free spring break camps, added literacy education to spring and summer camps, introduced staffed summer play at 20 City parks after its absence for decades, and continued to increase the number of youth participating in our library programming by nearly 50%. In addition, we increased City youth summer jobs by 50% — the second increase since taking office, and we will increase it by 75% this summer.
These are all big wins for our city, and it's my job as mayor is to celebrate our successes—but equally important—be clear-eyed about our challenges.  I would not be doing my job if I didn't work to make sure we have fewer and fewer bad outcomes.
As we move into 2019, we still have much work to do, but I'm excited about the possibilities that come with the new year and looking forward to working with all Memphians to realize our full potential."
Van Turner, Chairman, Shelby County Board of Commissioners, and Commissioner for District 12:
This year promises to be full of reflection and progression.  We will reflect on the city and county's bicentennial celebration.  We will anticipate fresh new faces on the City Council and maybe one or two new ones in the State Senate and on the Shelby County School Board.  The newly assembled Tennessee General Assembly and Governor Bill Lee will have to begin work, and all eyes will be on D.C. as the new Democratic House will no doubt have its aim set on the White House and ending the shutdown.
As all of this happens, I will resolve to continue working with Mayor Lee Harris and other county-wide elected officials on critical issues involving education, public safety and equity in economic development.  Interim Superintendent Joris Ray will begin his stint as the new leader of the largest school district in the state.  I look forward to supporting him as well as the Shelby County Schools and all students within Shelby County.
We must not only ensure that our communities are safe but also make sure that our constituents feel safe.  We will continue to actively support the Memphis Police Department and the Shelby County Sheriff's Office while holding them accountable.  We know that the isolated incidents of a few do not define all officers.  Economic development projects that come before the County Commission will continue to be checked and checked again for diversity and equity in all respects.
We must continue to know, love and respect the fact that we are Memphis and Shelby County Strong and that we will continue to succeed as long as we work together.  I believe that 2019 will be a great year for this City and County, and I am looking forward to playing my small part!
Mauricio Calvo, Executive Director, Latino Memphis:
It was exciting to put myself forward to serve Memphis and its great people, and I will continue to consider offering myself for public service as my hometown celebrates its Bicentennial.  I'm grateful to all who advocated to City Council members to appoint me to District 1.
Congratulations to Sherman Greer on his appointment.  I have appreciated working with him for Latino Memphis constituents at Southwest Tennessee Community College.  He is a man of his word, understands issues, and I'm honored to have him serve me and my family in District 1.
I hope others join me in pledging support to the new City Council members in finding positive solutions to get things done for Memphis and all its people.
Steve Steffens, Left Wing Cracker Blog:
While the hard feelings of the Tennessee General Assembly toward the city of Memphis appear to have ebbed with new leadership in the GOP-dominated House, their ire may well soon be directed at Shelby County Government.  As the new County Attorney has indicated the Sanctuary City legislation may well be unconstitutional and they will not enforce it.  Also, as the County Commission seeks to have more oversight over Juvenile Court, the Assembly may seek to pass legislation designed to thwart those efforts.  We could be living in interesting times