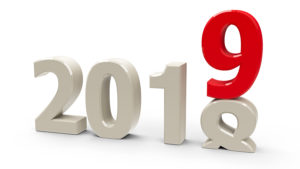 We've been posting Memphians' resolutions, predictions, and commentaries about the new year since 2019 was ushered in.
Emily Neff, Executive Director, Memphis Brooks Museum of Art:
A vibrant visual arts community requires a healthy ecosystem of art museums, galleries, collectors, academic institutions, and, of course, artists, all working together. When this collaborative spirit is present, we can enjoy a civic culture that centers the arts as a defining characteristic of our city.
We are living in such a moment right now. The evidence is all around us: the launch of remarkable new spaces like Crosstown Arts and the leading-edge TOPS gallery, the relocation and expansion of the venerable David Lusk Gallery, the arts curricula at the University of Memphis, Rhodes College, and Christian Brothers University (with whom the Brooks has a distinguished partnership in credentialed art therapy); the incubating of and launch of Orange Mound Gallery, The CLTV, and The CMPLX; the long-awaited opening of South Main Artspace Lofts,  the nimble and productive work of the Urban Arts Commission, the launch of Young Arts Professionals and the forthcoming fourth year of the Young Collectors Contemporary arts fair; the building of a new education facility at Dixon Gallery & Gardens; and, for the Brooks Museum, a new museum on the bluffs overlooking the majestic Mississippi River.
I am sure this is only a partial representation of everything that is happening in our local visual arts community. In any event, this extraordinary burst of activity bodes well for the future of the arts in our region. Memphis is a city of great need and great generosity, and we must always seek to expand the base of support for the arts throughout our community.
We have so many advantages as a city, beginning with our inherent appreciation for creativity, innovation, and entrepreneurialism. Every Memphian I have met in the last four years has these values in abundance in his or her DNA. These qualities should not be taken for granted. It is the responsibility of institutions like ours to reclaim and reaffirm these values at every opportunity. That is among the reasons we are so committed to designing and developing a new state-of-the-art Brooks Museum campus: we must make sure our permanent collection remains safe and secure for generations to come, but we must also ensure excellence, sustainability, relevance, and equitable access for everyone in our city now.
The Brooks Museum will always belong to the entire city. I predict that as long as we continue to collaborate and celebrate each other's successes, the years ahead will bring an even greater number of achievements in the arts. The Brooks looks forward to doing its part.
Athena Palmer, Executive Director, Teach for America – Memphis:
By economists and futurists' predictions, the year 2030 will mark a year where the world looks and feels different than it does today. Some millions of jobs will be eliminated because of automation and other technologies. New technologies that haven't been invented yet will create new jobs that we can't plan for or yet imagine and technologies of today will be obsolete. The first graders who are, right now, in classrooms across the city will graduate high school in 2030.  By all predictions, Memphis will be a city significantly changed by the future of work, given our dependence on the manufacturing, logistics, and healthcare industries.
My hope for Memphis is that we come together as a city to understand the realities of the future – the now, even – and begin to reimagine our systems, businesses, practices, and policies so that we all, and especially our first graders, are prepared to live, work, and learn in the 21st century. The future of Memphis quite literally depends on our ability to invent a new future and lead boldly into the unknown; we simply must resist our instincts to play it safe and improve what we already have to ensure our city and all of its citizens are equipped for this exciting and unpredictable future.
Suzanne Carlson, Transportation and Mobility Project Manager, Innovate Memphis:
Memphis saw a new round of investment in 2018 that will continue throughout 2019.  Many visionary people are bullish on Memphis and working on developments, parks, and cultural installations.  As the city focuses on building up and not out, our transportation and housing options will start shifting to keep pace.
As Memphis' 3.0 Comprehensive Plan encourages housing diversity like duplexes and quadplexes, watch for developers to start filling this gap.  Residents and jobs are moving into the center city, while shared scooters and bicycles have enabled us to get around better without a car.  As climate change impacts become obvious, housing and transportation choices can lower our footprint.  In response, we should make a big play to invest in safer streets to walk, wheel, bicycle and scooter.  This means safe crossings and sidewalks, and street space provided for slower, vulnerable vehicles.  Slow lanes, formerly called "bike lanes," will increasingly be shared by electric scooters, mobility scooters, and other small vehicles.
Memphians are ready for more transportation options for longer trips, too.  Our transit deficit has prevented many people from getting or keeping a job, reaching medical appointments, or simply saving money.  Memphis' landscape forces most people to drive when they leave home.
Thanks to Innovate Memphis' work with the City of Memphis on 3.0 Transit Vision, we now have a redesigned transit network, and City and County leaders are discussing how to fund it.  This new network would feature reliable, frequent and more direct bus routes, with fast transfers, so that the average Memphian can reach 39 percent more jobs in an hour's bus ride. Look for more transit funding in 2019 to make this happen.
How can we support these trends that build Memphis up?  Employers can provide transit benefits and carpool incentives on par with past parking benefits, and connect with our Commute Options program to learn how.  Residents can change travel habits one day a week, taking a bike share or transit trip.  We can shop at local businesses, including filtering online purchases to keep retail dollars and deliveries inside the Mid-South.  (Our purchases have a carbon footprint, too.)  Lastly, we can speak up in favor of something good happening in our neighborhood and be the change we want to see.