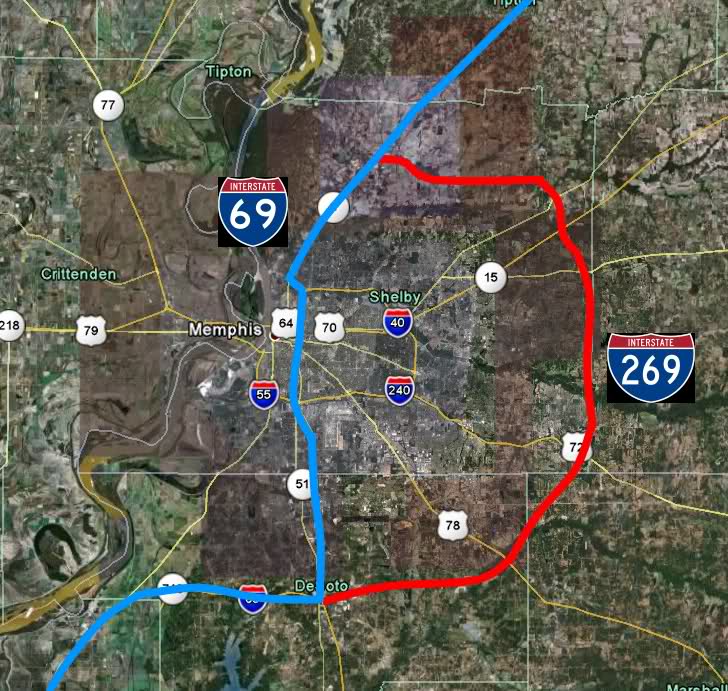 DeSoto County's last segment of I-269 opens in nine days and the predictions are now fulfilled:  it is a more than $1 billion gift for sprawl and developers that does nothing so much for Memphis except hardening economic segregation.
Although Memphis Mayor Willie W. Herenton and Shelby County Mayor Jim Rout opposed the outer loop, the Republican power politics of Mississippi politicians – think former Senator Trent Lott – pushed it though with little regard to its impact on the major city at its heart.  Unfortunately, the Greater Memphis Chamber at the time waffled and the hoped for wall of opposition in the U.S. Congress could not combat Mr. Lott's influence.
While the news media will undoubtedly report excitedly about the ceremonious last link on October 26 that opens up the four-lane expressway from Tunica to the far eastern edge of Shelby County, if past coverage is an indication, there will be no reporting about the effects of the interstate on Memphis.
Sometimes I-269 is even wrapped in a shroud of terms like smart growth, knowledge economy jobs, New Urbanism, and open space protection, and supporters of the interstate have suggested with straight faces that Memphis will benefit from new economic growth and development as a result of the new interstate. Our past teaches us that it is more likely that the highway will be characterized by unwalkable, car-centric sameness, and any population growth will take place outside of the city.
On a comment on our blog post, No Reason for Memphis to Celebrate for I-269 Completion, by  David Ciscel, economist emeritus at University of Memphis, said it well: "Sprawl is a rot that tends to consume the old city. We can hope that Memphis is just 20 years behind other cities, as people across the country have come to recognize that high-density living is actually easier living. Other old cities are coming back, maybe we will see the same for old Memphis in the next 10-15 years. If not, Collierville, Southaven, etc., will ultimately find that the suburbs cannot be secure without the city."
For even more context, read his seminal work on sprawl: The Cost of Urban Sprawl in the Memphis MSA, which was written for the Federal Reserve Bank of St. Louis.
Driving Us The Wrong Way
I-269 is another time that our priorities seem to be more about moving boxes and trucks than building quality of life and a stronger city at our regional core. After all, I-269 was not built because of a proven need, but rather, it was built because politically connected, moneyed interests wanted it in order to open up the greenfields of North Mississippi and Eastern Shelby County for development.
While I-269 is indeed a driver of sprawl, more to the point, it is a driver of the entrenched economic segregation in this community whose dangerous trend lines threaten our economy, limit access to opportunity, and lower the odds for children living in poverty to break out of it.
The Twins: Sprawl and Economic Isolation
The primary reason we are so exorcised about I-269 and other sprawl-inducing highway projects are because they deepen the economic segregation that holds back Memphis' progress.
Memphis is among the cities ranked highest for economic segregation among the largest 50 metros in the U.S.
Here's the kicker: sprawl is a major cause of economic isolation, and economic isolation in turn exacerbates poverty and creates obstacles for residents to connect with the social networks that are often essential to employment and improved lifestyles.  So we hope all the cheerleaders for an unnecessary interstate looping around Shelby County will forgive us, but their justifications are strained and their promises for thoughtful planning along its route are vague and hyperbolic.
Well-connected cities have less division between economic groups, and based on the recent decibel level here, it shouldn't be too surprising that we are at the top of the list of economically segregated cities.
Cross Purposes
Meanwhile, economic segregation results in concentrated poverty that is the seedbed for our city's most serious problems and derails our best efforts to address them. Projects like I-269 promise only to make them worse, because every problem becomes harder to deal with in cities that are economically segregated.
In other words, at the precise time when every city, county and state agency should be focused on encouraging infill redevelopment that revives and stabilizes Memphis neighborhoods, our transportation investments hollow them out, and leaders appear unable to turn the tide and abandon the idea that sprawl is "growth."
At the same time, the cause and effect — connecting the dots — between sprawl, high tax rates, and an economically polarized city are overwhelmed by the influence of those who drive these transportation projects.
The inattention to the urban center that fuels our regional economy is symbolized by I-269, but its impact will be real and immediate. It will further produce an economically polarized city where fewer Memphis workers are paying more and more in taxes — including those spent for services and amenities that are in truth regional in nature.
Most of all, it is baking inequality into the economic geography of our region.  It limits life choices for children born into neighborhoods of concentrated poverty and limits opportunities for adults who have less mobility to reach jobs, job training, and public services.  And in a region where the highest concentration of poverty is farthest from job centers, all of us pay a price.
Making It Worse
Here's the thing: Memphis' ability to compete in the new economy is undercut by the hollowing out of the middle class, by one of the worst economic segregation of the 50 largest metros, by the need for more college-educated 25-34 year-olds, African American home ownership that is declining, and 20% of Memphis families living on less than $10,000 a year.
These are the forces driving Memphis' trajectory and defining our future. There is nothing in I-269 that does anything to improve these trends. Despite denials by suburban cities, the trends of Memphis will in fact determine the future of the entire region.
If Memphis must live with the problems that are exacerbated by I-269, we must do more than  pledge our commitment to regional planning. More to the point, we must change policies so that new highways do in fact mitigate their negative impact on Memphis.
For example, we said to no avail that I-269 and Tennessee 385 should be toll roads. They could produce more than $100 million a year that could be invested in strategies to strengthen our core city and to make Memphis a city of choice.
Nontraditional Thinking
There are other innovations like a higher sales tax along the route to establish a tax-sharing program that could direct money into the improvement of Memphis neighborhoods. Or perhaps there's a way to pass impact fees and sustainability guidelines for development along the interstate route, to set up land trusts and to require the same level of public investments in public transit.
Then too, there were things like green preservation zones, limited access, and user fees that could have been taken to mitigate the negative impact of I-269, but local officials failed to play hard ball with the Tennessee Department of Transportation, and as a result, Memphis' interests were given little weight in the decision-making.
In a perfect world, our local and state officials would simply have turned down the federal money for I-269, calling Mississippi's bluff and leaving it with the interstate version of an oxbow lake. Perhaps, it's too late to call on our leaders to say enough is enough and make the most important decision facing them – doing what's right for Memphis – but it requires us to move past the "any road is a good road" attitude that leads us to take money for damaging projects from state and federal sources.
I-269 exists because of politics. That's why we think the answer needs to be found in the same place.
These are difficult times for the Memphis metro – let's say it again, metro. Unlike most MSAs, the problems that threaten our economic health are regional and not just the problems of the main city. Unless we figure out how to avoid self-indulgent projects like I-269 and make the investments that strengthen our entire region so that it is prepared for the fundamental restructuring of the economy that is well under way, we will prove that the road to hell is indeed paved with intentions that aren't always good.
In the end, it's not great roads that will draw jobs and people to Memphis. It's great quality of life, a culture of creativity and a willingness to support dreamers and entrepreneurs that will attract the talented people that in turn attract jobs to our community. The blind pursuit of more lanes and more roads without the fuller context for community in time creates an incomplete plan for transportation and replicates the same mistaken policies of the past.
***
Join us at the Smart City Memphis Facebook page for daily articles, reports, and commentaries relevant to Memphis.