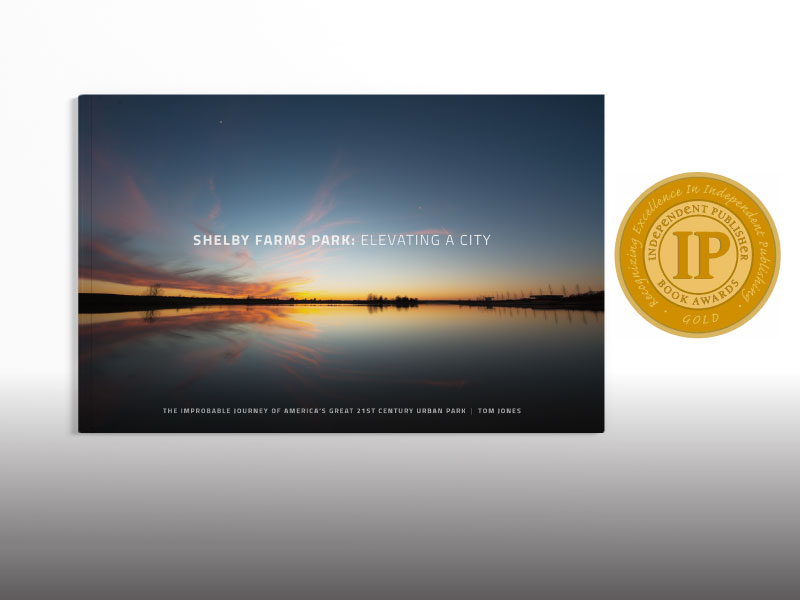 Shelby Farms Conservancy President Jen Andrews is today accepting a gold medal at the Independent Publishers Regional and Ebook Awards ceremony in New York City for Shelby Farms Park: Elevating a City.
It has been selected as best non-fiction book for the South.
I was honored to be author for the book, whose editor and publisher was Susan Schadt, who eponymous press delivers high-quality book after high-quality book.  The Shelby Farms Park book is a testament to her skill and her attention to detail, and it was a pleasure to work with her on this volume.
In fact, Susan Schadt Press was not only recognized as publisher of the Shelby Farms Park tome, but it also published a book that received a silver medal: Calling The Wild: The History of Arkansas Duck Calls by Mike Lewis.  After working with her on this book for two years, Memphis is incredibly fortunate that have a publishing enterprise with this national reputation.
We are equally lucky to have Ms. Andrews as the leader for Shelby Farms, which has unquestionably succeeded in its founding goal of creating America's great 21st century urban park.
In addition to my chapters, there are others written by James Corner of Field Operations, who designed the park; Peter Harnik, founder of the Center for City Park Excellence at the Trust for Public land; Marlon Blackwell, architect for the context sensitive architecture at Shelby Farms Park; Kimbal Musk, co-founder of The Kitchen restaurants; Carol Coletta, senior fellow, American Cities Practice for the Kresge Foundation; Ms. Andrews; and former president of Shelby Farms Park Conservancy Laura Morris.
The book is illustrated with glorious images by photographers Justin Fox Burks, Timothy Hursley, Alex MacLean, Murray Riss, and Philip Thomas.
Like the park itself, the book is many things: personal reflections, how-to advice, history, technical insights, and photo essays.  It answers inquiries from other cities that are drawing inspiration for their own park projects; it reveals the step-by-step way that leaders refused to settle for "good enough for Memphis."  It pays tribute to an engaged public that protected the land from development, and it acknowledges leaders undeterred from their mission to create something truly exceptional that could inspire the entire community to aim higher and dream bigger.
**
Join us at the Smart City Memphis Facebook page for daily articles, reports, and commentaries relevant to Memphis.