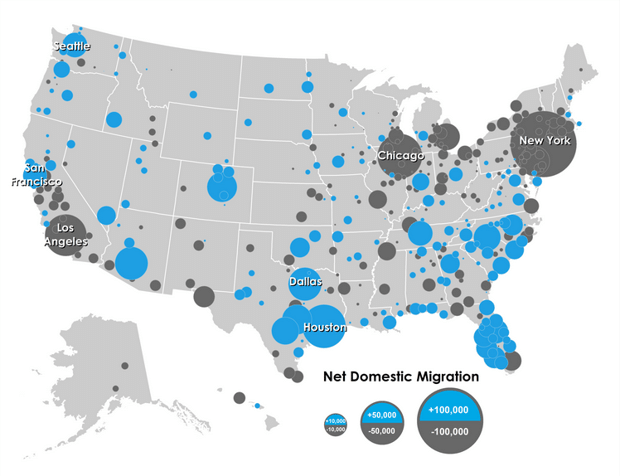 This post is written by Jimmie Covington, veteran Memphis reporter with lengthy experience covering governmental, school, and demographic issues. He is a contributing writer with The Best Times, a monthly news magazine for active people 50 and older.  
By Jimmie Covington
Large numbers of people are continuing to move away from Shelby County and from the nine-county Memphis metro area as a whole, newly released census estimates show.
The estimates, for July 1, 2017, show that Shelby County has lost population for five years in a row and that between 2010 and 2017, the county experienced a net loss of 32,751 from the movement of people away from the county, which in census terms is called migration.
The net migration loss for the metro area, including Shelby, is reported at 30,000 during that period. Because of births exceeding deaths, the metro area had a population gain for the period, and Shelby County's decline was much lower than the loss to outward movement.
DeSoto County, Miss., remains the growth leader among the area's counties.
In addition to DeSoto, steady growth has been occurring in most suburban municipalities in Shelby County. It is considered likely that city and town population estimates will continue to show this growth when these same figures are released this summer.
Demographers say that the U.S. Census Bureau's yearly estimates cannot be considered specifically accurate but that they do a good job of reflecting population patterns.
The newest estimates, released in March, show Shelby dropping from 937,130 in 2016 to 936,961 last year. Because of births exceeding deaths, the 2017 estimate remains higher the county's 2010 Census population count of 927,644.
If the 2020 Census shows a drop in Shelby's population since 2010, it will be the first time in history the county's population has declined from one census to the next.
Movement of people away from Memphis is the major factor in the county's population decline.
Shelby County continues to have more residents than Davidson County, but the estimates show that Davidson is growing at a steady pace.
Davidson had 691,243 residents in 2017 up from 688,901 in 2016 and 626,681 in 2010.
An interesting figure in the Davidson numbers shows that between 2016 and 2017, the county had a net domestic migration loss of 2,397 and that the net domestic migration gain since 2010 has been only 5,346. Domestic migration is the movement to and from counties in the United States.
Davidson had a net gain of residents from international migration of 3,974 between 2016 and 2017 and 23,910 since 2010.
The Nashville metro area, which has 14 counties, moved ahead of the Memphis metro area in size in 2000. The Nashville area grew from 1,868,855 in 2016 to 1,903,045 in 2017 while the Memphis area grew from 1,345,193 in 2016 to 1,348,260 in 2017. Four Nashville area counties are listed among the nation's top 100 fastest growing counties but Davidson is not among the four.
Estimates for 2016 showed Nashville's city population moving ahead of Memphis's population for the first time.
Here are the 2017 estimates for the other counties in the Memphis metro area with the 2016 estimates in parentheses:
Benton—8,312 (8,265)
Crittenden—48,750 (49,320)
DeSoto—178,751 (175,545)
Fayette—40,036 (39,575)
Marshall—35,619 (35,780)
Tate—28,441 (28,246)
Tipton—61,366 (61,176)
Tunica—10,024 (10,156)