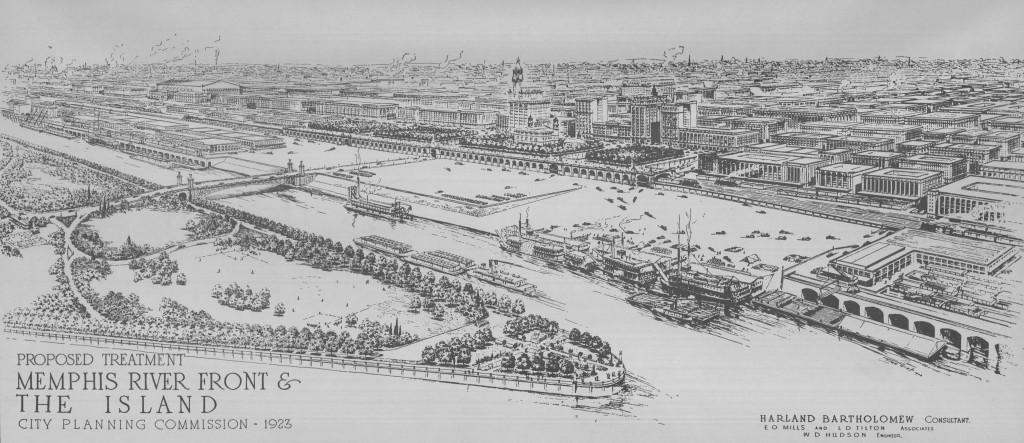 There is a lot of talk these days that we need a culture of planning, and that is true.
Even more, we need a culture of following through.
The truth is that for decades, planners have been producing shelf after shelf of reports and solid plans and recommendations.  As we heard recently with the release of the Studio Gang concepts for the riverfront, that prime piece of property alone has had 19 plans since 1987.
These days, the city's first comprehensive plan in 50 years – Memphis 3.0 – is under way, and while comp plans typically focus on land use, the promise of this new one is that it is also a plan for opportunity, a plan for equity, and a plan for prosperity.
In this way, Memphis 3.0 can respond to the deepest needs of Memphis, define and drive crucial decisions, and capitalize on key leverage points for the future.   As a result, Memphis 3.0 offers more potential to resonate with the public, who often don't connect with comp plans about land use and associated esoterica.
Planning Is Nothing Without Doing
It's a testament to Memphis 3.0 that it has aspirations to be so much more than a land use plan, articulating a long-needed vision for Memphis and assembling the public's strategies for achieving it.  Many of the problems confronting Memphis are tied to poor land use, sprawl, overuse of planned developments, and declining density, but there are others even more important, those that are structural and historical, like entrenched inequality, a low-skill economy, a permanent underclass, and intractable poverty.
It's the latter issues that will ultimately tell us if the planning has been successful, because they will ultimately determine if Memphis can create better paying jobs and attract the population increases that are key priorities of the Strickland Administration.
But here's the thing: our community has a history of seeing the creation of plans as the outcome rather than seeing the outcome as implementing what's recommended.  That's why the real test of Memphis 3.0 comes after it is completed.  That's when elected officials can send the message that this plan is different by ratifying it as official city policy that will frame key questions and suggest smart answers.
We've seen the results frequently when this doesn't happen.  The case study has been Memphis and Shelby County Office of Planning and Development's plan for Germantown Parkway.  Shelby County Board of Commissioners started violating it almost before the ink was dry and beginning by treating it as advisory rather than official policy.
Development That Strips Sense of Place
The plan envisioned a much different future for the then new and expanded highway.  The Office of Planning and Development laid out the antithesis of the strip development that dominates Germantown Parkway today.  If anything, the plan reflected the concepts of New Urbanism that were emerging.  It hoped to create nodes and clusters of functioning neighborhoods with residential, office, retail, and commercial uses.
It assumed that commercial corridors are not preordained to be eyesores with a string of unattractive, box-like buildings with oversized parking lots.  In other words, this kind of strip development destroys any sense of place, gobbles up open space, and is unsustainable.
And yet, the plan was abandoned before it ever had a chance to matter.  Politically connected developers had other ideas, looking for quick financial returns from strip development and holding out the promise of immediate new tax revenues – and political contributions – that City Council and County Board of Commissioners immediately pursued.
Comprehensive plans in other cities have taken action to reduce or block this type of development (although the horse is largely out of the barn here and the "anything goes" attitude has already exacted its price).
Lack of Planning Culture
That's not to say that we're not fortunate that some plans were ignored.  The 1938 Harland Bartholomew plan said:
"It would be advantageous to the city if the bulk of the negro population could be confined to definite districts that have already been established.  With a limited increase expected in negro population in the future, improvement of health of health and sanitary conditions within these districts will largely eliminate further shifting of the negro population."
Of course, these were not the recommendations that led to the plan not being approved.  In fact, racial housing patterns were so engrained by that time, the racially defined districts were already in place, contributing to Memphis being a national leader today in economic segregation.
Opposition to the plan was related to the public's concerns about downgrading zoning and friction between political boss E. H. Crump and Mayor Watkins Overton didn't help.
In a parallel to today, the planning staff was disturbed that the public did not understand the fundamentals and importance of planning.  It was suggested that the mayor invite the National Conference on Planning to be held in Memphis in 1940 as a way to spread the message about the need for a culture of planning
Roads Less Traveled
Harland Bartholomew essentially owned the comprehensive plans in Memphis for decades, beginning with the first one by the first Memphis Planning Commission.  Mr. Bartholomew began work in 1922 and after it was printed in 1924, its recommendations largely shaped Memphis urban form.
In a situation replayed many times over the years, the new zoning ordinance adopted in 1922 called for building height restrictions but the height limits were already compromised and the recommendations ignored when high rise office and hotel construction began downtown.
The plan also recommended a grandiose park for Mud Island, an idea that only took about 50 years to implement.  It also called for new and expanded streets, including some running eastward and others running north and south.  However, of the 14 north-south street recommendations, only Riverside Drive, Third Street, and Airways-East Parkway-Hollywood routes were built, and, none of them moved through the entire city from north to sound.
It's what pushed most of development eastward for more than half a century, accelerated by political relationships between Mr. Crump and developers "out east."
The plan also imagined a grand gateway and arrival point with a "riverfront plaza" in classical architecture. (Rendering above.) While the Memphis Planning Commission supported the idea (and even made the rendering of this new riverfront the frontispiece for the comprehensive plan), but city government was uninterested.  As a result, Memphis is still considering today what to do with the riverfront to make it more vibrant and a competitive advantage.
Imagine where Memphis might be if the riverfront had been addressed that many decades ago.
Early Sprawl Warnings
In the late 1930s, Mr. Bartholomew urged the Memphis city commissioners to create policies that would discourage decentralization of the city's population.  He said that stabilizing older areas would protect and enhance property values, but the same plan also included the suggestion about containing African Americans to specific areas.
He was paid $25,000 for the plan in 1938 (the budget for city planning that year was $4,090), but the plan suffered a fate that would become a tradition in Memphis: it sat on a shelf in the mayor's office for four years until a real decision was made – to delay action until after World War II, which meant no real implementation at all.
At the time, the population of Memphis was essentially the same as Atlanta and Dallas, and planners projected that by 1980, the population would be 800,000.
By 1953, the results of little planning were becoming clear. The afternoon daily newspaper, Memphis Press-Scimitar, editorialized, "Give Memphis Real City Planning."  By 1955, city planning had become a major issue in the mayor's race, and the winner, Edmund Orgill, proposed to eliminate secrecy in planning and to appoint a more representative Planning Commission.  A suggestion to hire a professional city planner was not approved.
Getting It Right This Time
Another Bartholomew comprehensive plan was adopted in 1955, but by the early 1960s, city planners were complaining about "an unfortunate zoning game played for high stakes" because rezonings were plentiful and capricious.  Finally, in 1962, the first professionally trained planner was hired to lead the city and county planning staff (it had become a joint agency following Mayor Orgill's election).
In the late 1960s, the staff of the Planning Commission issued the 10-voluime "Community Facilities Study" that led to Memphis' first capital improvements plan, but by 1976, the Memphis and Shelby County Planning Commission was dissolved with political complaints that it had become ineffective.  In its place was the city-county Land Use Control Board, a clumsily named agency that in its history frequently represented developers' interests to the detriment of neighborhoods. At the same time, the Office of Planning and Development was established.
As Shakespeare wrote: "What's past is prologue," and even today, it is easy to see themes that have emerged from Memphis' planning work over the past 95 years.  Chief among them is the need to buy into the plan and to follow through, but even more to the point, it points out the opportunity costs that Memphis has paid for not making pivotal decisions at the right time.
Most of all, as Eric Robertson, president of Community LIFT, said recently on Behind the Headlines: "One of the reasons we are having a Memphis 3.0 conversation…is that we needed to not be randomly doing things but thinking about how do these things connect to an overall direction that we are trying to move the city in.  And right now, that's not clear."
**
Join us at the Smart City Memphis Facebook page for daily articles, reports, and commentaries relevant to Memphis.