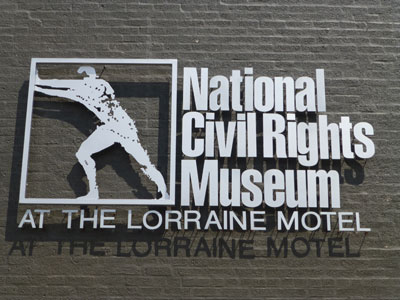 There are many special places and experiences unique to Memphis, but at the top of our list is the National Civil Rights Museum.
I was present at the creation, developing the plan for city and county political support and funding and negotiating the contract with State of Tennessee, and quite simply, the reality of today's museum surpasses all aspirations for it.
That's what makes this Saturday's celebration of the museum's 25th anniversary so meaningful for this city.  From the day it opened, its intimate space and the preservation of Dr. Martin Luther King's motel room which opened onto the balcony where he was murdered gave it emotional power that no other museum could match.
In addition, there was the sanitation truck reminding us of the men denied the right to unionize, the segregated bus with a statue of Rosa Parks sitting in her seat toward the front, the drug store counter with statues of students defying segregation, and the jail cell replicating Dr. King's Birmingham Jail epiphany.
In those days, the thinking was that the museum might never be updated, remaining stuck in time for lack of money like the Mississippi River Museum on Mud Island.  In truth, attention was so concentrated on getting the museum open, little time was spent on a grand vision for the next 25 years, but it was thought that there would never be the kind of financial support needed to update the exhibits.  In fact, state officials expected to eventually take over operations of the museum.  Back then, no one could even imagine the advances in technology and changes in the experiential expectations by visitors.
Museum Heroes
However, that was then and this is now.
Today's National Civil Rights Museum is in the top tier of museums about the African American experience and the civil rights struggle in America, and it got there by defying predictions in attracting major financial support from local and national philanthropies and companies.  As a result, the modernizations have intensified the experience and heightened the emotional impact.
Most people who visit the museum are unaware how close it came to not being built in the first place, and because of it, as the 25th anniversary is celebrated, we remember some of the people who were pivotal to bringing the museum to reality and whose roles are sometimes forgotten today.
Civil rights lawyer and the first African American state legislator since Reconstruction A. W. Willis was constant inspiration at times when the project appeared dead.  He died in 1988.  Chuck Scruggs, the first African American general manager of WDIA and later "Mr. Chuck" on WKNO, was first president of the Museum Foundation.  He died in 2013.   D'Army Bailey, lawyer, judge, and first president of the museum board of directors, died in 2015.  There would be no museum without them.  They bought the Lorraine Motel, conceived of a museum, and pushed the idea to the top of the local agenda.
Contributors
We wrote recently about the key role played by former governor Ned Ray McWherter.  He died in 2011 on the anniversary of Dr. King's assassination.  Ben Lawless, former Smithsonian Institution exhibits designer, brought his "you are there" approach to the opening exhibits of the museum.  He died in 2013 and his obituary spotlighted his work at the National Civil Rights Museum.  State of Tennessee Architect Michael Fitts retired in 2011, and his advocacy and problem-solving were crucial to Nashville backing the project.
In local government, former Shelby County Mayor Bill Morris broke the funding logjam that resulted from political resistance and since leaving office, he has been a major volunteer fundraiser for University of Memphis.  Charles Perkins, Memphis lawyer and former county commissioner, put the votes together for museum funding on the county legislative body and painted city government into a corner.
Former city Mayor Dick Hackett is today CEO at the Children's Museum of Memphis, which has been transformed under his leadership.  His legislative assistant was Paul Gurley, who corralled the votes for funding and deeply involved in negotiations with state government.  He died in 2001.  Then, there were many people like John Dudas, head of the downtown development agency, who put their influence at risk to keep the idea of the museum alive, build support for it, and push it ahead.
Proliferating Competition
Prior to the middle of the 20th century, the major repositories of African American artifacts were historically black universities and colleges, such as Hampton University, Howard University, Spelman College, and Fisk University.
The surge in African American museums began about 35 years ago and picked up momentum in the past 15 years.  Some have been little more than vanity projects by individuals in some cities and others have been substantial projects funded by government.  Some of them closed quietly a few years after opening, another testament to the special status that the National Civil Rights Museum has attained as so many people stepped forward at just the right time over the past 25 years to elevate its ambitions and its reputation.
It is a remarkable achievement.  After all, just since the approval of the city, county, and state funding in 1986, about 20 major African American museums have opened, including the Smithsonian Institution's National Museum of African American History and Culture in Washington, D.C.
The past 25 years have been challenging times for museums, but the National Civil Rights Museum established a strong foothold in the national marketplace, born of its distinctive position as a sacred site in American history, its highly positive reviews by numerous national media, and the prestigious Freedom Awards that also celebrate their 25th anniversary this year.
In addition, it was named one of 10 national treasures by USA Today, it is one of the four most popular museums in Tennessee, it is one of only a handful of U.S. museums named to the International Coalition of Historic Sites of Conscience, it is one of only a handful of African American heritage museums accredited by the American Association of Museums, one of its exhibits appeared on a U.S. postage stamp, and it has even been an answer on Jeopardy!
A Time To Celebrate
It is surprising to many that the National Civil Rights Museum operates without any government funding and with a board willing to make tough decisions with a strong business mindset but with an overriding sensitivity to its purpose.  Case in point: the doubling of the exhibition space in 2002.
Ten years ago, the museum's board directors set a goal of being a bona fide member of the first tier of African American museums and to elevate and strengthen its position as a museum of national importance and international scope.  Without question, it has delivered.
That's why this is not just a time to celebrate 25 years of a remarkable museum, but also to celebrate a city that was mature and wise enough to build it as a physical symbol of its pursuit of reconciliation and racial understanding.  That goal remains to be reached, but the National Civil Rights Museum is a steady beacon to this city for social and economic justice.
About a decade ago, the New York Times wrote: "Museums are morphing.  Once they were chroniclers of collectors, gathering objects and facts and putting them on display.  Now many of them have become crucibles, places where a cultural identity is hammered out, refined, and reshaped.  Along the way, they have become community centers, where people gather to celebrate the past, commemorate its tragedies, and convey its achievements to others."
That then is the true legacy of the National Civil Rights Museum.
In the years when the museum was a concept morphing into a real project, there were numerous challenges that appeared to derail the project.  On those occasions, Mr. Willis regularly addressed them with the same comment: "Don't worry.  This is divinely inspired."
Looking back over 25 years, it is clear he was right.
***
Join us at the Smart City Memphis Facebook page for daily articles, reports, and commentaries relevant to Memphis and the conversations that begin here.