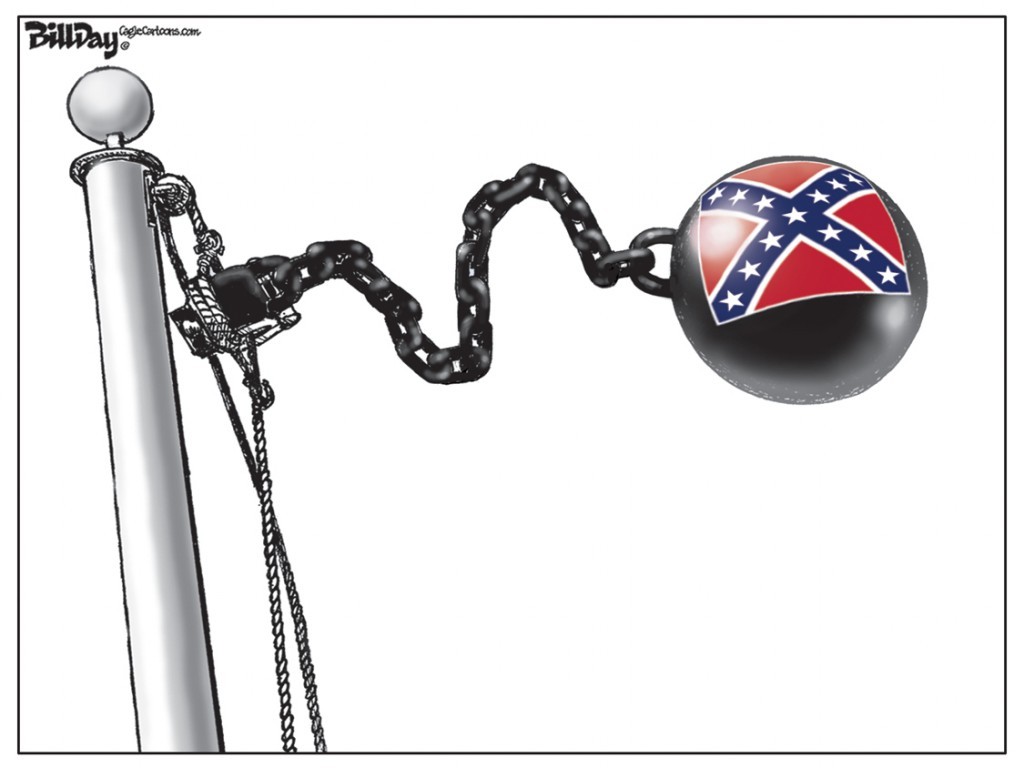 Some of us are children of the Sixties so our impulse when it comes to Confederate statues is to remove Jefferson Davis' statue in a prominent downtown park – where he is surrounded by various detritus from the Lost Cause movement – and ignore a state law that unreasonably interferes with Memphis' self-determination.
It would be a fitting act of nonviolence protest as we approach the 50th anniversary of Dr. Martin Luther King's murder a few blocks south of the park previously known as Confederate Park.  Put simply, we believe that City of Memphis does not have to obey an unjust law motivated by bigotry and discrimination and that forces the city to live with symbols that are anathema to its values.
It could be reminiscent of Chicago Mayor Richard M. Daley's decision in 2003 to bulldoze the runway at Meigs Field after the state government injected itself in an effort to keep the single runway airport open.  In the middle of the night March 20, 2003, city crews resolved the issue with large x-shaped gouges in the surface of the runway.
It certainly but an end to the controversy about the airport's future, and it's tempting to advocate for a similar seminal action to remove the statute of the president of the Confederacy and post-war Memphis insurance executive for three years.
The statue has only been in the park since 1964.  These days, it is the nexus of the Fourth Bluff project that is bringing more people into the area to enjoy the pop-up activities that have closed Riverside Drive in front of the park.
Putting Art To Work
That said, it seems like our good friend, Cardell Orrin, may have the best idea of all – using art's power to fight symbols of oppression.   In fact, it's a solution that seems poetic in its simplicity and easy implementation.
It's a proposal that he made for the Nathan Bedford Forrest grave and statue and we extend it to Jefferson Davis.
His suggestion is to erect a wooden wall that surrounds the statue and get local artists to paint suitably themed works on all sides.  It seems fitting as we ready ourselves for next year's Dr. King commemoration that the theme could be heroes of civil rights or artistic interpretations of a theme like "The Fight Goes On."
Another friend sees the potential for adding digital art displays in the parks to honor the men and women who deserve recognition for their contributions to equal rights, equal justice, and human rights.
Surely, those who say the statues are part of our history would not object to adding images that "complete" that history, as Mr. Orrin has said.  It could be a telling guerilla art project for Memphis at a time when we lag behind other Southern cities in removing Confederate shrines that were put in place decades (almost a century in the case of Jeff Davis) after the Civil War as ended a way to stand firm for the principles of separation and segregation.
Decoration Day
None of this can be done by Memorial Day, which was first created to honor the Union dead from the Civil War.  As a result, we resurrect our modest suggestion to decorate Jeff Davis in red, white and blue in time for Monday's holiday.
But, more to the point, as other cities come to grips with past racism by removing symbols of that history, surely Memphis will be asked next year what we have done in this regard as the eyes of the world are again focused here to report on what has changed since Dr. King gave his life for causes that remain to be celebrated in our parks.
Here are our previous posts about this issue:
From February 23, 2017 – The American Terrorist in a Memphis Park:
If you believe in American exceptionalism, it is hard to find a box to put Nathan Bedford Forrest in. If you also believe that greatness and goodness somehow go together, it is even harder to deal with Forrest. By almost any measure, Nathan Bedford Forrest was an extraordinary leader of great intelligence and remarkable courage.
But, unless you believe in unrestrained racism, almost everything that Bedford did was morally indefensible. The great bad person. Napoleon comes to mind, but without the positive achievements that we associate with him. There are no codes of law or magisterial public works. Just lots of dead bodies
But, like Napoleon, whose many monuments can be found in France, Nathan Bedford Forrest has been memorialized. There are schools named after him and a giant statue of Forrest on his horse surrounded by confederate battle flags. In certain places, July 13 is celebrated as Nathan Bedford Forrest Day. At one point several years ago, the State of Mississippi considered issuing Forrest license plates. All homage to the great man.
To read more, click here.
From December 30, 2016 – Nathan Bedford Forrest Confederates Pillage Local Decision-Making:
The State's Long Arm: Sometimes, it's easy to forget that Memphis is a home rule government with a charter that is supposed to give it more control over its own decisions.  After all, the Tennessee Constitution was amended 63 years ago so cities could adopt home rule and be freed from the interference of state legislators.
That was then.  This is now, and City Hall can't even decide what belongs in a city-owned park.
Home rule seems to be four-letter words in the state legislature.  Yet again, legislators – including several from suburban Shelby County – prevented the city of Memphis from making its own decision, this time with the Tennessee Heritage Protection Act of 2013.  The pressure for its passage was simple: to prevent the city of Memphis from moving the statue and grave of slave dealer and Confederate general Nathan Bedford Forrest from Health Sciences Park.  Apparently to make sure no one missed its message, the law was passed in Black History Month.
To read more, click here.
From June 17, 2016 – More Confederate Drecks That Need Attention:
With the movement by City of Memphis to move Nathan Bedford Forrest from a city park to the cemetery brings to mind the Confederate detritus populating downtown's Memphis Park.  It's time to clear that park with the random remnants of Confederate pride.  If we indeed keep Jefferson Davis, president of the Confederate States of America and Memphis insurance company president after the Civil War, in the park, we'd like to make a modest suggestion: we should decorate the statue for holidays.  We think the image of Jeff Davis festooned for the Fourth of July would be an ironic, and delightful sight.  Or for Valentine's Day, St. Patrick's Day, and other special days.  If he is to be there, let's add some some fun-loving decoration activities that put him into his proper place in modern day Memphis.
The statue has only been in the park since 1964, as John Branston wrote in 2013 in The Flyer.
To read more, click here.
From June 16, 2016 – Getting Nathan Bedford Forrest Back to Where He Belongs:
It's good news that the City of Memphis is in the process of seeking a waiver from the Tennessee Historical Commission that could lead to the relocation of the grave and statue of Confederate General Nathan Bedford Forrest from a city park to a cemetery.
To read more, click here.
From July 17, 2015 – Removing A Confederate Attic From Downtown's Memphis Park:
Now that we are intent on burying one racist artifact by sending Nathan Bedford Forrest back to the cemetery and shipping off his statue, can't we also throw in the statue of Jefferson Davis in a downtown park as part of the deal?
While the park has a new name – Memphis Park rather than Confederate Park – it still acts as the Rebel attic for a hodge podge of Confederate tributes, including the statue of the first and only president of the Confederate States of America.  While most of Memphis' Jim Crow monuments were put in place shortly after the 20th century began, the Davis statue was not erected until the 1960s, apparently as a direct response to the growing power of the civil rights movement.
To read more, click here.
January 9, 2013 – Honoring Real Heroes in Memphis Parks:
Maybe the Sons of the Confederacy are right. We should not rewrite history.  But that requires us to write it right in the first place.
Let's put the names of real heroes on our parks and monuments, such as nationally prominent Memphian Ida B. Wells, fearless anti-lynching crusader, suffragist, women's rights advocate, journalist, and speaker. Or Joseph Harris, the first African-American to own property in Shelby County, in 1834 (after first buying his wife and baby daughter). Or Ed Shaw, a target of the Ku Klux Klan in 1868, elected to the City Council in 1873 and served as wharfmaster in 1874, making him the highest paid official at the time.
Sometimes, the emotion attached to defending the Confederacy and trying to whitewash its history make it difficult to realize that it ended 150 years ago.  But most frustrating of all is that some people cling to the names of the Confederacy's beloved but minimize the names of heroes cut from the most gallant cloth of all.
These were not men and women who were fighting to keep their property. They were property.
These were not men and women fighting for their beloved heritage. They were forbidden to even whisper about their real heritage.
These were not men and women of privilege. All they wanted was the privilege to be free.
To read more, click here.
From July 26, 2005 – Compromising To Honor the Real Heroes of Memphis:
It's hard to understand why the defenders of these parks' present names are so hardened that they cannot hear the deafening message that these true Southern heroes deliver to us today. These are Memphians with meaning, Memphians driven by a simple dream for America to live up to its founding creed.
They deserve to have their names on these parks, because they are the people who deserve to be remembered, honored and revered by us as a city.
To read more, click here.
**
Join us at the Smart City Memphis Facebook page for daily articles, reports, and commentaries relevant to Memphis.