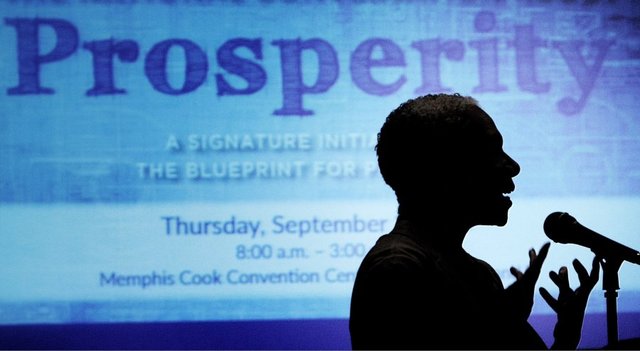 With all the talk and proposals about growing the economy in the presidential campaign, they face the reality that the U.S. is in an era of slow growth, and what's yet to be acknowledged – in the campaigns and in the local economic development agenda – is that as we head to a country that will be majority of people of color in 25 years, we fail to create the avenues for opportunities for these populations.
It creates a drag on the economy nationally, but it is amplified in Memphis and Shelby County.  Without a comprehensive, coordinated poverty reduction plan, we are not running in place.  We are losing ground.
That's why we have been writing in recent posts about the Blueprint for Poverty, a plan to reduce the Memphis poverty rate by 10 points in 10 years and included recommendations by Scott Bernstein, head of the Center for Neighborhood Technology in Chicago, about 15 professors at University of Memphis, input from various agencies, and a public seminar.
We've written about the lost opportunity of not following through with Mr. Bernstein's recommendations, and we've written about the imperative of poverty reduction.  We have not previously posted the priorities from the university professors.
Each will involve cooperation among governmental institutions and local organizations. This coordination of effort is a main driver for each of the key strategies.  There has been progress made in some of these areas, but again, they are not part of a comprehensive poverty reduction plan that becomes the umbrella for all of our actions.
As the summary conclusion of the Blueprint for Poverty says: "It is possible to significantly reduce poverty in Memphis.  Much can be accomplished by incremental improvements in existing efforts and systems.  More can be accomplished by realistic, "out of the box," changes in systems and approaches using strategies of coordination, cohesion, community involvement and the personal responsibility of public officials. In either case it is time to begin."
The following are the summary objectives in seven key areas.  Each begins with an abridged version of each section's introduction.  These will be published in two posts.  Today's post includes education, energy cost reduction, and housing, community and neighborhood development.  The next post will feature human services; incomes, job creation, business and economic development; physical and mental health, and transportation.
Education:
Education is the most effective way to lift people out of poverty. In the United States today, except for the inheritors of great fortunes, increasing educational attainment is correlated, step-by-step, with increased employment, incomes and wealth. For example, adults without a high school degree can expect an unemployment rate of more than twice the average of all workers and an income of less than half the average. Each additional educational level decreases the unemployment rate and increases income. According to a recent study, median family incomes of families with four-year college graduates was over $87,000 in 2013, while those for families headed by non-college graduates were $36,500.  There are similar, but more extreme, outcomes in terms of wealth.  Families of college graduates had a median net worth of $273,586, while families not headed by college graduates had a median net worth of less than one-sixth that, $43,600.
With educational attainment as with other indicators, the Black/White differentials in Memphis are considerable. If Black educational attainment were at White levels, there would be 17% more Black adults with Bachelor's degrees and 11% more with further degrees, significantly lowering the unemployment rate of the Black community, raising its income level, and, other things being equal, lowering the incarceration rate.
National differences in school discipline rates and increasing amounts of research indicate that the overwhelming predominance of Black students among those subjected to suspensions, expulsions, referrals to the police and arrests is much more the result of attitudes of adults than the actions of children.  The extraordinary rates of school discipline actions in Memphis and Shelby County can probably be significantly reduced with appropriate professional development for educators and policy changes at every level from the classroom to the board of education.
What is needed is a sharper focus, tighter coordination, a comprehensive framework and more resources. Also needed is a fundamental revision of school discipline policies and practices.
Objectives include:
* Universally available pre-kindergarten, beginning at least by age 3, with the goal that all Memphis children arrive at kindergarten prepared to learn basic skills;
* A strong k-12 school system, staffed by highly educated, dedicated and skillful teachers, using a high-standards curriculum and other resources (including extended school hours, classes on weekends and summer school) that will enable all students to graduate prepared for college and careers;
* A postsecondary system, from community college to graduate school, affordable for all students, and
* Programs for adults who have not had the opportunities offered by this system, including literacy and job training programs.
Some Cross-Cutting Strategies
* Training and use of "neighborhood navigators" to identify day-care, early childhood education, adult literacy and employment training needs and to facilitate access to resources to meet those needs;
* City-wide cooperation and coordination among local government officials and community groups to inform relevant state and federal agencies, "Fortune 500" corporations, foundations and philanthropists about education needs and initiatives in Memphis.
Energy Cost Reduction
Housing and transportation represent significant portions of the low-income household budgets, often exceeding 50% of expenditures.  The Center for Neighborhood Technology's H+T Index says 27% of average income is spent on housing and 25% on transportation in Memphis.  Improved neighborhood design coupled with reduced energy demands and increased efficiency can reduce those costs, while also providing opportunities for wealth creation and reductions in poverty.
On average, household electrical bills are over $1,000 per year in Memphis. Energy conservation offers significant opportunities for reducing housing and transportation costs.  The Sustainable Shelby Implementation Plan has a process by which low-income homeowners can receive free on-site home energy audits.  Recent steep reductions in the cost of renewable energy, especially solar, is a promising opportunity for minimizing energy costs.  A typical installation of solar panels can reduce electrical bills to zero in the summer months, with surpluses to be applied to periods with less sunshine.  If the installation of a solar energy system is too expensive for a resident, solar leasing installations cost nothing to the homeowner; the company sells surplus energy on sunny days to the local power company. A third alternative would be to install solar panels on unused lots, which might result in neighborhood-based electrical power generation, free to local residents.
The objectives include:
* Accelerating the Sustainable Shelby Implementation Plan;
* Increasing on-site home energy audits in low-income neighborhoods;
* Maximizing the installation of solar electrical systems in low-income neighborhoods, including neighborhood and no-cost-to-residents lease-back systems.
Some Cross-Cutting Strategies
Training and use of "neighborhood navigators" to identify and inform residents of high poverty neighborhoods of the benefits of energy audits and alternative energy options;
The use of Memphis City government resources to negotiate cost-effective agreements with both traditional and alternative energy providers for residents of high poverty neighborhoods.
Housing, Community and Neighborhood Development
Residents of segregated Memphis neighborhoods with concentrated poverty face a number of barriers to realizing their potential and achieving financial security.  Separated from suburban job opportunities by inadequate transportation systems, they routinely face shortages of capital, stores, and institutional resources.
Wealth is conventionally considered as divided between investments, such as stocks and savings, and real estate.  According to the U.S. Census, the average (median) wealth of U.S. White households in 2011 was $110,500, while that of Black households was $6,314.  Home equity for White households amounted to $77,092; for Black households it was 4,190.  Aggravating the local situation, wealth for both races is lower in Memphis than these averages.  In other words, in Memphis neighborhoods with concentrated poverty, which are overwhelmingly Black, there is little wealth of any kind, with investment wealth available for emergencies equaling a month's income or less and home equity hardly more than that.
The reasons for these enormous disparities are well-known and readily apparent from the data themselves: for most families wealth is based on home equity and Black families are less likely to own homes (only one-third of Memphis Black households are home owners), the homes they own are less valuable than those owned by White families, and the equity available to Black families is less than that available to White families. American home ownership was revolutionized by the New Deal-era Federal Housing Authority, which guaranteed low-interest mortgages—but only for White families.  This restriction was officially lifted after the Second World War, but the effects linger, reinforced by "redlining" and other forms of discrimination.
Wealth in areas of concentrated poverty in Memphis can be increased by increasing home ownership.  This could be done, for example, by converting Memphis Housing Authority rental units to owner-occupied homes by means of a combination of municipally guaranteed low- or no-down-payment loans and rent-to-buy programs, perhaps with credit for previous rental payments.  Conversion of rental units to owner-occupied housing has been shown internationally to have strongly positive effects not only in the housing market but throughout the local economy and social networks.
Memphis neighborhoods have community activists and neighborhood association presidents who serve as "navigators" with knowledge about the networks and resources within the neighborhood. Training of these navigators will build their capacity to expand the use of social media and mapping, develop neighborhood plans and build connections with external resources, for example, through a high-speed community owned internet, as in Chattanooga, to bring about neighborhood development and improvement.
The objectives for this strategy include:
* Increasing home ownership in areas of concentrated poverty;
* Increasing the number of quality of life resources, such as affordable healthy food markets, clinics, job training centers, parks, gardens and banks.
* Increasing the number and training of neighborhood social service navigators;
* Increasing engagement of youth in community functions.
Some Cross-Cutting Strategies:
* Training and use of "neighborhood navigators" to identify needs in high-poverty neighborhoods and to facilitate access to resources, including those in the neighborhoods themselves, to meet those needs;
* A "case-management" approach and intensive neighborhood outreach in ensure that eligible Memphis residents are aware of home ownership opportunities;
* Cooperation and coordination among local government officials and community groups to plan and identify strategies to increase home ownership in neighborhoods of concentrated poverty.
***
Join us at the Smart City Memphis Facebook page for daily articles, reports, and commentaries relevant to Memphis and the conversations that begin here.