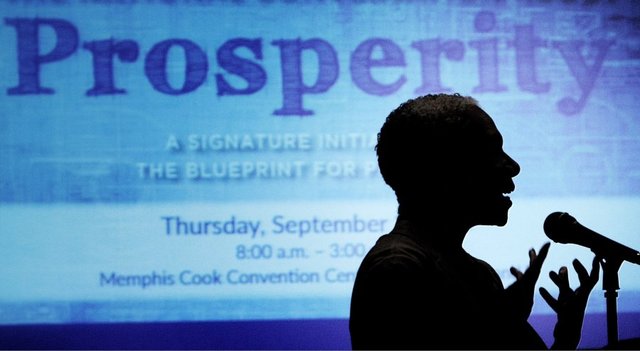 The conclusion of the Blueprint for Poverty summary says: "It is possible to significantly reduce poverty in Memphis.  Much can be accomplished by incremental improvements in existing efforts and systems.  More can be accomplished by realistic, "out of the box," changes in systems and approaches using strategies of coordination, cohesion, community involvement and the personal responsibility of public officials. In either case it is time to begin."
We have been writing in recent posts about the Blueprint for Poverty, a plan to reduce the Memphis poverty rate by 10 points in 10 years.  It is the product of Scott Bernstein, head of the Center for Neighborhood Technology in Chicago, about 15 professors at University of Memphis, input from various agencies, and a public seminar.
Today's post is the second that lists the objectives that resulted from the professors' analyses.  This post features human services; incomes, job creation, business and economic development; physical and mental health, and transportation.  The previous post was for education, energy cost reduction, and housing, community and neighborhood development.
Human Services
Human services are important for reducing poverty, increasing financial resilience and supporting wealth creation through the provision of coordinated critical economic, social, legal and other personal supports.  Today's "needs-based" approach identifies individual needs, then individual agencies and organizations design services and programs they believe appropriate to address those needs.  On the other hand, a "resource-based" approach identifies available resources and gaps across the community as well as in human service agencies and organizations. Combining these resources and approaches by means of a city-wide coordinating council open to the community for discussion and information will prioritize individual, household and neighborhood needs and goals rather than just those of agencies and organizations, while identifying and filling gaps in existing services.
In many cases poverty increases social isolation, which hampers efforts to connect individuals, households and neighborhoods to needed resources.  It is proposed to identify and train "navigators" to forge connections between those who would find social services useful and the providers of those services.
The criminal justice system should be included in the analysis of human services. The city's extraordinary incarceration rate, especially for its male African-American residents is a crucial factor underlying the high rate of poverty in Memphis, increasing, as it were, the cost of living for impoverished residents. Tennessee's incarceration rate for African Americans, 1,962 per 100,000, is four times that for the state's White, non-Hispanic, population (503 per 100,000). Locally, there are usually about 3,000 adults in the Shelby County Jail (as distinct from the state prisons). Yearly bookings in the jail average 56,000.  Most of these are Black males, of whom there are 120,000 between the ages of 18 and 64 in the county. Thus, on average, bookings in the Shelby County Jail are equivalent to half the working age population of Black men in the county.
The objectives include:
* Increasing the number of linkages, partnerships and collaborations among community-based organizations and governmental agencies;
* Increasing social supports to enable low-income residents of Memphis to have access to and to complete education and job training programs
* Working across organizations and agencies with the criminal justice system to reduce incarceration rates
Some Cross-Cutting Strategies:
Training and use of "neighborhood navigators" to identify human resource needs and to facilitate access to resources;
A "case-management" approach to increasing human capital;
City-wide cooperation and coordination among local government officials and community groups to identify resources—from neighborhoods to state and national levels—to meet human resource needs in high poverty neighborhoods.
Incomes, Job Creation, Business and Economic Development
A straight-forward way to increase incomes in high poverty areas is to increase the minimum wage.  Some cities have identified a target of reaching $15 per hour in the next few years.  In Memphis, implementing a more modest local minimum wage of $12 per hour will be a 65% increase over the currently applicable federal minimum wage of $7.25 per hour.  In other words, the income of a minimum wage worker in the city would go from $14,500 per year to $24,000 per year—from far below to just about the poverty line for a family of four. Such an initiative should be made to apply county-wide, to ensure that minimum wage jobs do not simply move across the city line.
Another direct measure to increase net incomes is to ensure that all eligible Memphis residents receive the full amount of Earned Income Tax Credits (EITC) to which they are entitled. According to the Internal Revenue Service, a married couple filing jointly with two children earning $24,000 a year may be eligible for an EITC of over $5,000, more than a 20% increase in net income. Therefore, if the minimum wage is set to $12 per hour, a family of four with only one wage earner would have a total income of nearly $30,000 a year, when the EITC is included, twice that at the current minimum wage without the EITC.
Poor neighborhoods are characteristically poor in many resources, including public services, parks, full-service grocery stores, restaurants, pharmacies and banks. Access to banking services is especially crucial, as without them people living in poverty must rely on costly alternatives, such as check-cashing businesses and pay-day lenders, while having difficulty obtaining fair mortgages and other services.  The Blueprint envisions encouraging local and national banks to establish branches in Memphis's poor neighborhoods.  There are other alternatives, such as church-based credit unions.  Introducing residents in these neighborhoods to internet banking will further increase access and reduce costs.
Twenty-first century jobs creation begins with the internet.  Chattanooga has made itself into a high-technology hub with its city-owned 1 Gigabit-per-second fiber optic system available to every home and business.  A similar system in Memphis would support high tech job creation and education, as well as the delivery of health and financial services and the facilitation of new businesses, large and small. Memphis can grow its own small business by using the internet and such models as the Goldman Sachs Ten Thousand Small Businesses program, which identifies, trains and supports local entrepreneurs.  This model has been highly successfully internationally in communities like Memphis and offers virtual "turn-key" implementation.
The objectives include:
* Increasing the City of Memphis minimum wage to $12 per hour with annual cost of living adjustments;
* Ensuring that all eligible Memphis residents receive the full amount of Earned Income Tax Credits to which they are entitled;
* Providing all low-income Memphis residents with access to banking services;
* Providing services that match low-income residents with jobs that are available at their level of education and training or with education and training appropriate for anticipated job openings;
* Implementing policies to support the growth of a technology-based economy;
* Training and supporting small business entrepreneurs.
Some Cross-Cutting Strategies
* Training and use of "neighborhood navigators" to identify financial resources needed in high-poverty neighborhoods and to facilitate access to those resources;
* A "case-management" approach and intensive neighborhood outreach in ensure that eligible Memphis residents have access to banking (including mortgage assistance) and receive the full amount of EITC to which they are entitled;
* Cooperation and coordination among local government officials and community groups to plan and identify pathways to a technology-based economy.
Physical and Mental Health
As with education, the links between health and wealth and poverty are clear. Health itself is valuable for personal well-being and satisfaction.  Good health is also necessary for productive work and life-styles in support of the development of wealth.  A person's ability to remain healthy enough to work is essential for wealth creation.  Although the challenges of health increase with a person's age, the challenges of pre-natal and early childhood health are also important.
Both poverty and poor health can be attributed to many environmental and social determinants.  Financial hardship throughout the course of one's life leads to poorer health as an older adult.  Similarly, poor health can lead to missing work and being less productive while at work, which may influence job stability and financial resilience.
Unfortunately, Memphis and Shelby County rank low in health statistics.  In 2014, for example, Shelby County ranked 39th among 95 counties in Tennessee in overall health outcomes. Recommendations for health of the Blueprint take two forms: improving public health through information, diet and exercise and increasing access to healthcare.
Teenage pregnancy and infant mortality rates in the area have significantly declined in recent years.  However, they still remain high.  In 2013 the birth rate for teens aged 15-19 in Shelby County was 43.1 live births per 1,000 females, compared to a national rate of 26.5.  Teenage mothers and fathers are less likely to graduate from high school than their non-parenting peers and are more likely to have health problems, face incarceration, and end up in low paying jobs.  Teen mother are more likely to give birth to premature or low birth-weight babies.
According to the U.S. Census, 20% of Memphis residents lack health insurance, a percentage rising to 40% of those with household incomes under $25,000. It is important to the health of Memphis that all residents have access to affordable health insurance.
The objectives include:
* Ensuring that all low-income Memphis residents have access to appropriate and affordable health insurance;
* Decreasing the obesity rate for children and adults;
* Increasing vaccination rates for infants and children;
* Decreasing the number of teen pregnancies.
Some Cross-Cutting Strategies
* Training and use of "neighborhood navigators" to identify health needs in high-poverty neighborhoods and to facilitate access to health services
* Cooperation and coordination among local government officials, schools, health services providers and community groups to create a more healthy Memphis.
Transportation
Access to transportation affects how one gets to a job, to a grocery store, to health care, and the whole panoply of resources needed for the creation of prosperity.  Transportation therefore becomes an important part of the Blueprint for Prosperity.
In this regard, the Memphis metropolitan area offers a special challenge.  Although the City of Memphis has expanded its geographic boundaries over the past few decades, its population has remained about the same.  Many, predominately White, residents have moved outside those boundaries, adding to the metropolitan sprawl. The result has been a hollowing of the region's core, leaving the remaining residents disconnected from jobs and leaving the areas with increased racial and wealth disparities. Poverty is concentrated within the city, employment is largely concentrated in the suburbs.  Wealth creation and the reduction of poverty can only occur when transportation links connect city residents with those opportunities.  According to the Brookings Institute, only 12% of the metropolitan area's jobs are within 3 miles of the central business district while nearly half are located more than 10 miles from downtown. Those distances are a barrier between people and jobs.
The Blueprint recommends making transportation planning central to the city and region's economic development planning.  Transportation planning will focus on connecting households to jobs by reducing travel times between the urban core and area job centers. For example, a regional public transportation system—replacing the current local transit authority—might be tasked with doing this. Light rail, on the model of the San Francisco Bay Area's BART system is one approach.  Dedicated direct bus service, including employee shuttles, is another. Increasing access to and efficient use of auto transportation is a third.
People living in poverty often cannot afford to purchase and maintain automobiles. This problem is made worse by racially differentiated traffic stops for such matters as defective tail lights and violations of minor traffic laws, which can snowball into a series of fines for the underlying offense and additional fines for "failure to appear," inability to make bail and so forth. These practices of some criminal justice systems are a barrier to employment for people living in poverty and in effect increase poverty and economic and social isolation.
The objectives include:
* Creating a regional transportation system connecting residents of low-income neighborhoods with employment;
* Using innovative methods, such as internet-facilitated ride-sharing, to increase car access for low income residents and reduce traffic by decreasing the number of people driving alone during rush hours.
Some Cross-Cutting Strategies
     *  Cooperation and coordination among city, county and state government officials and community groups to plan and implement an effective regional transportation system connecting workers with places of employment.
***
Join us at the Smart City Memphis Facebook page for daily articles, reports, and commentaries relevant to Memphis and the conversations that begin here.