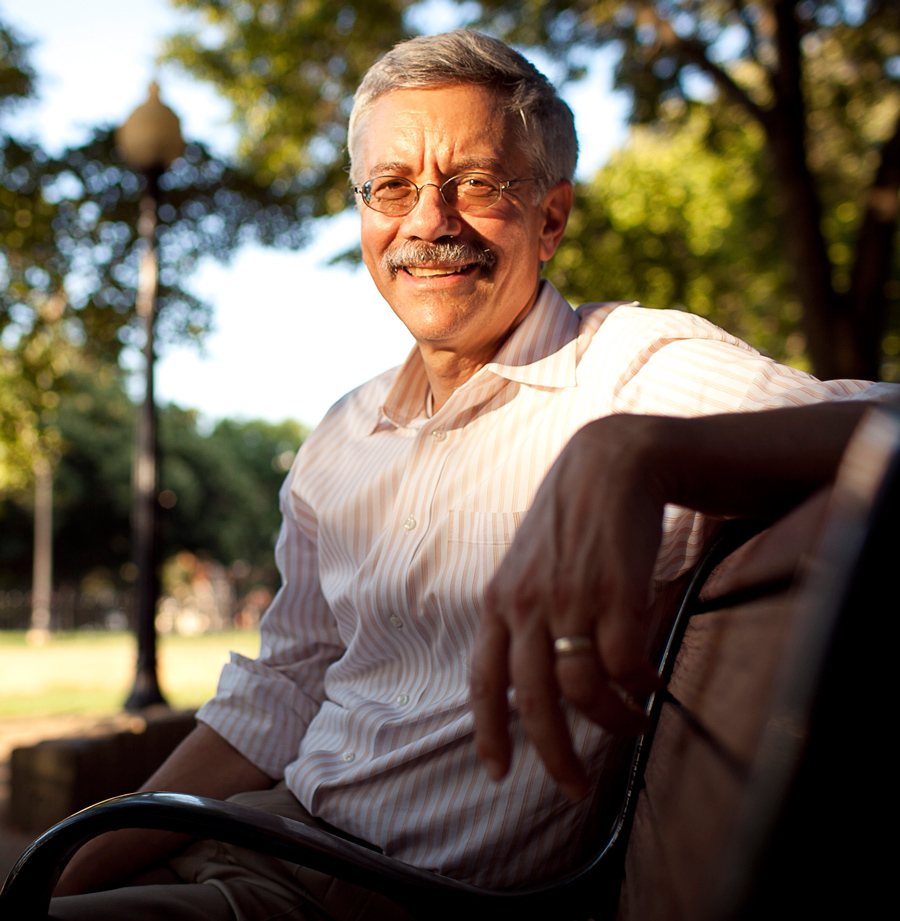 Today, we reprise a blog interview about Overton Park from February 18, 2016, with Peter Harnik:
If you are looking to talk to the smartest person about city parks in the U.S., that person is Peter Harnik.
He is director of The Trust for Public Land's Center for City Park Excellence, his books and reports are must-read, his research is considered the seminal information about great parks systems, and his key note speeches are highlights of meetings all over the country. What comes through in Mr. Harnik's work is not just his expert professional credentials but his passionate about doing whatever he can to inspire and encourage great parks in American cities.
In addition, he is familiar with parks in Memphis – from his advice to Shelby Farms Park in 2005 as it was developing its vision; a 2014 report about options for the Memphis park system, "The Parks of Memphis: Past, Present and Future," and his report last year, "Public Spaces/Private Money: The Triumphs and Pitfalls of Urban Park Conservancies," that included a case study about the Overton Park Conservancy.
I recently had a conversation with him about Overton Park, greensward parking, and the Memphis Zoo:
I know you've been closely following the emotional debate here about greensward parking in Overton Park by the Memphis Zoo. So, first, does the Overton Park controversy have any relevance to others cities?
It has tremendous relevance outside Memphis because it's not the only place where conflicting interests exist because of a zoo, planetarium, museum, or large facility that brings in lots of users in a burst of cars.
The epicenter of this particular cultural debate is that it represents such differing viewpoints of what a greensward is for – a beautiful field, centerpiece, and gathering place in an iconic central park or a utilitarian piece of ground for overflow uses.
What happened in Memphis is that the beloved, noble, high-ranking purpose of Overton Park, which was created in 1901 with so much pride and civic boosterism, was gradually allowed to erode to where people did a handshake agreement with the zoo that didn't recognize the value of the central park because it had sunk so low in the civic consciousness.
Now, a new generation of Memphians, with new pride in their city and neighborhoods, recognize the competitive advantage of a central park for their neighborhoods, for jobs, and for young people and empty nesters you want to move into the city.
What's ironic, Peter, is that when I was a fledgling reporter, I was assigned to cover the federal court hearing about a freeway through Overton Park. There were days of testimony about the negative impact of the interstate highway on the behaviors, life expectancies, and breeding habits of the animals in the zoo. Sometimes, it feels like Memphians saved the zoo from the highway and now it has to save the park from the zoo.
Overton Park is famous for stopping a freeway and increasingly recognized for stopping cars from overwhelming the park.   Overton Park has been featured on PBS as one of the "Ten Parks That Changed America," because of the Citizens to Preserve Overton vs. Volpe that kept the interstate out of the park. Everyone recognizes the irony now that it prevented the freeway but now the park is being threatened by cars again.
Everyone loves the zoo. Part of the responsibilities of the zoo is figuring out its transportation and parking needs. It is happening in other places and there's no reason it can't happen in Memphis.
There are those who say to people who care so deeply about the park that they should care as much for rising childhood poverty. It seems to me that if we are to ever improve Memphis' neighborhood parks, we have the opportunity to leverage Overton Park to elevate understanding of their importance. On the other hand, if we can't protect a high profile park like Overton Park, it seems unlikely that we'll be able to protect and improve neighborhood parks in neglected parts of the city.
I was in the park two years ago. I visited the playground which was being used by children, including poor children. There are a million problems that we have in our cities and in our country, but that doesn't mean that we can only deal with one at a time.
There are experiences in other cities when conservancies do of course raise standards for iconic parks – like Central Park in New York City or Piedmont Park in Atlanta or Forest Park in St. Louis – but there is a psychological impact of seeing what a park can be that rubs off on the others.
There was a time when Central Park was run down. No one wanted to go there. No one had a mental picture of what a great park is. But, when others saw what it could be, they said, "we want a better park, too." It raises the bar for everybody and raising ambitions, and that's important.
You wrote a definitive report about conservancies last year that featured Overton Park Conservancy as one of your case studies. A year earlier, you helped write a report about Memphis parks that painted a picture of unmet need and an underfunded system. One television station here had a report suggesting that every park in Memphis should have a conservancy. Is that an answer to the improving Memphis parks?
I have the feeling that for many years, Memphis has had a low self-image. Now because of Overton Park Conservancy, the Greenline, Shelby Farms Park Conservancy, and some stuff along the riverfront, people are saying, "We can be a city that people look to for great parks."
In my opinion, every park should have a "Friends" group. Conservancies basically need fairly sizable financial heft. They raise money and they raise park standards, usually for a major park. Realistically, not every neighborhood can pull it off. In most cities, there's a conservancy in one major park, and in Memphis, there are two – Overton Park and Shelby Farms Park. In New York City, there are two.
But, even parks that are just playground parks need "Friends." They may or may not have money, but they have political influence and can lobby City Council as a voice for parks.
Every city should also have an umbrella "Friends" group for all its park friends groups, something like Memphis Parks Friends Association. It needs one or two staff members, and it's an umbrella organization that alerts all the groups to threats and opportunities. It notifies everyone if there's something coming up on the City Council agenda that requires their input.
Friends groups can actually raise money like they are doing in New York City, Philadelphia, San Francisco, and Chicago and it's growing.  It's not realistic to have a conservancy for every park but it is realistic to have a "Friends" group for every park.
Some people are dismissive about the parking problem on the greensward by saying that it's a good problem to have and we should all just get along. What's your response to that?
It is a good problem to have but you can't just say we should all get along. You have to move up to the next level of problem-solving.
The greensward parking is ecologically damaging and it's socially damaging to all people using the park.
There are transit solutions, off-site parking solutions, and on-site parking solutions. The very fact that the zoo and the park are so beloved, there should be money available. There are zoo ticket sales, Conservancy funding, or political funding. Memphis is in a lot better shape than many cities without the economic input to pay for solutions. Memphis just has to make the hard decisions.
San Francisco went through a huge debate about parking in Golden Gate Park, and they built an underground parking garage. They accomplished two things: they built it under the park so it wasn't seen and they decided to remove the same number of parking spaces on the surface roadway of the park that they had added in the parking garage.
Atlanta basically did the same thing in Piedmont Park. There, it's not a zoo; it's the Atlanta Botanical Garden. They ended up putting the garage in the hillside. It's not hidden but it is unobtrusive. It took all the parking out of the park and turned it into green space.
***
Join us at the Smart City Memphis Facebook page for daily articles, reports, and commentaries relevant to Memphis.