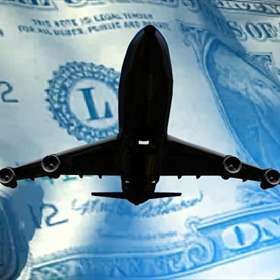 A couple of decades ago, we flew into the People's Republic of China, and as we circled the Beijing airport, everything below us was pitch black.
Suddenly, someone on the ground threw a switch.  The lights along the runway came on and we turned for landing.  But we couldn't see the airport, just the runway lights.
As the airplane approached the landing, the airport lit up, but only the gate where we were to deplane.  The rest of the airport remained dark, but as we prepared to walk off the airplane, the lights were turned on just in front of us and as we moved through the airport, the lights were turned off as soon as we passed and the lights on the runway were too.
All the passengers gathered to collect our luggage with all the lights in the rest of the airport  turned off.
Damages
We think of that Beijing airport these days when we land at Memphis International Airport.  If it weren't for FedEx, we could simply turn off the lights at the airport.
A group of people from several cities converged on Memphis a few weeks ago for a meeting, and a prime topic of conversation was how depressing it was to land late one evening at the Memphis airport.  One said that he had never had such a dismal experience at any airport.  The person from Atlanta apologized for the devastation wrought by Delta Airlines on our city.
It's difficult to fully calculate the damage that Delta Airlines has done to the Memphis region and its ability to compete for a larger tourism industry, to recruit new companies, and to advocate for the expansion of existing ones.
That's why Jack Sammons, chairman of the Memphis and Shelby County Airport Authority, has the most thankless job in our community.  He has to deal with the emotions of the public frustrated about the sharp decline in air service, but he also has to deal with their impatience for things to get better.
Factoids
There are now 83 daily flights at MEM, and 22 have been added in the past year.  There are now 47 flights that have nothing to do with Delta Airlines.
American Airlines has 22 flights, Frontier Airlines has two flights (including an incredible $99 ticket price to Dallas/Fort Worth), Southwest Airlines has seven flights, and United Airlines has 16 flights.  There are also flights by Southern Airlines and SeaPort Airlines flying out of Signature-Memphis.
There are now 7,107 seats a day on these flights – 3,471 on Delta; 1,722 on American; 318 on Frontier; 836 on Southwest, and 750 on United.  It's no surprise – considering how Delta works to force us through Atlanta – that the flights to the Georgia city have the most seats with 1,490.
#2 in the most seats are the American Airlines flights to Dallas and Charlotte – at 652 and 520 respectively.  In other words, most Memphians are now by and large being shuttled to hubs that resemble the one we once had.
We have direct flight to 26 cities (Nashville has direct flights to 50 cities).  We have non-Delta Airlines daily flight options to Chicago, Miami, Philadelphia, Washington, Philadelphia, Denver, Baltimore, Houston, Orlando, Tampa, and New York.
Delta Does Memphis Origins
We are told that demand for the new flights is strong, and that Southwest Airlines is looking to add flights now that the restrictions put in place 34 years ago in Dallas Love Airport were lifted a couple of weeks ago.
Yes, we are a long way from the more than 250 daily flights that we once had, but we are making a comeback.  As we said when we set up the Delta Does Memphis Facebook group, the road back will be long (it has taken a year to add 22 new flights) and it will be painful, but it's better to take control of our own destiny than surrender to the parasitic instincts of the airline that once dominated our market.
It was mid-May in 2012 when we set up Delta Does Memphis in hopes of driving changes in the leadership at the airport and the insular way in which airport business was conducted.  We said back then: "There has been a pattern of poor decisions and cozy relationships at the Airport that led to the creation of the fortress hub and produced the crisis that exists today. It's why new thinking, mayoral leadership, business involvement, and a real plan of action are needed and have been advocated assertively by the nearly 6,000 people on Delta Does Memphis. Most of all, it's about being honest with the public and it's not about seeing the car in the ditch, and not acknowledging how it got there."
Seven months later, we had a new chairman of the Airport Authority and the president of the authority left six months early in January, 2014.  When he took up his duties as chairman, Mr. Sammons acknowledged an "angry customer base" and promised a "contagious enthusiasm" for the challenges ahead of him.
Best of all, the lid has been ripped off the secret society that was decision-making at Memphis International Airport before the new leadership took over.  While there was some mild grumbling when the new regime hired the first highly qualified public information officer for the airport, Glen Thomas has proven in that job that the authority is dead serious about being transparent, about open and honest discussion, and about inviting criticisms and praise.
Smarter Leadership Instincts
Back when we started Delta Does Memphis, we set three priorities: 1) to give voice to frustrations and complaints and bring us together to call for change; 2) to put high airfares and airport reform at the top of our local agenda; and 3) to inspire a movement that would bring the community together to pursue more airlines and lower ticket prices.  Delta Does Memphis has been credited by the news media with driving change, and there's no argument that we accomplished the first two priorities.  The best news of all is that the movement described in the third priority appears to have been adopted by the Airport Authority itself.
It always baffled us that when we began Delta Does Memphis, the former leadership of the Airport Authority (and the Chamber of Commerce for that matter) declared war on the concerned citizens getting involved and calling for change rather than engage them in a productive conversation.
The instincts of the new leadership are much better, and in inviting public comment and in adopting new attitudes, it has earned our patience in reinventing an airport that was devastated by Delta Airlines' dominance and domineering attitude and authority leaders who repeated the airlines' talking points rather than shooting straight with the people paying the highest airfares in the country.
Come to think of it, that data point alone is a sign of progress.  Memphis is now #8 among the cities paying the highest fares and we have been as low as #14.  As Authority President Scott Brockman has accurately said, competition creates pricing pressure, but customers have to use new service like Frontier Airlines.  That's because as new airlines have entered our market, Delta has reduced its fares to match the new entries, hoping that we'll have amnesia about the decades they gouged us with fares that drained the bank accounts of Memphis businesses and tourists.
Focusing on Customer Experiences
While we are unlikely to ever be a fan of the new parking garage at the airport, we are supportive of the airport's new "modernization" plan.  It will demolish the south ends of concourses A and C, bringing the gate count down from 83 to 60.  One of our complaints about the tens of millions of dollars spent on the parking garage was that the garage should have bene smaller and some of the money should have been spent to improve the customer experience in the airport.
That's what we like about the new plan.  It will add more moving walkways, widen corridors, enlarge boarding areas, make ceilings higher, and increase natural lighting. There are many who oppose this plan because they feel that it is surrendering and admitting that our future will never be as good as our past.
We think that is a given, and while it is cold comfort, other airports like Cincinnati have made similar decisions in light of their drastic decreases in daily flights.  Many airports around the country look just as abandoned and deserted as ours.  Some cities like Nashville who lost their hubs have recovered strongly although they never reached the same activity as they had in the past.
In other words, much remains to get done.  It's time for the airport to shed its aerotropolis tagline and it's time for city and county mayors to bring the membership of the Airport Authority current.  It's way past time for a new website, but the good news is that is underway along with some other innovations by Mr. Thomas.
Catch-22
The economic realities and market challenges facing airlines today are well-documented.  The same goes for the economic realities and market challenges of the Memphis region as well.  That's why we have to be realistic while remaining hopeful about the future.  Nashville has proven that it can be done, but it also proves that it takes time.
That said, our community faces a chicken and egg scenario.  A lethargic local economy is a drag on the airport authority's ability to attract more flights, and conversely, the lack of more flights is a drag on the economy.
With three years before the local economy returns to pre-2008 levels, patience is more than a virtue.  It is a necessity.