The following is from one of our favorite sites, Memphis Connect:
Okay, so a teen-pop idol did a teen-pop dance at a teen-pop award show. Whoop-dee-do. Meanwhile in Memphis, hugely awesome things are happening while everyone over the age of 35 is looking up the definition of the word "twerk."
What follows is a list of a mere five cool things being realized in our city by the people who choose to live their lives in the Bluff City. This list could be ten times longer, but we're realistic about attention spans.
1.- Rock for Love– In a music city like Memphis, many working musicians are uninsured, and many of them are served by the Church Health Center. At Rock for Love, the Church Health Center's annual benefit concert weekend, the music community and larger creative community come together to give back to an organization that has helped many of them.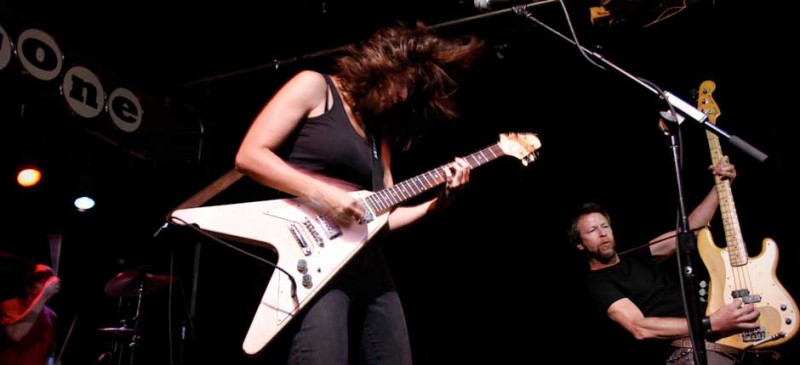 Founded in 2007 by Jeff Hulett, Marvin Stockwell and J.D. Reager, Rock for Love has raised more than $120,000 for the Church Health Center, which provides quality, affordable healthcare to uninsured working people and their families. The Center serves many of the working musicians who have played the benefit over the years.
Rock for Love has grown from one concert at the Gibson Beale Street Showcase to multiple nights at the Hi-Tone. This year, Rock for Love 7 will take place Thursday, Sept. 5 through Saturday, Sept. 7. The shows will take place at at Ardent Studios, Young Avenue Deli, Overton Park and the Levitt Shell. Get the full schedule here.
2.- Motel Mirrors– Imagine two of the most original voices from the Memphis music scene joining forces to create songs that make the most of their complimentary talents. Actually, never mind. Imagining music is a frustratingly abstract mental exercise; listen to it instead.
The casual chemistry between Amy LaVere and John Paul Keith makes it seem like this happens all the time—boy meets girl, boy plays girl some songs, boy and girl form band. "It's not that we really decided to have a band," Keith tells it. "It's just that by the time we got done having coffee she'd decided we were a band and was already booking shows for us. By the time I got home, we were exchanging ideas for band names."
Catch them September 14 at the Cooper Young Festival.
3.- The Creative Aging Mid-South Senior Variety Show– Creative Aging is a Memphis-based non-profit that brings the arts to area seniors, where they live and gather. Staffed almost entirely by volunteers, the organization pays area artists, like musicians, dancers and visual artists, to present enriching arts experiences to people who would easily miss out otherwise. We like them because their work benefits two groups simultaneously; they pay artists for their vital work, and they add value to lives through experiences in the arts.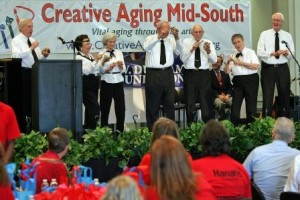 Their annual Senior Variety Show flips the formula, giving area seniors a chance to strut their stuff on stage. For this year's show, the Performing Arts Center at Kirby Pines was filled with almost 400 people eager to enjoy the many talented seniors. Local newsman Joe Birch emceed the event, which included singers, dancers, instrumentalists and comedy. Toward the end of the night, Birch led the crowd through a version of Happy Birthday, dedicated to two of the performers, George Demetrio, aged 97, and Earnest Greene, 98.
4. -Only Love Beats Theatre– Many cities our size have an active community theatre company, and maybe another venue for touring Broadway shows. But Memphis throws more stage performance at its citizens than any rabid fan could ever dream of taking in during a calendar
year.
We've got full seasons from Playhouse on the Square, Hattiloo, TheatreMemphis, and the touring shows that visit the Orpheum during its season. Add to that productions from the University of Memphis, Rhodes, Christian Brothers and Lemoyne Owen, and smaller companies like Playback Memphis, Voices of the South and The Emerald Theatre Company, and you can just about see a different live stage performance every day.
5.- The Food Revolution– To define us by our barbecue is to cut us short. Obviously, it is the best barbecue in the universe, but get over it already. The last ten years has seen an explosion of flavor in our communities and missing out on the many tastes is missing out on life itself.
The Mexican and Latin restaurants along the corridor of Summer Avenue are mind-blowing in their range. Some specialize in a bounty of grilled meats, some on seafood, some with an emphasis on health, some on sauces and spice, while many simply offer the greatest culinary treat known to man; the perfect taco.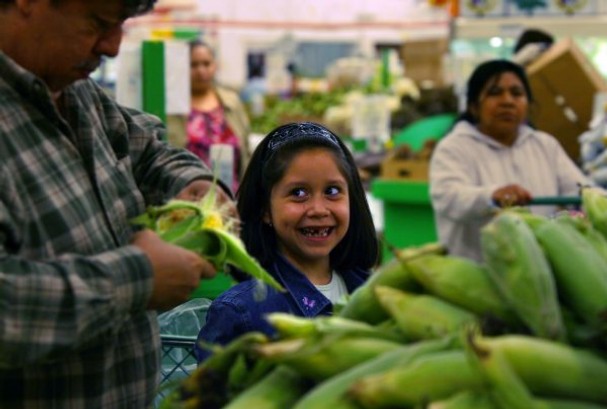 Contemporary chefs have thrown out tradition by divorcing fine-dining from fancy dining, as joints like Alchemy, Acre and Hog and Hominy can attest. Established joints like Erling Jensen, Jim's Place and Interim add to the potent broth, giving East Memphis its flavor.
Downtown offers just about anything, from ropa vieja at Havana's Pilon to asparagus flat bread at the Majestic Grille. You can find alligator stew at Deja Vu, which also has the only authentic po boy outside of New Orleans (this stat is dangerously under-researched, but we stand by it). Rashers, bangers and mash can be found at the Brass Door, and you'll encounter any succulent sea creature imaginable at the sushi bar at Bleu.
And for home cooks, the recent explosion of farmers markets has been a joy. Led in part by the efforts of local initiatives like GrowMemphis, our region is growing and raising some of the best food on earth, thanks in no small part to our soil, climate and water.