The new Hattiloo Theatre in Overton Square will open in a few weeks, and it will be a testament to one of Memphis's most talented citizens: Ekundayo Bandele.
And yet, he would be the first to tell you that it is also a testament to how Memphis is coming to grips with the diversity that has defined it since its earliest days.  No one speaks more eloquently than Mr. Bandele about the importance of this city giving voice to families in the urban core who are so often forgotten in important conversations, much less decisions, about Memphis's future.   And, no one speaks more convincingly about how art can play a role in the racial reconciliation that Memphis needs.
Hattiloo Theatre only exists because of him, and it has been his passion about Memphis being one of only a handful of cities with a black repertory theater that has inspired others to join him as Memphis makes a statement with his new facilities.
The new theater is also testament to a developer with a vision and a love affair.  What started as a business deal for Bob Loeb is now officially a love affair with a once vibrant entertainment district that he is reviving with arts as its fulcrum.
As we have said before, if we were making decisions about Memphis's image and driving a stake in the ground for it to be a center of African-American talent, we would put Hattiloo Theater on the road to show African-American college graduates that they should consider Memphis as they make their choices on where to work and live.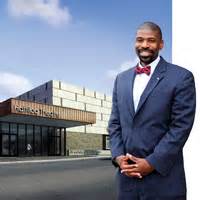 Here's our post about Mr. Bandele from July 23, 2010:
If Tennessee Williams was right and playwrights portray on stage their own emotions, Ekundayo Bandele's characters would all be self-possessed, cerebral, eloquent, and ebullient.
Those are precisely the qualities that he brings to work each day as founder and creative director of Hattiloo Theatre, the black repertory theater at 656 Marshall that in three years moved from his dream for a venue that deepened multi-cultural understanding to a sold-out hub of creativity within walking distance of Sun Studio.
"I wanted to create a black venue that all Memphians can own," Bandele said.  "But we also want to give black Memphians pride that emboldens them to get the theater bug and to use Hattiloo as a passport to explore all of the Memphis I love and to expand the cultural boundaries of children.  I want the black community, especially entrepreneurs, to get more active so our kids don't have to go to Atlanta to succeed."
It is a lesson he has emphatically proven.  Plays at Hattiloo Theatre sell out six weeks in advance, donors have tripled each year, and his gospel about the arts as the vehicle for expression and curiosity for at-risk young people finds expression in the expanding social outreach of the theater.
Looking back, it seems that all roads were leading to Hattiloo Theatre, but if that was the case, it was a winding road with a few detours into entrepreneurism.  But even then, such as when he owned a vintage clothing store, he set up an in-the-round performance space called the Curtain Theater.  Later, he organized Speakeasy, a rotating group of poets, musicians, comedians, and actors that performed weekly at the Jack Robinson Gallery in South Main Historic District.
Inspiration for a Playwright
The result was some of the most captivating evenings in the local arts scene, with a black jazz singer performing with an opera singer or a black poet paired with Harlan T. Bobo.  "It was some of the most diverse audiences in Memphis," he recalled.  "There were affluent people sitting next to gangsters.  From the moment we opened the door, we couldn't get in."
Somewhere along the way, someone asked him, "'Why don't you open a black theater?'  I said no.  I had a lot going on.  Someone asked, 'What would you call it?'  I was just daydreaming.  I said Hattiloo for my daughters."
Fortuitous meetings with leaders in the local art community propelled the idea, and when his nonprofit status was approved by the Internal Revenue Service in three weeks rather than the projected 18 months, there was little doubt that Hattiloo Theatre was meant to be, and his daughters, Hatshepsut (Hatti) and Oluremi (Lou), did in fact give their names to their father's new venture.
Inspired as a student in New York City by authors that varied from William Faulkner to Richard Wright, Bandele became a writer, and while a student at Tennessee State University, a professor suggested that he should write plays because of his skill with dialogue.  Visiting an aunt in Memphis, he helped out as a stage hand in a play in which she was performing and it all became real for him.
In eight years, he wrote eight plays, but after one was "murdered" in Cleveland, he became a "vagabond, living the writer's life, traveling through Europe and New England."  "It was a very personal journey," he wrote a novel "six hours a day except Wednesday," and eventually he would open his businesses in Memphis.
Master Classes
Bandele brings his playwright's eye to his new hometown.  "What I'm learning in Memphis is the dynamics of race and the desire for the black community to be more involved culturally, politically, and business wise.  The black community here is different than any black community I'd experienced.  While Memphis has a microcosm of mistrust, one on one it doesn't exist.  The heart of Memphis is so big and it's open.  What I'm finding is that no one has taken the time to find the connection and the common bonds, like what do two Memphians meeting in Brooklyn talk about?  That's what I want us all to discover."
If his goal for his art can be summed up in sentence, it is in its ability to help people define themselves.   "I'm self-possessed," Bandele said.  "I'm a black man with an African name from the black community with a black theater, but a majority of my personal life is white.  What is personal to you is your identity.  You don't have to wear it on your sleeve.
"I can empathize with anybody.  I can understand both sides.  I don't believe that you can be divisive in Memphis and be a leader.  Another thing is that you have to have a clear vision.  When I was in college, I knew that I was a writer.  I knew my path.  My vision is that I can go to Klondike and they will say that they can be a theater executive director, a business owner, an accountant, a CFO.  When we expand the cultural boundaries of a child, we know they can be whatever they want to be."
When asked what advice he can give young leaders as a result of his Memphis experiences, he said: "Learn from the past. Learn from those who lived it, shaped it, or survived it. Seek out those who have done aspects of what you want to accomplish, and sit down and listen to their story and ask for their advice. And then act with innovation and courage. Failure is but an opportunity to learn how not to do something."
These are lessons his work teaches every day at Hattiloo Theatre.