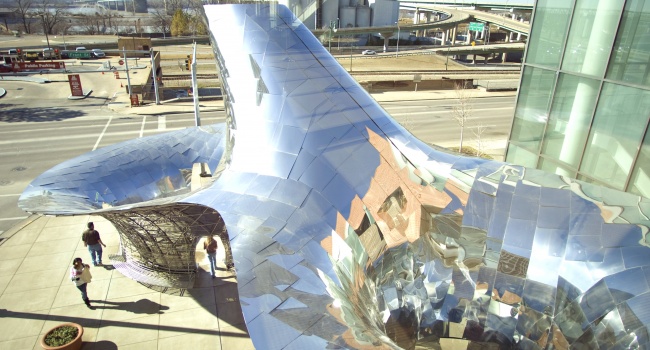 Twenty years ago, public art in Memphis consisted primarily of statues connected to various wars, Hebe in Court Square, W. C. Handy on Beale Street, and a half dozen or so downtown sculptures from the 1970s like John McIntire's Muse, Richard Hunt's I've Been to the Mountaintop, and John Seyfried's The River, but generally speaking, there was more public art in Elmwood Cemetery than most of Memphis.
Because of almost 20 years of work by the UrbanArt Commission, all that has changed, and today, there are more than 140 projects that form the Memphis collection of public art with 20 artworks are currently under way.
It's easy today to take all of this artwork for granted as simply part of the urban landscape, but we were reminded recently of how far Memphis has come in an impressive tour of public art led by UrbanArt Commission executive director Lauren Kennedy and intern Claire Hyde, whose shared passion for public art and their insight into each artwork's meaning were reminders that there's no substitute for a dedicated staff.
Today, while the commission's mural program captures the most attention, there is no art form not represented in the UrbanArt portfolio in which 70 percent of the artists are from Memphis; there's no art material that's not used – steel, paint, wood, paving, mosaics, glass, and more, and there is no human emotion not engendered – whimsy, joy, solemnity, reflection, gratitude, curiosity, and remembrance.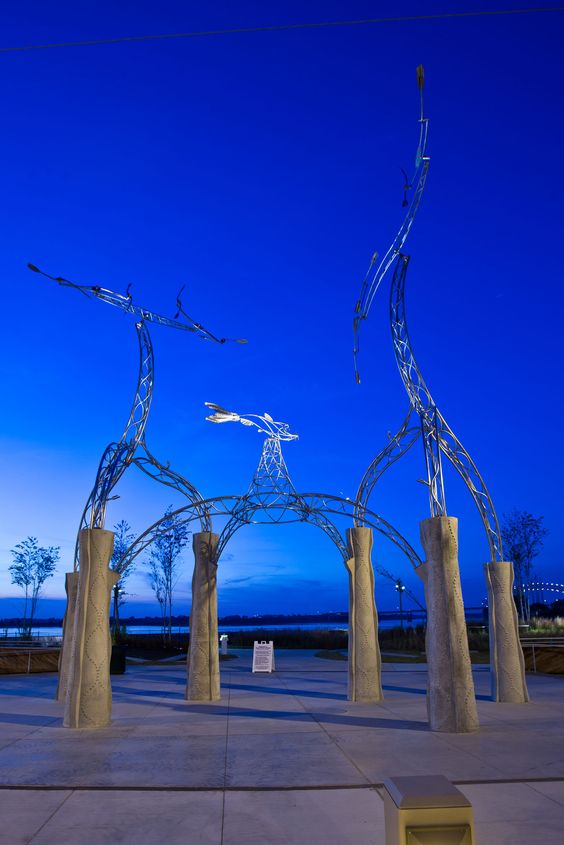 A Means To An Important End
"It's about community vibrancy, not just a piece of art," said Ms. Kennedy.  "We want Memphis to be understood and recognized as an innovative and creative space, and all that we do contributes to that idea.  UrbanArt is uniquely positioned to create a livable city."
Ms. Hyde, a high school student, in speaking for her generation, said: "I have grown up around community revitalization and seen Memphis transform itself around arts faster.  It brings people together, it shows the price of Memphis, and I love how there is so much consideration about community.  We take it (public art) for granted but it's amazing how it transforms neighborhoods."
To further the goals and impact of the UrbanArt Commission, it is connecting with organizations like Advance Memphis, CD Council, Livable Memphis, and anti-blight campaigns "to expand programming beyond the focus on projects," Ms. Kennedy said, adding that the Commission is emphasizing playful, interactive, and kinetic works.
In a response to our follow-up email, she wrote: "I think UAC's niche in this work is the direct inclusion of artists and creative people in the responses and plans for blight and neighborhood improvement. Artists have been invited into these spaces before but it feels like one-off situations or the invitation is extended after a lot of decisions are made. I'm not just interested in artists having a more prominent (and timely) seat at the table, but also being a critical part of the engagement of residents and citizens around these initiatives. Artists have an incredible ability to create an emotional connection between their viewers and subjects… that's what we need when we talk about thoughtful, livable neighborhoods."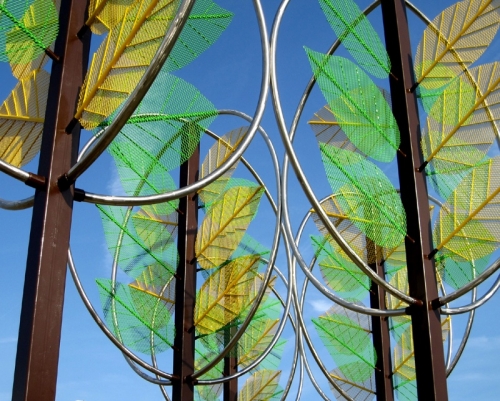 Credit To City of Memphis
A recent UAC blog post, "A Blight Out Summer Party: A Party With a Purpose," gives insight into this approach in its partnership with Advance Memphis in the Vance Avenue of South City.  In a festival-like atmosphere, residents were presented with three artist proposals for addressing blight.  The public art proposals themselves grew out of neighborhood meetings and design charrettes to determine the needs and desires of the area's residents.
In addition to the enhanced partnerships, the UAC is ramping up for more "I Love Memphis" murals.  As we have written previously, we're hoping the organization will take a look at using the eyesores of large, ugly, gray utility boxes that populate public spaces and degrade the civic environment as blank canvases for local artists as they have been used in New Orleans and other cities have done.
There are few quality of life investments that better ROIs than public art.  In the new City of Memphis budget, there is $350,000 for projects at Cossitt Library downtown, artwork to be produced for crosswalk improvements near Dunbar Elementary, and blight remediation for City Council Districts 3, 4, and 7.
City of Memphis deserves credit for its Percent-for-Art support for UAC, because although the concept for the public art group originated in Shelby County Government, county commissioners refused to create a similar program as roadbuilders, engineers, and developers coveted every dollar for their projects and characterized public art as frivolous.
The impressive progress made in the past 19 years demonstrates how wrong the county commissioners were.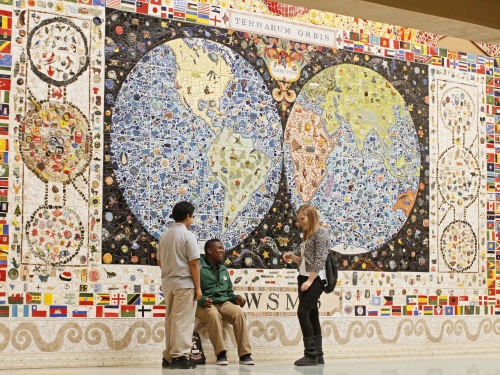 Present At The Creation
A little history:  Back in the mid-1990s, more and more cities across the U.S. were using public art to improve their livability, to enliven public spaces, and to beautify their neighborhoods.  In about 1995, I wrote a "white paper" proposing the creation of a public art commission in Memphis and Shelby County.  The county mayor endorsed the idea and asked for the concept to be fleshed out.  As a result, the idea was discussed with City of Memphis – where Rick Masson became a champion for it – and it was decided that the public art commission would be strongly supported by government but would not be a city-county board.
Shortly thereafter, Kristi Jernigan had a similar interest and hired arts consultant Babs Feibelman to investigate and recommend a course of action.  With local government and civic interest converging, public art's support was growing, powered even more by plans for the Ben Hooks Central Library, where philanthropists and civic leaders wanted public art to be showcased and where it could create strong design elements in keeping with new main libraries in other cities.  To put their money where their mouths were, the money was raised from philanthropists and other private sources, and if there is a stronger argument for public art than the children's department of the Central Library, we're hard-pressed to name it.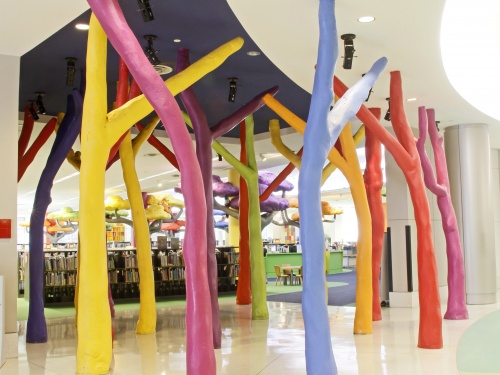 Ultimately, in 1997, the UrbanArt Commission was created, but it was to take several more years to develop the percent-for-art program as a primary funding source.  Mr. Masson, arguably the best Chief Administrative Officer in city government in the past 40 years, was able to enact the program in city government while county government faltered.   Essentially, the funding program calls for one percent of the budget for capital projects to be set aside for public art.
The ever-talented Carissa Hussong became executive director, and in her 10 years, confidence in her and her serious leadership to move public art higher on the agenda set the foundation for today's UAC.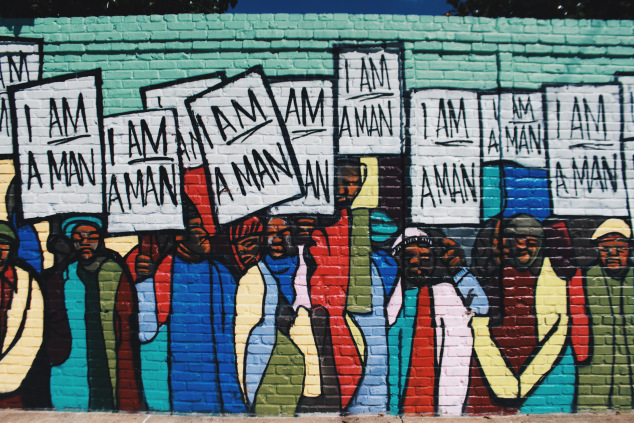 The Legacy
The really good news is that the value of public art today is so widely appreciated today that private support often expands the amount of money spent on high-profile projects.
In this way, perhaps even more than just the art it has placed throughout the city, UAC's legacy is that public art is now expected as part of important projects, whether they are schools, bus stops, public spaces and parks, and tourist attractions.
Even better, it suggests that Memphians' demands for better design and more livability reflects a fundamental expectation that had not previously existed.
Of course, we can't talk about public art without praising Loeb Properties for making it ubiquitous in booming Overton Square.  Bob and Louis Loeb have set the standard for commercial development in the entire city, and most of all, they have proved how public art can be a competitive business, as shown by the thousands of photographs taken every week by visitors and customers to the Square.
Our favorite: The Love Birds by Kong Wee Pang and Jay Crum, the sequined artwork on the west wall of Local.  But it's awfully hard to pick a favorite from the wonderful art within walking distance in that revitalized area.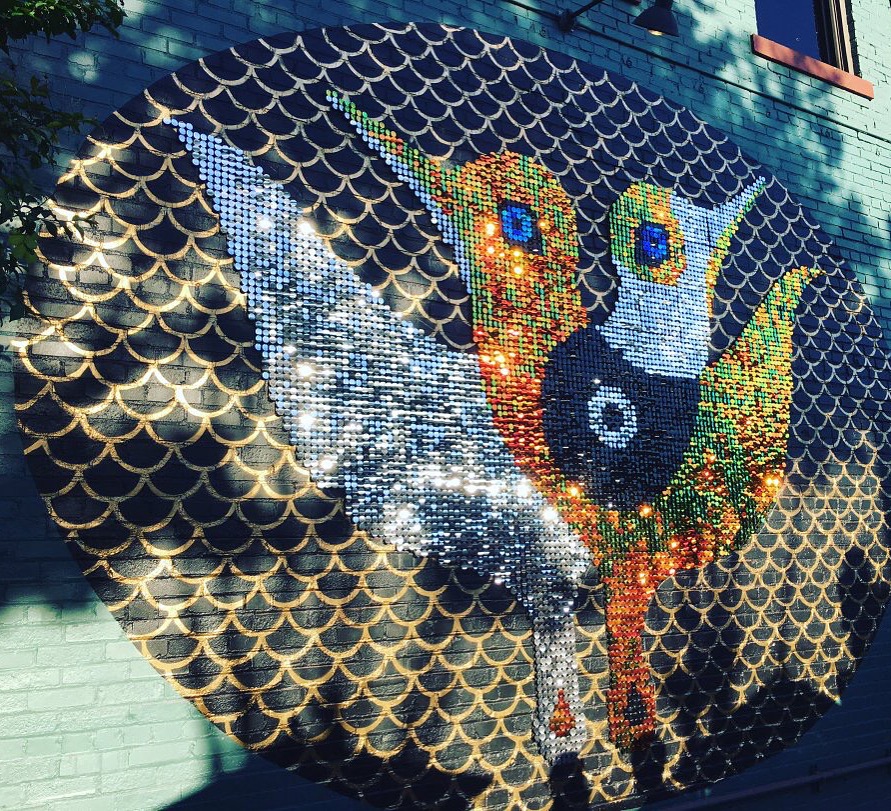 ***
Join us at the Smart City Memphis Facebook page for daily articles, reports, and commentaries relevant to Memphis and the conversations that begin here.