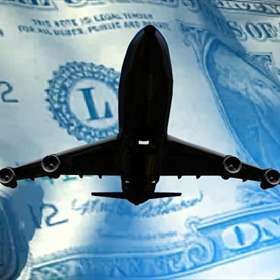 As Memphis Mayor A C Wharton has said, nothing is harder than changing the culture of government.  The Memphis and Shelby County Airport Authority gets its chance, starting today.
With the election of local businessman and former four-term Memphis City Councilman and Chief Administrative Officer Jack Sammons, the oft-criticized Airport Authority has the opportunity to take a strong step in the right direction.  If there is an agent for change on the Authority, it seems to us that it is Mr. Sammons, the newest member of the board with two and a half years under his belt.
As a former elected official, he has always had a knack for summing up complicated issues in ways that the public can easily understand, and most of all, he has a reputation for being accessible and open, something that the Airport Authority has lacked over the years.
In addition, as someone who is always in the air selling his company's products, he is passionate about Memphis International Airport becoming more customer-centric, his friends say, adding that he can give a litany of his own excessive airfares in recent months, most recently, he told John Branston of the Memphis Flyer about a $1,248 round trip ticket to Miami.  In the past, he has been the Airport Authority member most unwilling to simply consider airport authority critics as enemies and vilify them.
Fortress Walls
In its 42-year history, the Airport Authority has had a grand total of four chairmen – Memphis had the same number of mayors in 2009.  Over the years, the chairman of the Authority, more than any other public board, has set the agenda and dominated the actions of the authority.  The most recent chairman was a member of the Airport Authority for just under 30 years and was chairman for half that time, so it is easy to understand how that person came to act provincially and possessively about the airport authority.  In his mind, anyone who questioned a decision or offered constructive criticism was immediately an adversary.
In this way, Memphis International Airport was a fortress hub and not just because 85% of its flights were controlled by one airline.  It was also a fortress hub in that it walled off its own customers, treated Delta Air Lines as they represented it rather than the public, and developed an attitude that "we know best, we'll tell you what's best, and we'll tell you after we've decided what's to be done."
More than anything, the fortress attitude kept the Airport Authority from making the transition that was needed when the overly cozy relationship with Delta Air Lines went south and as the number of daily flights declined from a high of 300 to the present 94.  (From all that we hear, that number will continue to drop to about 70 daily flights.)  Because of its organizational culture, the authority was slow to act, quick to complain about criticisms, thick with pretentiousness, and thin-skinned.  More to the point, it was not nimble enough to shake off its own conventional thinking to consider the new world being ushered in by a changing aviation industry.
Today, Memphis International Airport is a hub in name only, and even Mayor Wharton has said that he doesn't consider it one anymore.  Only seven months ago, we created the Delta Does Memphis Facebook group because of our concern that Memphis International Airport could go the way of Cincinnati which had seen its Delta flights drop so precipitously that it led a Fortune 500 company to relocate and an entire concourse at its airport to shut down.
These days, we look to Cincinnati and its 120 daily flights with envy, and as the number of flights here were reduced, reduced again, and reduced yet again (despite Delta Air Lines' CEO's assurance it wouldn't happen), the Airport Authority seemed content to mimic the airlines' talking points and to tell us we should be lucky to pay the second highest airfares in the country.
Change Agents
The attitude fueled the determination of Delta Does Memphis, which grew to almost 6,000 people in a matter of weeks and was called by one television station the most impressive grassroots campaign for change in the modern history of Memphis.   Members of the Delta Does Memphis group came from all walks of life in the Memphis region – business owners, CEOs, grassroots organizers, civic activists, concerned citizens, and elected officials, united by their outrage about price-gouging by Delta Air Lines.
While The Commercial Appeal was largely dismissive of the group, because of it, the Airport Authority has a new chairman, the mayors created an air travel task force, and high airfares are on the front burner of our economic development organization.  One thing is certain: none of this would have happened without Delta Does Memphs.
It raised questions that had been ignored for years by The Commercial Appeal, such as the onerous, highly preferential contracts with Delta Air Lines that allow it to leave as early as February without penalty or any obligation to pay for airport improvements made for it, the rude treatment by airport officials of air carriers interested in Memphis, and the $750 million surcharge that Memphians pay each year for airfares when compared to Nashville and Little Rock.
Here's the thing that the former chairman of the airport authority never understood: The public isn't asking for miracle workers at the airport.  It just wants somebody that it feels is serving it and not Delta's interests.  It just wants somebody in authority to listen to it.
Stakes Are Higher
Despite the dramatic drop in the number of flights, there has been no accompanying drop in air fares, begging the question: if we had some of the highest airfares in the country when we had more than 200 daily flights and we are still #2 in ticket prices with 90 flights (and headed for less), at what point do our airfares become comparable to Nashville and Little Rock, whose average ticket prices are $150 less than ours?
Is it possible that no matter how few daily Delta flights we have, we will always be overcharged?  When an aviation consultant in Washington, D.C., was asked why Delta charges us so much, he said: "Because they can."  The ultimate solution is of course competition, but in the interim, is there a magic number of daily flights by Delta when the airline would ever lower its ticket prices? I fear that we all know the answer.
It makes the stakes in attracting other air carriers to Memphis just that much more critical.  To achieve that goal, the Airport Authority needs to begin a new era and move in a new direction.  Mr. Sammons sent that message strongly in his acceptance speech this morning.  It was an encouraging beginning as he avoided any magic answers, called for a plan for the future, and promised new era of transparency and an unrelenting focus on customers.
He said Memphis needs a "new strategic plan for the future of this great airport."  "It needs to be a plan that can be supported by everyone in this region, because the truth is it will affect every corner and every community in our region," he said. "This plan will involve all of us with input from our community, it will have an unshakable focus on customers, it will be transparent, it will engage the public and it will create a customer-driven culture that guarantees a positive experience from the parking garage to the departure gates. We need to reach out to the people in this region, to experts who can help us, and to anyone who can help us find innovative ways to build a strategic approach to the future."
Angry Friends
Mr. Sammons promised a "contagious enthusiasm" for his new responsibilities, and undoubtedly his strong alliances to FedEx and its founder Fred Smith will put some of the smartest international aviation experts at his disposal.  After outlining changes in the aviation industry, Mr. Sammons addressed the frustration and anger in the most straightforward way that has ever taken place at an airport authority meeting.
"Overlay a massive reduction in flight choices out of this market with extraordinarily high airfares and the result is an angry customer base," he said. "When they see an airfare out of Little Rock to LAX or Nashville to LAX, both with one-stop in Memphis selling for a third the fare of MEM to LAX, the anger rises. These angry customers are not strangers to us.  They are our family members, friends and co-workers.
"With easy access to the internet, they live in a transparent world of instant information. With a smart phone from their pocket, they have the ability to view airfares with the same access as a professional travel agent and make comparisons with our fares against those airports in cities where we compete regularly for jobs and talent.   Social networks like Facebook and Twitter have created a modern day town square to debate issues of the day in real time. Here in Memphis, our airport has become the center of debate.
"Any of us who went to a holiday party this year heard the banter.  There is a high level of frustration and disgust among the flying public in our region. They are angry and looking for someone or some group to blame.  It's not important at this point who is at fault for this situation.  What is important is what we can and will do about it.
Encouraging Signs
"When both the City and County Mayors showed up at our meeting a few months ago, that wasn't meant to be a slap on the back affirming the job we are doing, that was a sign that they both were hearing the drums of discontent in our community and they wanted us to do something about it and offered their assistance and partnership to improve affordable air service at our airport.
"The challenge is too critical and the time is too short for the community to be divided about the future of its airport. I welcome anyone who offers advice, constructive criticism, and help because in the end, the future of the airport is everybody's business. My goal is to make Memphis International the airport of choice for the flying public in our region."
All in all, his comments at today's Airport Authority meeting were the most comprehensive assessment of the current state of affairs ever presented at one of the board's meeting and certainly the first time that the disenchantment about airfares has been addressed so honestly.  It was also one of the most hopeful assessments as well.
It made for an encouraging beginning for the Sammons era at the airport, and his pledge to reach out to the public for advice and support, transparency, openness, outreach, and planning should be music to the ears of everyone, but particularly to the members of Delta Does Memphis.