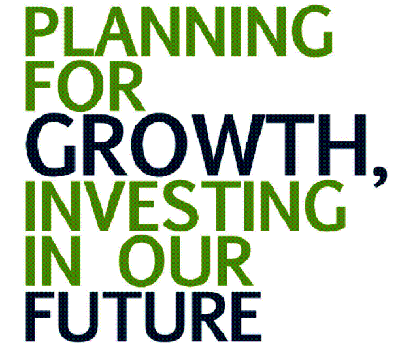 After years of lethargy and self-doubt, Memphis is getting its rhetoric right and activities taking place below the radar and away from the usual suspects are the best reasons for optimism.  The challenge now is to back up the words and the momentum with a major infusion of investment in Memphis and its neighborhoods.
For our purposes, we'll call it Memphis' "Investing in the Future" plan, funded by an increase in the city local option sales tax rate that pays for a better, brighter future for Memphis.  We can understand if you think we're Pollyannish in the wake of the lopsided defeat at referendum of a similar tax increase that was to provide funding for the new county school district.
We'd prefer to call it audacious and provocative, and we think the odds are better for it to be approved in return for tangible improvements in Memphis neighborhoods than the squishy messaging for the recent failed referendum.
Every referendum on taxes should always begin by answering the questions asked by every voter: How will it affect me?  How does it improve my life?  The good news from an "Investing in the Future" plan is that it has the potential for highly effective messaging that comes from being tied to definitive improvements in neighborhoods.  The bad news is how seriously these investments are needed in too many neighborhoods which have been characterized by decline and disinvestment.
Untold Story
It's highly unlikely that City of Memphis government can make these much-needed investments without the new funding source provided by a sales tax increase.  City budgets are already strapped by the about 65% of the budgets spent on public safety – the budgets of Memphis Police Department and Memphis Fire Department are more than every dollar of city property taxes and sales taxes (and it's still about $6 million short).
In other words, despite conventional wisdom to the contrary, City of Memphis has done a good job of managing its budgets and doing it with a property tax rate that has been reduced from $3.43 in 2006 to its present $3.11 (the lowest rate in the past 17 years except for 1999 and 2000).  Meanwhile, City of Memphis has delivered its services at a per capita cost lower than Shelby County Government and Germantown, Collierville, and Bartlett municipal governments.
It's a remarkable record, particularly considering that in those same years, city government lost an average of about $45 million in taxes a year that were waived as business incentives.  It is a curious phenomenon of our times that the costs of services to people have been squeezed and questioned while incentives and tax breaks for business have a lives all their own.  As a result, while tax waivers have hovered between $45-50 million a year, services have taken the blows in budgetary cuts that left key city institutions short-staffed and limping along.
We've always wondered if support staffs in City Hall have taken the same level of cuts in budgets and staffing as neighborhood-centric services, but we've not taken the time yet to determine it.  It's been our experience that officials in administrative offices in government have better success at protecting their budgets because of easy access to and familiarity with the budgetary process.
Balanced Budgets
In other words, there's not going to be the substantial sums needed for a major investment program if the money is to come from city government's operating budgets.  Those budgets are about to become seriously problematic with declining property values, lack of new revenue sources, fees that are too low, and significant pension and OPEB obligations have to be dealt with.  It's glaringly obvious that if we are waiting for a time when city budgets can support the level of investments that was needed years ago, it's a day that is likely to never come.
It's why when I was one of the 10 people asked by the Memphis Flyer asked I would do to change Memphis, I included this as one of four priorities:
Balanced budgets: It's not about balancing revenues and expenditures but about taking a balanced approach to Memphis services. Collecting every dollar of property taxes and sales taxes still leaves the city about $8 million short when it comes to funding the budgets of police and fire. The same attention given to public safety is needed when it comes to the conditions and quality of libraries, community centers, and parks and to quality-of-life investments that create neighborhoods of choice.
Memphis is not alone in its tough financial realities.  Other cities are also dipping into their reserves to balance their budgets.  Other cities are seeing property values decline.  Other cities are dealing with dips in sales tax revenues.  Other cities are seeing cuts in state and federal aid.
Day-to-Day with Long-Term Focus
Those trends are likely to take several years to improve in any substantive way, but city government can't get so focused on day-to-day prospects that it neglects long-term needs.  The sales tax increase is a good way to respond to those long-term needs by building new city facilities like libraries and community centers, by improving and standardizing equipment in parks, and by executing plans to create new neighborhood-based economic activity.
A half-cent increase in the city local option sales tax – which would take it to the state limit of 9.75% – would produce about $60 million in new revenues.  For about $33 million a year for 20 years, City of Memphis could launch an unprecedented $500 million "Investing in the Future" program.
Ironically, in light of tough economic times, there's never been a better time to make these kinds of historic investments.  Interest rates are at historic low levels and the bonded indebtedness for $1 million is now only $67,000 for 20 years.
Memphis is at a point where it can't ignore the need for these investments any longer.  Many of its facilities are largely unchanged since the 1960s, and as a result, are frequently in the wrong place because of population shifts and demographic changes.  Most neighborhood libraries were built before there was Internet although libraries' present lives as information centers include heavy technology demands from patrons.  As for city parks, there has been interest in a comprehensive plan for a number of years, including the need to set standards for the types of equipment in various sized parks and to bring all parks up-to-date.
There are landscaping and place-making projects that can improve major entry points into downtown and improve and animate the riverfront.  In addition, there are various plans for community redevelopment and for creation of new grassroots economic activities and opportunities, but these are the kinds of programs that tend to take second, or third, place on priority lists.  It's past time to move them to the front burner.
Getting the Basics Right
Memphis is seeing the signs of a city that invests too little in itself and it's time to put emphasis on city facilities in neighborhoods that are the hubs of community.  These are not frills, but instead, they are the basics that Memphians have the right to expect.
We have written often in the past seven years about the importance of talent and the factors that keep and attract talent to Memphis.  There is a tendency to see these factors as big projects and major new buildings, but in truth, when it comes to the health of Memphis neighborhoods, it's about getting the basics right.
An "Investing in the Future" program gives Memphis that opportunity, and it's hard to think of investments that would be more important in attracting talent, in telling middle-class families that they should consider Memphis, but most of all, it sends a message to Memphians – particularly children – that their own city values them.
Place and Pride
In 2010, the Knight Foundation and Gallup joined hands to survey 43,000 people in 26 cities, producing the so-called "Soul of the Community Survey."  The main questions answered were: What makes people love the place where they live and what attracts people to a place and keeps them there?
The survey concluded that the most important factors that create emotional bonds between people and their communities were not jobs, but "physical beauty, opportunities for socializing, and a city's openness to people."  It also concluded that cities with the highest level of citizen attachment had the highest rates of GDP growth and the strongest economies.
Edward T. McMahon, in Urbanland, wrote: "Author Wallace Stegner once said: 'If you don't know where you are, you don't know who you are.'  We all need points of reference and orientation.  A community's unique identity provides that orientation, while also adding economic and social value.  To foster distinctiveness, cities must plan for built environments and settlement patterns that are both uplifting and memorable and foster a sense of belong and stewardship by residents."
Ultimately, that is the mandate for "Investing in the Future" of Memphis.  It's investing and defining our distinctive sense of place and creating people who are proud to live in their city because of the civic qualities that give it meaning.  More than anything, it's not just a matter of pride but serious economic competitiveness.