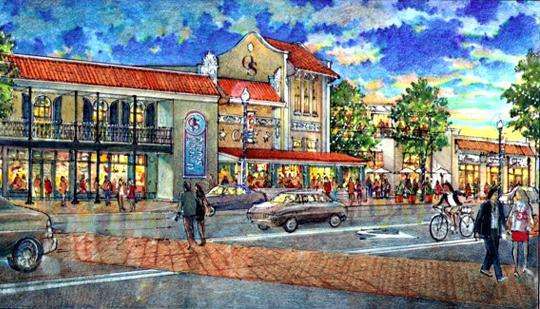 We thought of Cosmo Castorini in Moonstruck as City Council talked about the proposal to build a publicly-funded garage in Overton Square: "It costs money because it saves money."
City government may appear to be saving money if it turns down the $6 million garage, but in the long-run, the decision will cost much more in lost revenues, lost opportunities for reviving the area, and lost new revenues that could pay for the garage and put more money in city coffers.
In listening online to the persuasive explanation given about the project by Councilmen Jim Strickland and Shea Flinn and the discussion at the City Council committee this week, one thing seemed clear: yes, the Overton Square price tag has gone up, but it's not the developer who's making that happen.  Rather, it is the cost of the city's detention structure (as part of the garage) that's driving the cost up, and it's enough to cause some suspicious Lick Creek Coalition members to worry that it's all designed to put the idea of a detention basin in the Greensward of Overton Park back on the table.
We don't see that happening because of the general distaste for an idea that once again put engineering ahead of quality of life.
Vibrant Again
Back when City Council approved the funding resolution to close the gap in funding for Beale Street Landing, $6 million was added for Overton Square – $4 million for the garage and the rest for the Lick Creek detention structure.  Those amounts now stand at approximately $6.3 million for the garage and $8.3 million for the Lick Creek flooding solution
The added cost for the garage comes from the addition of a third level of parking spaces that are needed for Overton Square to become a theater district that would add Hattiloo Theater to Playhouse on the Square and the new Playhouse on the Square building.
At the Council meeting, someone suggested that the plans by Loeb Properties for Overton Square will return the area to its former glory, but that's faint praise for what could really happen there.  It could in fact exceed what it was back in the day when it was the hot spot for Memphians to congregate.
Based on Loeb Properties' presentation at Playhouse on the Square in early October, the company has a vision for a district that extends beyond the footprint of the old Overton Square, and based on rumblings on the street, there are already hoteliers and retailers ready to join in if the original vision is pursued.
That original vision hinges on construction of a garage, whose yearly debt service is less than $500,000 a year.  Put that cost against the $2.4 million in new sales tax, $400,000 in new property taxes, and $19.2 million investment by Loeb Properties, and it sounds like a bargain.
It's Tough Out There
Put these are tough times for city budgets, but from just city government's point of view, even after new sales tax revenues are split with state government (at least until the Fairgrounds Tourism Development Zone is created and then they will stay here rather than go to Nashville) and after property tax revenues are split with county government, there's more than $1 million a year in new city revenues.  Or put another way, the pay back on the city's investment is about six years.
Unfortunately, local government doesn't have much latitude in earmarking new revenues to a specific cost (absent the use of a vehicle like the TDZ or Tax Increment Financing), but we do remember when Shelby County Mayor Jim Rout identified an increase in county liquor taxes and associated it to pay for a county project.  With the revenue upside apparent at Overton Square, the garage construction isn't so much a public cost but an investment that pays dividends in a short period of time, and the good news is that city government has been thinking in this entrepreneurial way with recent projects.
It's unfortunate that media coverage of the Overton Square revitalization leaves the impressions with some that the developer gave one amount for the Overton Square project and tripled it months later.  Some coverage even said Loeb Properties requested the $18 million, but that's not the case.
The breakdown, as we understand it from the Council discussion, is roughly this: $6.3 million for garage (adding the third level to service Hattiloo Theater's needs), $320,000 for land purchase for Hattiloo Theater as part of a theater district, and $8.3 million for the city's detention structure.  The balance is for infrastructure upgrades and streetscaping needed to create the kind of environment that's needed for success.
Licked Creek
Put another way, it's not the developer who's requesting money, much less more money, for a Lick Creek detention structure.  It's City of Memphis, and we're assuming that the fourfold increase may be as simply explained as this: the original $2 million was a very rough estimate given in the midst of a City Council meeting and was not meant to be a rigorous cost estimate.
We feel for Memphis Mayor A C Wharton, because it's déjà vu all over again for him.  When he was elected county mayor, he inherited bonded indebtedness of almost $2 billion, most of it spent with few questions to fuel unsustainable sprawl.  His challenge was further exacerbated by refinancings by previous mayors that pushed the balloon notes to Mayor Wharton's desk.
Now he has debt problems at City of Memphis and another balloon note looming in the not too distant future.  However, unlike the sprawl-inducing debt of Shelby County Government that often resulted in six figure bond issuances, Overton Square is a modest opportunity to reinvest inside the Parkways, to increase the density that makes public services more efficient and economical, and to create desperately needed new revenues and economic generators for city government.
Investing Where It Helps
City of Memphis has a pre-Wharton and pre-present Council history of aiding and abetting sprawl with developer-friendly land use decisions in the city's extraterritorial area and to do it with little regard for a payback that is positive for City of Memphis.  Part of the argument in those years was that sprawl was economic growth and that we should take it wherever we could find it, but now we see it for what it was: a historic relocation of people from the urban core and the weakening of the city's tax base.
It's not easy to face tough budget realities and still make the investments that help bring back the core city, but if Memphis is to change its trajectory, it has to do it.  The good news is that the concept of reinvesting in Memphis is more widely understood now than it was 20 years ago, and that's why it's so encouraging to see city government embark on several fronts to create new economic engines and new revenues.  As the mayor has said, city government can't just cut budgets and increase taxes to deal with its fiscal woes.  It must also support, nurture, and grow new revenues and businesses.
That's the opportunity with Overton Square, and for clear-eyed practical reasons – and not just nostalgia to relive our misspent youths – it's the smart investment for Memphis to make.