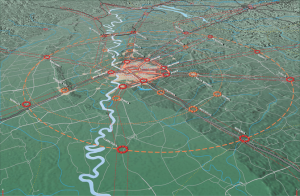 One of the most precious whimsies of suburban politics is the conceit of innate exceptionalism that leads politicians to bouts of superiority when it comes to all things Memphis.
The latest evidence was when Southaven Mayor Greg Davis – speaking at an $80,500 blow-out he was throwing in Biloxi for his fellow city officials of the Mississippi Municipal League — decided to throw an unprovoked jab at Memphis.
He said in his comments that if any of the guests come to the Memphis area, they should stay in Southaven rather than in the city with the fifth highest crime rate in the United States.  Our first thought was that there's nothing quite like one of those chain discount motels at a Southaven interstate exit to make for a really special trip to the Mid-South.
We've already written about that #5 ranking, and although Mr. Davis attributed it to the FBI, he apparently isn't aware that the FBI has said repeatedly that comparisons between cities and rankings like the one quoted by the mayor are simplistic and misleading.
But if Mr. Davis is inclined to quote such comparisons anyway, why not compare to its peer group – the other Memphis bedroom communities?
Higher Than Most
Using these comparables, Southaven has roughly three times more crimes per square mile than Germantown or Collierville.    Its violent crime rate is essentially the same as the Mississippi rate and its property crime rate is 30% more than Mississippi's rate.
NeighborhoodScout, an online source of data about cities and their neighborhoods, describes Southhaven's crime rate this way:
"The crime rate in Southaven is considerably higher than the national average across all communities in America from the largest to the smallest…The chance of becoming a victim of either violent or property crime in Southaven is 1 in 24. Based on FBI crime data, Southaven is not one of the safest communities in America. Relative to Mississippi, Southaven has a crime rate that is higher than 82% of the state's cities and towns of all sizes.
"Importantly, when you compare Southaven to other communities of similar population, then Southaven crime rate (violent and property crimes combined) is quite a bit higher than average. Regardless of how Southaven does relative to all communities in America of all sizes, when NeighborhoodScout compared it to communities of similar population size, its crime rate per thousand residents stands out as higher than most.
Nothing to Brag About
"Now let us turn to take a look at how Southaven does for violent crimes specifically, and then how it does for property crimes. This is important because the overall crime rate can be further illuminated by understanding if violent crime or property crimes (or both) are the major contributors to the general rate of crime in Southaven.
"From our analysis, we discovered that violent crime in Southaven occurs at a rate higher than in most communities of all population sizes in America. The chance that a person will become a victim of a violent crime in Southaven; such as armed robbery, aggravated assault, rape or murder; is 1 in 374. This equates to a rate of 3 per one thousand inhabitants.
"NeighborhoodScout's analysis also reveals that Southaven's rate for property crime is 38 per one thousand population. This makes Southaven a place where there is an above average chance of becoming a victim of a property crime, when compared to all other communities in America of all population sizes. Property crimes are motor vehicle theft, arson, larceny, and burglary. Your chance of becoming a victim of any of these crimes in Southaven is one in 26."
Conclusion: people in glass houses should not throw stones, but more to the point, all of us in this MSA are living in a regional glass house.  We should all be about improving our trajectory and rather than competing with each other, we need to be competing with other world regions, and to do that, we need to all be rowing in the same direction.
Talking the Walk
There would be no Southaven without Memphis.  The Memphis region would be less without Southaven.  But, unlike most MSAs, the core county in the region is home to the vast majority of wages and jobs, and cheap shots taken at the major city are in the end tantamount to self-inflicted wounds.
There certainly would not be a North Mississippi economy doing as well as it is today if there were not Memphis companies for State of Mississippi officials to poach as a strategy in its economic development plan.  Shifting money and jobs from zip code to zip code in the region in the end is the epitome of a zero sum game, especially when financial incentives are used in this non-strategic way.
It's a troubling reality, particularly in light of a decade's worth of talk – and little walk – about the importance of the region.
We're closing in on the tenth anniversary of the release of the Memphis Region Sourcebook, the product of more than two years of work and costing almost $500,000. Intended to give form to the Governors' Alliance on Regional Excellence, the unique tri-state organization headed by the governors of Tennessee, Mississippi, and Arkansas and that drove the report, its 27 oversized pages of gripping graphics, key facts, an inventory of assets, and recommendations are artifacts of a flirtation with regional thinking.
Magical Thinking
That's too bad, because the report remains pertinent and waiting for its potential to be fulfilled.  It identified opportunities for the region to work together: air and water quality, farmland preservation, heritage tourism, transportation, and workforce development.
Challenges to the Memphis region are no respecters of state or county lines — an aging workforce, too few 25- to 34-year-old workers, low educational attainment, racial divisions, and unsustainable sprawl. Sadly, there's a sense in the region outside Memphis that if the future of the city is about a middle-class exodus, entrenched poverty, and hollowed out, deteriorating neighborhoods, that is Memphis' problem, not theirs.
It's what psychiatrists call "magical thinking" with little connection to reality. Most of the problems of Memphis are also problems of the non-Memphis region.  The high crime rate and high poverty rate of the suburbs here are anomalies among suburbs in the nation, and average incomes and educational attainment go down, not up, as you leave Memphis and Shelby County.
In other words, we should all share a sense of urgency in solving our regional challenges.  There's nothing magical about the fact that regions are the competitive units for the new economy, and without a stronger regional platform, any economic growth plans for any part of the region are in jeopardy before they even begin.
Focusing on the Focus
But it's often forgotten here that there is no strong regional platform without an equally strong urban core. Too often, regionalism ends up being an olive branch held out by the largest city to the rest of the region, but unfortunately, it has often gone unreciprocated.   It's time to understand that there is no such thing as a bright future for Germantown if Memphis doesn't have one. There is no such thing as Southaven succeeding if Memphis fails.
It's an opportune time to strengthen the urban engine of our economy and to make sure that the rising regional tide most of all lifts all boats.  There's no better place to start than with the plans in the Sourcebook, which remind us that it is much more productive to focus on the 80% that unites us rather than the 20% that doesn't.