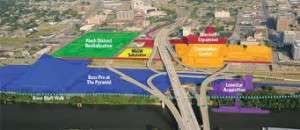 The Bass Pro deal for The Pyramid is disturbing.
And our concern has nothing to do with the terms of the agreement.
It's about the dependable Greek chorus of people who complain anytime Memphis pursues anything that requires city government to act like a modern, big city government.  They sometimes are the same people who howl because Memphis can't keep pace with (pick a city) but then decry any project aimed to advance our city.
It prompts ugly comments about "thieves" and "crooks" in City Hall although the authors obviously have not read any of the documents or can offer up scintilla of evidence about a hint of malfeasance.  They have firm opinions about Memphis elected officials, who, if they built up a billion dollar reserve fund and suspended property taxes, would still be pilloried.  It prompts incomprehensible commentaries like the politically motivated ones delivered Monday by Shelby County Commissioner James Harvey and it generates a litany of questions by people who don't take the time to the financial reports, the market studies, and the financing plan but still manage to decide that city public officials didn't get their questions answered.
It's All How You Do It
Here's what disturbs us.  All of this stems from a fundamental lack of understanding about what makes cities successful today: They take risks.
That doesn't mean that they don't mitigate risks, but if anyone thinks that cities today should avoid anything that even has a whisper of a risk, he is wrong.  It's a curious opinion expressed by some because it often comes simultaneously with the mantra that government should act more like a business.  There's few lessons more compelling and more obvious from the private sector, just ask Fred Smith, than the need to take calculated risks.
They are taken after mounds of evidence are gathered, after teams are assembled to test theories, and after all scenarios have been assessed.  No project in memory has been vetted as much as The Pyramid redevelopment.  There have been numerous presentations and updates to City Council, and because of Council questions, the deal was improved and strengthened.
We learned in the first decade of this century what it looks like when city government sits on the sidelines.  It took no risks.  It didn't get into the game.  Lethargy came to characterize decision-making and the expansion of the economy was left to others to handle.  We saw the effects.  Memphis shed about 40,000 jobs, it fell to the bottom of most measurements of economic vitality, and it failed to even train workers for better jobs.
Jobs Conference Lesson
We think back to the 1981 Memphis Jobs Conference, regularly hailed as one of Memphis' finest hours, as disparate and diverse groups of Memphians came together to listen to the smartest thinkers on economic growth and to join hands behind new initiatives designed as game changers.  Speakers before the SRO audience in the ballroom at The Peabody included nationally known people like Bob McNulty, president of Partners for Livable Communities, James Rouse, pioneering real estate developer, and others.
Speaker after speaker agreed on one thing: Cities have to take risks to succeed.  Playing it safe would mean that Memphis could not compete with its competitors, and from this discussion came an emphasis on logistics, tourism, stronger economic development programs, Beale Street, Convention Center Hotel, Agricenter, and other strategies.
The message about risks is even more relevant today than it was then.  Now, more and more of the incentives and programs for economic growth are being shoved down to cities and their governments to provide.  It means that city governments have to be as sophisticated as the economy they hope to succeed in.  It means that they have to find new ways to leverage dollars with the private sector or to make investments that spark new economic activity.
It is a trend playing out in cities across the U.S. and because the recession was international in its impact, it's also playing out in Canada where cities are embarking on much larger, much bolder projects to keep their cities competitive.  There are plenty of cities that decided to rest on their laurels and have faded from economic importance, some who decided to look backward at its glorious past while ideas and power flowed somewhere else.
Risk = Innovation
As the brilliant British innovation expert Charles Leadbeater, who spoke by video conference to Leadership Memphis a couple of years back, said: "Innovation is not a theoretical activity but a very practical one.  You have to try, fail a bit, learn, adapt, try again.  That means that organizations and cities that want to innovate have to take risks.  They also need a way of committing resources to ideas to scale them up.  It is not for the faint-hearted.
"But the city will face huge challenges and dilemmas in the future and it may well be that the recipe it needs in the future will different from the one that got it from 1990 to 2005.  You cannot build a culture of innovation in the way you build a new road."
Or as a FedEx leader puts it, you can't bring 1990 thinking to 2011 problems.  If you do, it only means failure.
Then, there is Charles Landry, author of the much-quoted book, The Creative City, who spoke at Leadership Memphis' annual community breakfast (now a luncheon). "Intelligent, innovative, imaginative responses to varied demands involve risk," he said.  In most organizations, especially public ones, risk is frowned upon.  Aversion to risk-taking can mean that an institution has no internal R&D mechanism."
ROI
That said, governments cannot be in the business of wild risk-taking that is not anchored on research and a process that takes risk to its most minimal levels.  It seems to us that Pyramid redevelopment is the result of this kind of process.  Like many decisions that involve the public sector, it is a trade-off.  You may not like Bass Pro as a retailer, but its presence – as it does in every city where it locates – attracts other retailers like those pilot fish that swim in the shadow of the larger fish.
The market has already given its verdict about Bass Pro, and the developers contacting city government about the Pinch redevelopment attest to its allure.
In other words, because of the new Pyramid incarnation, the Pinch Historic District will be redeveloped (renderings so far are only conceptual), Marriott Hotel is likely to be expanded, and the Memphis Cook Convention Center will get a new façade.  None of it happens without Bass Pro, and even the cynics among us were converted by the opportunity to create a true convention center district so that conventioneers no longer feel like they are abandoned on an isolated island with few nearby amenities.
Mitigating Risk
As part of the deal, the Convention Center debt moves from Shelby County's books to Memphis' books, but its funding source does not change.  It continues to be paid from the Tourism Development Zone, in which incremental increases from state sales taxes collected from purchases in the zone are remitted back to Memphis from state government.  That's the same source of money being used to retrofit The Pyramid and which is producing about $100 million in Bass Pro improvements.
Here's the thing: the TDZ funds can't be used for anything else so it's use them or lose them.  We know from experience that when City of Memphis goes to Nashville and asks for some small amount of help, it regularly is shown the door.  With this funding, money spent in Memphis stays in Memphis and it in effect it is producing new local sales tax money and hotel-motel funds.
We've asked a lot of hard questions about The Pyramid deal in the past five years, and we have been skeptical.  However, every question has been answered with hard numbers, independent studies, and safeguards.  There are cities across the U.S. taking huge risks, but Memphis' risk is minimal and measured, and we moved into the plus column because of it.