Overton Park Shell is launching its new era with a bang.
This morning it released an impressive schedule of concerts from May 29 to October 23. 
Put simply, there is something for everyone.
It kicks off with the Sunset Symphony featuring the Memphis Symphony Orchestra.  . 
Music at the Overton Park Shell is sponsored by Orion Federal Credit Union
and will feature many highly regarded local and regional artists and will run from late May to late October. Tickets for Shell Yeah! Benefit Concert Series can be purchased on Friday, April 22 via Ticketmaster. More Shell Yeah! Benefit Concerts to be announced soon.
"We are so excited about the return of free concerts as well as ticketed shows to help power our mission and work," said Overton Park Shell Executive Director Natalie Wilson. "In order to provide accessibility to our free concerts and events, we rely on revenue raised from Shell Yeah! Benefit Shows and generous donations from the Memphis community."
Additionally, the Overton Park Shell has established a new partnership with Deaf Connect of the Mid-South where many of the concerts will include Certified Deaf Interpreters (CDI) on the stage providing an inclusive concert experience.
My March 14 post: New Era For Overton Park Shell – New Mission and Taking It To The Streets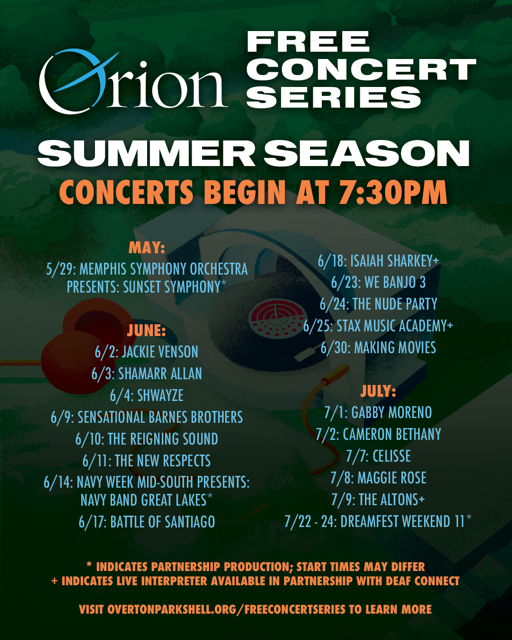 The Orion Free Concert Series & Shell Yeah! Benefit Concert Series
Shell Yeah! Shows are in italics
5/29 – Sunset Symphony*
6/2 – Jackie Venson
6/3 – Shamar Allan
6/4 – Shwayze
6/9 – Sensational Barnes Brother
6/10 – The Reigning Sound
6/11 – The New Respects
6/14 – Navy Week Memphis Presents: Navy Band Great Lakes* (Flag Day/Tuesday)
6/16 – Shell Yeah! Durand Jones & The Indications
6/17 – Battle of Santiago
6/18 – Isaiah Sharkey
6/23 – We Banjo 3
6/24 – The Nude Party
6/25 – Stax Music Academy
6/30 – Making Movies
7/1 – Gaby Moreno
7/2 – Cameron Bethany
7/7 – Celisse
7/8 – Maggie Rose
7/9 – The Altons
7/16 – Shell Yeah! St Paul & The Broken Bones
7/22-24 – DreamFest Weekend*
9/2 – Don Ramon Band
9/3 – Stone Soul Picnic*
9/4 – Occupy The Shell*
9/9 – Gone Gone Beyond
9/10 – Lissie (not yet confirmed)
9/15 – Shell Yeah! Almost Elton John Masquerade (costume-contest + theme party)
9/16 – Don Lifted
9/17 – Country Blues Festival*
9/23 – Shell Yeah! TBD
9/24 – Memphis PowerPop Festival*
9/30 – Dottie
10/1 – The Collection
10/7 – Arlo McKinley
10/14 – North Mississippi Allstars
10/15 – Tuba Skinny
10/23 – Shakespeare at The Shell*
*Partnership Festivals' line-ups to be announced soon!
About Overton Park Shell
The Overton Park Shell was built in 1936 by the City of Memphis and the Works Progress Administration (WPA). The Shell was designed by architect Max Furbringer and built for $11,935. Furbringer modeled it after similar bandshells in Chicago, New York, and St. Louis. The Overton Park Shell is one of a handful of the original 27 bandshells built by the WPA that is still standing.
During the 1930s and 1940s, the Shell was the site of the memorable Memphis Open Air Theater (MOAT) orchestra performances, light opera and musicals. In 1947 the Memphis Federation of Musicians launched its Music under the Stars series, free to the public. On July 30, 1954 Elvis Presley took the stage before headliner Slim Whitman. Elvis stole the show in what music historians call the first-ever rock and roll show. And it happened at the Shell in Overton Park.
Over the years, there have been numerous efforts, some to revitalize the Shell, and some to destroy it. In 2005, the Shell partnered with the City of Memphis and the Mortimer & Mimi Levitt Foundation to renovate the Shell and present 50 free concerts every year. It was renamed Levitt Shell at Overton Park and renovation was begun in 2007. It opened again with free music for all on September 4, 2008.
In 2022 The Overton Park Shell honored its historic past and returned to its roots and its original name with a focus on local support and self-sustainment while keeping true to the mission of building community by providing easily accessible entertainment to all.
For more information, please visit overtonparkshell.org.