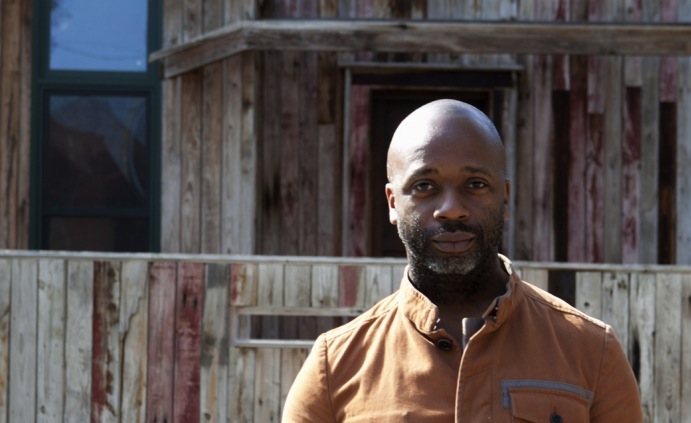 The reimagined Tom Lee Park has added yet another milestone that indicates that our aspirations for a great regional riverfront park were too limited.
More and more, it's becoming a nationally significant public space produced by best-of-class professionals, and this week, it was recognized by the Mellon Foundation as a national monument.
Tom Lee Park already had Gang Studio founded by Jeanne Gang who is architect for the tallest building in America designed by a woman.  She was recently the subject of the cover story of Fast Company with the sub-head: "The internationally renowned Chicago-based architect is transforming neglected old structures into modern marvels."
Meanwhile, SCAPE landscape, architect, and urban design studio was founded by Kate Orff.  She was featured in a recent article in New Yorker magazine which wrote: "She's also at the forefront of an emerging approach to climate resilience that argues we should be building with nature, not just in nature."  She has also appeared in numerous national media, including CNN and PBS.
At the same time, their firms continue to receive the top national and international awards and recognition of their fields.
Putting Questions To Rest
All in all, looking back, it makes questions about their qualifications to produce Memphis' newest and grandest park more facile than factual.
If their involvement was not enough to signify Tom Lee Park as nationally important, this week, the Mellon Foundation selected the reimagined park for its Monuments Project, and in only its second round of selections, it funded $1.4 million for artwork by internationally famous artist Theaster Gates.
Mellon Foundation describes its Monuments Project as "an unprecedented commitment by the Mellon Foundation to transform the nation's commemorative landscape by supporting public projects that more completely and accurately represent the multiplicity and complexity of American stories.  Launched in 2020, the Monuments Project builds on our efforts to express, elevate, and preserve the stories of those who have often been denied historical recognition, and explores how we might foster a more complete telling of who we are as a nation." 
Mr. Gates monuments at Tom Lee Park are only the fifth project awarded by the Mellon Foundation. 
Mr. Gates' installation, "A Monument to Listening," is inspired by the heroism of Tom Lee and designed to spark self-reflection and conversation among park visitors. The art will be in the lushly landscaped section of the new park, near where the existing Tom Lee sculpture stands.⁠ Gates' installation will comprise two plazas built of stone and brick, one called "Point of Reflection" and the other "Point of Redemption."  Low, "human-scale, functional" bronze sculptures will stand in "visual dialogue with the horizon and the Mississippi River."
Theaster Gates' Perceptions
Mr. Gates described it this way:
"I want Tom Lee to be remembered as the human who saw other human lives as equally valuable as – if not more valuable than – his own, and to invite people to visit the site and have the same encounter with their own humanity. This is my small contribution to the possibility of healing.  'Is it possible for us to be more compelled toward each other? More kind toward each other?' Sometimes in order to get to that kindness you need something that says to all parties, 'Hey, this is a place where we are choosing to be kind to each other. Where we can practice kindness.' And I want the park to have that kind of energy.  It's a place you go when you want to be kinder to people."
Tom Lee Park's association with Mr. Gates could not be more symbiotic, because his art is as much in his ethos and sensitivity as it is in his final artwork. 
One thing is inarguable: the expectations of those of us who have advocated for a decade for a spectacular riverfront park were aiming too low.  It is now official: it is a park with national impact and significance.
Becoming one of Mellon's monuments says volumes about his importance and its potential to become an icon for Memphis at a time when it needs to rebrand itself as a place where equity, creativity, and opportunity thrive.
The following is the blog post I wrote May 17, 2021, about the opportunity for Mr. Gates to become part of the Tom Lee Park transformation:
Theaster Gates, internationally acclaimed artist – social practice installation artist, to be precise – was in Memphis last week to contemplate a role in a reimagined Tom Lee Park. 
It augurs the most important arts milestone in decades in Memphis and the single most significant public artwork in our region.
The design of Tom Lee Park's 30 acres already fulfills Memphis Mayor Jim Strickland's instructions to his special riverfront committee for a "world-class riverfront park."  From what has been called "bleak flatland," "moonscape," and "pasture land," Tom Lee Park will soon undergo a metamorphosis so complete and masterful that it will more than deserve the mayor's appellation.     
World-class is a term often used casually and imprecisely by politicians, but the future Tom Lee Park deserves that adjective, and with Mr. Gates' participation, it would have even deeper meaning.
Penetrating Art
According to the New York Times, Mr. Gates is a "figure of heroic dimensions" in his mastery of rescuing undervalued materials and underused spaces.  That seems an apt description for Tom Lee Park, which has been underused since it was expanded from seven to 30 acres in 1992.
"Through an art practice predicated on cultural reclamation and social empowerment, Gates exchanges and recharges objects and ideas, proposing the artwork as a communicating vehicle and shared experience," wrote the New York Times. "Traversing a broad range of formal approaches such as painting, sculpture, sound, and performance, as well as the process of salvaging, archiving, and placemaking, he delivers penetrating social commentary on labor, material, spiritual capital, and commodity within a close examination of the urban condition."
Mr. Gates is the quintessential Renaissance man – potter, painter, sculptor, activist, musician, founder of a nonprofit organization focused on culture-driven neighborhood development in the South Side of Chicago, director of artist initiatives at Colby Museum of Art's Lunder Institute for American Art, and a partnership between the University of Chicago's Arts + Public Life Initiative and the University of Chicago Harris School of Public Policy which brings together artists, policymakers, faculty, and students to design and implement new approaches to urban development.
I say all this to make a simple, and obvious, point: Tom Lee Park – and Memphis – would be extremely lucky to have him involved in the park's development.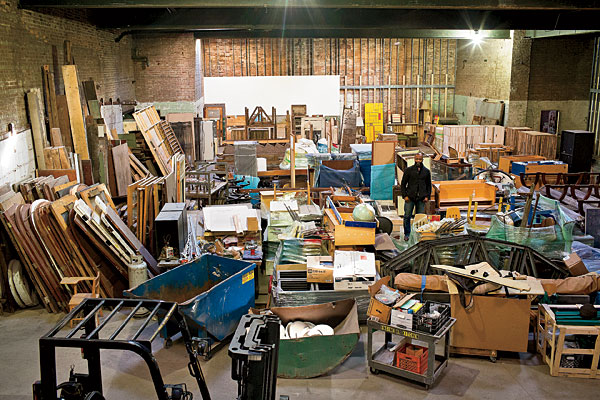 Art Happens
In Memphis last week, he met with leaders of arts and community development, Mr. Gates' presentation concentrated on his work to save and rejuvenate his South Side neighborhood and how he used the sales of his artwork to buy up buildings in his neighborhood – houses, a bank, a candy store, a school, a church, and more – and restore them to uses related to the Black experience and culture.
"It's mission-based," he said.  "Sometimes in moments of development, art happens.  There are moments when we feel helpless in the face of change and prayers are not enough.  Bulldozers are happening so you have to ask, 'is there a redemptive moment to be had?'"  For example, when he was unable to save a church being razed, he used the bricks for other projects and made a film "mourning the death of this space."
"We have to be willing to do the impossible in improbable places," Mr. Gates said.  In response to being introduced as a miracle worker, he said: "We're all miracle workers.  It seems like a miracle because nobody invests in Black space.  We are creating our neighborhoods but not from nothing.  We are materials rich and we have existing spatial assets.  It's about, 'Can we get people not to leave and get them excited to be there?  What can I do that exemplifies Black excellence and not within a white paradigm?'"
Drawing on his experience learning from a ceramics master in Japan, he said: "In Japan, there are water spirits and so what is done next to water really matters.  It's about doing something that matters to everyone.  This view (at Tom Lee Park) could be just a view, but how to inherit the beauty and sacredness of water into the place so everyone is welcome. 
"There is beautiful stuff here – the complexity of history, thinking about the truths embedded in the cobblestones, the mashup down Butler of how the haves and have nots are so immediately adjacent. How do you take the truth and make good on bad situations? How to create new empathy from the park's location?"
Making The Most Of Tom Lee Park
Mr. Gates does not lack for national and international invitations to choose from, which suggests that his presence in Memphis last week was a positive sign for Tom Lee Park.
One thing is certain: It is unquestionable that his participation would put an exclamation mark on the park's national and international prominence:
One, the design of Tom Lee Park is already exceeding all expectations. It is not only reimagining what these 30 acres on the riverfront can be, it's reimagining what a great urban park can be, what it can mean to a city, and how it can have national implications and impact for the design of other parks around the world.
Two, when it was announced early on that the new Tom Lee Park will be a place where equity is at the center of its design and purpose, some critics scoffed about how this can be done.  Mr. Gates' involvement would be more proof that the park is not just about the physical but also about the emotional, intellectual, and spiritual, offering opportunities for exercise and outdoor recreation but also for introspection and contemplation.
That is the hallmark of Mr. Gates' work.  He is intentional in using his art to motivate conversations about community, shared experiences, equity, and racial heritage.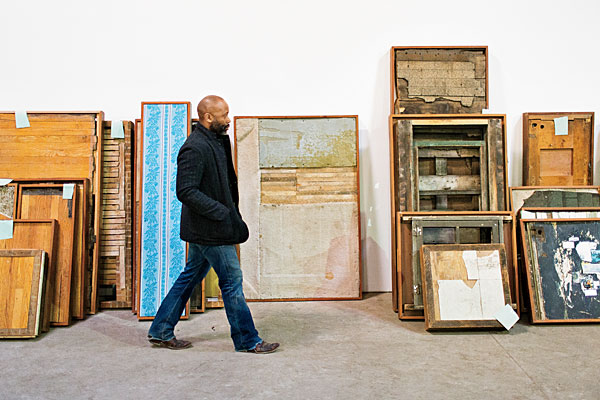 Art: Raw Material For Community
"Through an art practice predicated on cultural reclamation and social empowerment, Gates exchanges and recharges objects and ideas, proposing the artwork as a communicating vehicle and shared experience," wrote the New York Times.
"Traversing a broad range of formal approaches such as painting, sculpture, sound, and performance, as well as the process of salvaging, archiving, and placemaking, he delivers penetrating social commentary on labor, material, spiritual capital, and commodity within a close examination of the urban condition."
In its way, Tom Lee Park has always been an unfulfilled opportunity for these kinds of civic conversations, because in its way, his heroism has been deracialized and became more of an opportunity for Memphis to pat itself on its back for honoring him. 
Memphis River Parks Partnership has already begun to turn this benign neglect on its head, most recently celebrating the 96th anniversary of Tom Lee's rescue of 32 people after a steamer overturned on the Mississippi River.  Now, Tom Lee becomes the example of ordinary heroes who become extraordinary despite life-threatening danger and life-suffocating racism to, despite all odds, do what is right.
Renaissance Man
Mr. Gates studied urban planning and ceramics at Iowa State University; studied African religions at the University of Cape Town where he received a master's degree in fine art and religious studies; took up a residency with ceramics masters in Tokoname, Japan, before returning to Chicago; and was former artist-in-residence at the Getty Research Institute in Los Angeles.
He has had exhibitions in too many prestigious places to list them all, but they include National Museum of Art in Washington, the Tate London (where he was called "one of the world's most influential living artists"), the Gagosian in New York, Haus des Kunst in Munich, Contemporary Art Museum in Houston, Museum of Contemporary Art in Chicago, the Venice Biennial, Musée du quai Branly in Paris, Fondazione Prada in Milan, and Whitney Museum of Art in New York.
Among the awards he has received are the Artes Mundi 6 Prize from National Museum Cardiff, the French government's Chevalier de L'Ordre national de la Legion d'honneur, Wall Street Journal's Innovator of the Year, the 2020 Crystal Award from the World Economic Forum, the Nasher Prize, and the inaugural Vera List Center Prize for Art and Politics.
He has been featured in HBO's Black Art: The Absence of Light, collaborated with African American choreographer Kyle Abraham on a new dance filmed on Malaga Island, recognized by the New York Times as one of the best dances of 2018.  His band, The Black Monks, which takes inspiration from the blues and gospel traditions in the America and Buddhist chants, are a consistent influence in his art projects.
It could be said that Theaster Gates and Memphis converging at this time and at this place is nothing short of providential, positioning Tom Lee Park as one of the great parks in the country and becoming the driver of community and equity that it was always envisioned to be.   
***
Join us at the Smart City Memphis Facebook page for daily articles, reports, and commentaries relevant to Memphis.