Thumbnail:  Despite the pandemic, Shelby Farms Park is recording record attendance.  Facing climbing numbers of park users while revenues were devastated, Shelby Farms Park Conservancy Executive Director Jen Andrews has weathered the storm and the park is pointed to a stronger future.
**
It's the middle of an afternoon in the middle of the week.  The temperatures are in the mid-60s. 
Shelby Farms Park is bustling. Kids at the playground.  Parents and children wandering leisurely around the lake and hiking with purpose on the trails.  Dog walkers.  Scooter riders.  Picnickers.  Hikers. Bikers. Sun bathers. And more.
In the past pandemic-ridden year, attendance at the park has increased about 40% and there's been no ebb in sight, giving more evidence that parks and outdoor spaces are critical public infrastructure. 
Since April of last year, when people voted with their feet, parks were elected as essential to good physical and mental health.
Five and 15 Years
On this pleasant and busy spring day, I visited last week with Shelby Farms Parks Conservancy Executive Director Jen Andrews.  Her corner office in the First Horizon Foundation Visitors Center is a fishbowl with people walking by and peering in, belying any notion of the introvert working inside.  
She's proof positive that labels about personality types don't predict or reflect leadership potential.  Although at times it seems that extroverts dominate – I once saw an introvert shrug and say as he entered a meeting, "let's go in and hear what the extroverts have to say" – there are misleading generalizations in evaluating a person's potential to lead.
The same can be said for someone's age.  Ms. Andrews was 32 years old when she was appointed to her present position, but and only a few local groups can boast of an executive director as effective or who has overseen as much progress and as many achievements as she has in her five years at the helm of an organization that is part nonprofit, part entrepreneurial, part retail, part hospitality, part landlord, and part building management.
In fact, as we talked, it seemed to surprise her as much as it did me when we realized she had been CEO at Shelby Farms Park for five years last February and this year will mark her 15th anniversary as a Conservancy staff member.  Back in 2006, she was the first paid staffer, hired out of Rhodes College as director of communications by Laura Morris, then unpaid director of the park. In 2012, she was named director of development and communications.
Doing What's Necessary
Titles at the park meant little in an organization where the executive team could be just as likely to be sweeping up after an event as developing a new playground or turning the vison of a great large urban park into a $70 million reality.
Co-chair of the search committee Barbara Hyde summed it up well when Ms. Andrews' appointment was announced: "She's a 21st century executive director for a 21st century park.  She's a millennial.  Despite her youth, she was the right candidate but also because of her youth, she was the right candidates.  She ensures a seamless transition and a powerful passing of the torch to the next generation."
That was high praise because Mrs. Hyde, more than anyone else, was responsible for ensuring that Shelby Farms Park had the bold vision of a "park to inspire a great city," as she put it.  (Shameless plug: Shelby Farms Park: Elevating a City – The Improbable Journey of America's Great 21st Century Urban Park can still be bought in bookstores and it chronicles the history, the process, the ambitions, and the hard work that brought the park to reality).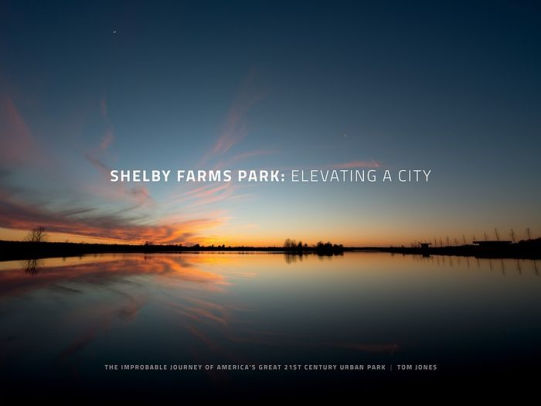 Ms. Andrews was deeply involved in all aspects of the park's development and created its pacesetting public engagement programs and communications channels whose success is seen in 77,000 people following the park on Facebook and 26,000 followers on Twitter.
Parks as Critical Infrastructure
The first five years of any major park startup is challenging enough but mix in a yearlong pandemic that wipes out millions of dollars in revenues and it would be trial by fire for any executive.  While coping with less money, there were record crowds at Shelby Farms Park. 
On the first Sunday of this month, there were 17,000 people in the park, according to a conservative estimate.  Usage of some trails were up 70%. 
Ms. Andrews said that park users are describing their experiences in dramatic and personal language.  "It proves that parks are essential infrastructure," she said, adding that the daily average of visitors is about 10,000 a day, which is 3,000 more than usual.
"Regular park users are coming more frequently, and there many, many first timers," she said, adding that some people are working remotely from the park. 
While facing budgetary fires sparked by declining revenues, the conservancy managed to avoid any layoffs of 40 permanent employees.  A hiring freeze and a budget trimmed back to its bare bones helped to make it possible when contributors stepped up to give more and federal pandemic-related funding was received.
Surviving and Thriving
In the end, the greatest irony is that in the midst of the pandemic, the conservancy solved is structural fiscal gap, aided in particular by Shelby County Mayor Lee Harris and Shelby County Board of Commissioners stepping up to create a more logical funding plan for the park.  Ultimately, funding from county government reached $1.3 million in a Conservancy budget of $5 million.
Success in not just surviving the budgetary threat but finding solutions speaks to one of Ms. Andrews' core precepts: You can't just hope because you need to have strategies.
She said that when things are seemingly impossible, that's when the greatest innovation takes place.  That impossibility is a theme for the park itself because against all odds, it exists.  It survived attempts by Shelby County Government to give it away, sell it, or create a golf, conference center, and game preserve.
It's why I've said that ultimately, the park was a gift the people of Shelby County gave themselves, standing up to fight for public use of the expansive area and eventually winning support for the conservancy to own, operate, and program 3,200 acres (Agricenter International controls 1,000 acres). 
"The impossible is always the case," she said.  "All of it has been impossible." A new example in the time of pandemic was remote management that seemed impossible.  And yet, that led to deeper trust between her and her team and in the culture they had created. 
Dream Job
As a long-time employee of the Conservancy, Ms. Andrews was well-versed in the minutiae of park operations and budgets.  But as an introvert often working outside her comfort zone, she is more confident and trusts her instincts more.  She said: "As a result of time and experience, I know more about myself.  I learned what I like the most and I'm willing to do anything that needs to be done.  I've had more opportunities to do what I love – strategic planning – and the chance to coach people and build teams."
All in all, her five years as ED have been more than she could ever imagined, supported by a board any nonprofit in Memphis would envy and chaired by Gary Shorb, executive director at the Urban Child Institute, former CEO of Methodist Healthcare, and former president of The Regional Medical Center at Memphis.  Mr. Shorb has the reputation as the kind of chairman who's willing to get in the foxhole with his management team and that support is high on Ms.  Andrews' list of pandemic gifts.
Looking back with pride over her five years at the head of Shelby Farms Park, Ms. Andrew is characteristically thoughtful, introspective, and logical and keeps her job in perspective: "The great job benefit is I get to work in the park, a place I love, with a great team.  I never forget how lucky I am."
**
Join us at the Smart City Memphis Facebook page for daily articles, reports, and studies.